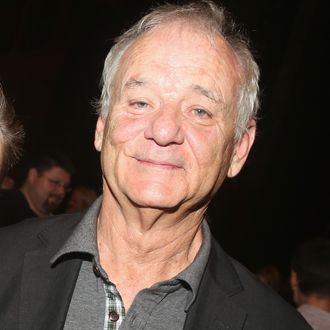 Bill Murray.
Photo: Bruce Glikas/Bruce Glikas/FilmMagic
Despite dominating international news headlines since last fall, the full extent of this Harvey Weinstein situation still hasn't made its way to Bill Murray. Such a revelation occurred during a new interview with The Guardian, during which he was asked by the reporter to reflect on a quote Weinstein said a few years ago: "Being a Murray-ite is a religion, where you can behave as badly as you want to people, and they still love you. I used to feel guilty about behaving badly, and then I met Bill, and it feels so much better." Murray didn't seem too bothered by Weinstein's remarks, especially without the full context.
"Well, I think Harvey was saying something funny, and you can take something someone said a few years ago out of context, but I think that's a funny thing he said," Murray explained, before reflecting on Weinstein's current condition. "Are you asking for a comment about Harvey Weinstein? I mean, I don't know exactly what he's being accused of yet, but I know some of the people involved in that situation, one very sweet person, and it hurts to hear her speak about it. Really, it hurts … I feel the pain about it and the pain is not over." Last week, Weinstein was arrested in New York on rape charges on which he had been indicted. Since October, dozens of women have accused Weinstein of rape, sexual assault, and sexual harassment.