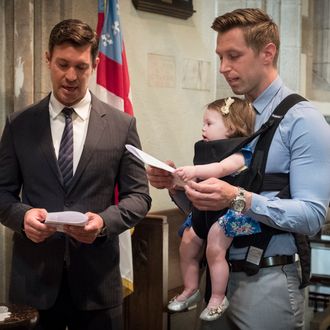 Flipping Out.
Photo: Bravo/NBCU Photo Bank via Getty Images
In this "Me Too" era, it can be hard for some to know what is and isn't okay anymore. But, just so we're all clear, one thing that's never been and continues to be very not okay is filming a woman's vagina without her permission. Bravo may be learning this lesson the hard way, as Variety reports they've been accused in a lawsuit of filming the birth of Flipping Out star Jeff Lewis's child in 2016 without the permission of the surrogate mother Alexandra Trent. Whoops.
Trent alleges that when she agreed to act as a surrogate for Lewis and his partner, Gage Edward, she did not realize she would be part of a TV show. Her suit claims the show agreed at her request to not film the birth itself, but that they then secretly filmed it anyway, and that her blurred-out vagina even ended up on TV. To make matters worse, Lewis then commented on her blurred vagina, saying on the episode, "If I was a surrogate, and I had known there was going to be an audience, I probably would have waxed." Which is just exactly what every woman pushing a baby out of her vagina wants to hear.