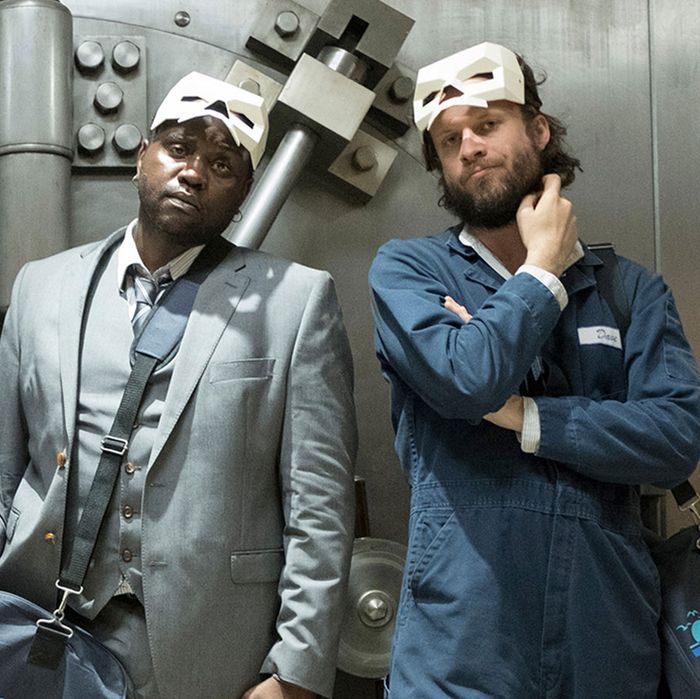 Josh Tillman, a.k.a. Father John Misty, far right.
Photo: Matt Kennedy/Global Road Entertainment
If you were one of the relatively few people who saw Hotel Artemis in theaters over the weekend, you probably spent most of the film marveling over just how many noteworthy actors writer-director Drew Pearce managed to cast: Jodie Foster, Jeff Goldblum, Sterling K. Brown, Brian Tyree Henry, Charlie Day, Sofia Boutella, David Bautista, Zachary Quinto, Jenny Slate — basically everyone who's been in a film or TV show since the beginning of 2017.
Whatever Pearce's secret is — a helluva elevator pitch, a fun vibe, widespread and creative blackmail — it clearly works, and that list doesn't even tell the full story. There's another famous face in Hotel Artemis, at once the most surprising and least noticeable member of that comically stacked cast, making his big-screen debut and following in the long, checkered, and fascinating lineage of musicians turning actor. It's Josh Tillman, a.k.a. Father John Misty, and though he gets killed during the opening sequence, his performance still signals the beginning of what could be a viable second career.
Tillman's been having a nice couple weeks. His excellent fourth album under the FJM nom de plume, God's Favorite Customer, came out June 1, the same day as Kanye West's exhausting and exhausted YE; unlike that album, God's Favorite Customer was both a musical career highlight and a refreshing instance of letting the music speak for itself, a concept that Tillman has long had a fraught relationship with.
I would happily go to bat for much of what he said during the quixotic Pure Comedy press tour, which had the dogged stubbornness of a medieval siege, but I also understand why it turned so many people off. For whatever reason, Tillman took the exact opposite approach to the release of the new album, abstaining from the interviews he seemed so addicted to last year and allowing the honesty, vulnerability, and craftsmanship of his music — as well as the lyrical triumph that is "Last night I wrote a poem / I must've been in the poem zone" — to enter the spotlight unencumbered.
It's both fitting and ironic, then, that I actually found out about Tillman's turn in Hotel Artemis from a year-old Pure Comedy press appearance, on Late Night With Seth Meyers. In the clip, Tillman talks about his thespian turn with characteristic humor, downplaying the part as well as his acting abilities, particularly in comparison to two of the real actors he shares his scene with, Brown and Henry. He never mentions the film by name, nor does he explain how he ended up in it, but one quick IMDb search of "Josh Tillman" revealed that the movie in question was Hotel Artemis and that it happened to be coming out days after YouTube, which is well acquainted with my tendency to watch Father John Misty music videos, had recommended the old interview to me.
Sure enough, after seeing Hotel Artemis, I can confirm that the part is a light one. Tillman plays one of the four members of a gang robbing a bank in the middle of a riot; he's dressed like a janitor, he has one line — something like, "Why didn't you tell us you had another plan?" — and then he gets shot dead by a cop. It's one of those moments of meta-narrative playfulness that movies are so good at providing, the kind of blink-and-you'll-miss-it, totally and delightfully inessential decision that a director made just because they could. Did a single person who bought a ticket to Hotel Artemis notice that Father John Misty was in it? I'm not sure, but just knowing that they could have makes me feel a bit of pointless joy.
So how was Mr. Tillman in the role? Totally fine! In that kind of part, you're basically serving as a piece of set design, and the tall and striking Tillman provides a sufficient level of presence while not drawing attention away from the main event. But at the same time, it also leaves you wanting: not more of Tillman in the film, since the film's got plenty of famous people to look at as is, but more of Tillman onscreen in general.
There's no hard and fast rule for what kind of musician will make a good actor. Often, it's the type who seems best able to shape-shift, à la David Bowie or Madonna, but there are plenty who have turned their singular persona into an acting asset, like Tom Waits and Eminem, or their general ability as performers, including Jennifer Hudson and Mary J. Blige. While Tillman's case is a bit different, it's also unambiguous: Tillman's already acting. Although it taps into elements of Tillman's personality and uses his life as fodder for the art, the Father John Misty persona is at least partially a put-on, a character meant to satirize a full deck of subjects: Tillman's anxieties and compulsions; the mystic-shaman-madman archetype, which runs rampant in the greater L.A. area and, uh, Instagram; fame and vanity and living in ridiculous hotels. The Venn diagram of Misty and Tillman has been overlapping more and more since the three albums that followed the trippy and outré Fear Fun, but that doesn't mean they're the same circle.
If you accept as a given that FJM is, at least to some extent, a performance, then you can find a history for Tillman's acting that extends back far beyond Hotel Artemis. The three primary texts might be a trio of his music videos, one each from Fear Fun, I Love You, Honeybear, and God's Favorite Customer, Pure Comedy's best offering being the press he did around it.
The first video, for "Hollywood Forever Cemetery Sings" off of Fear Fun, belongs mostly to Aubrey Plaza, who seems like a really bad party guest. Tillman doesn't show up until the end, but when he does, he picks Plaza up off a windy Hollywood Hills–looking road, carries her as she beats at his face, and then throws her in the back of a van. While it may not sound like much, it illustrates the aspect of Tillman that most qualifies him to be an actor: his innate, effortless charisma, a trait that also comes across during his live performances. The dude is fundamentally interesting to watch onscreen, with a feline physicality, an expressive face, and a degree of control over his body language often absent in amateur actors, who will either stand stock-still or move in a stilted and unnatural manner. And in "Hollywood Forever Cemetery Sings," which aptly casts Tillman, in reflection of the album, as a mysterious creature of Laurel Canyon, you see the extent of his grasp over the Misty character at any given moment in time.
This comes across even better in the video from I Love You, Honeybear, for the song "The Night Josh Tillman Came to Our Apartment." I Love You, Honeybear marked a major increase in FJM's popularity, and the video, which features Tillman/Misty picking himself up from a bar, taking himself home, and hooking up with himself, is one of the most engaging and effective commentaries on ego that I've seen from a social-media-age artist. Throughout the performance, Tillman nails both the swaggering, hat-wearing version of Misty and the more acquiescent, agreeable object, who seems happy enough for the attention; if there's any undeniable proof that Tillman could be a strong actor, it's this video, which allows him to vamp and lounge, seduce and be seduced.
Lastly, there's "Mr. Tillman" from God's Favorite Customer, which leans into the wacked-out spiral of the song's narrative with a sort of Twilight Zone episode in miniature. While the filmmaking of the "Mr. Tillman" video substitutes a jerky, low-budget Charlie Kaufman oddness for the smooth professionalism of "Hollywood Forever Cemetery Sings" and "The Night Josh Tillman Came to Our Apartment," Tillman seizes the opportunity to give a larger and more emotional performance, and, though hampered in parts by abrupt editing, his reactions and demeanor are convincing as he experiences a demented hotel visit, suggesting that he could handle a Blumhouse-esque horror movie or Lynchian psych freak-out.
Watching Tillman across these videos, it's hard not to imagine how he'd perform in a film made by the right kind of director, one who could capitalize on his striking screen presence, his idiosyncratic physicality, and his expressiveness while also placing him in a role that would push these elements forward, not just lean on the angles he's already explored well in the Misty persona. A filmmaker like Rick Alverson (The Comedy, Entertainment) comes to mind for his ability to build worlds and stories around the right personality, as does Sofia Coppola, who would be able to take Tillman's unique celebrity and show another version of it — and I certainly could've seen him in the new Twin Peaks.
There's a reason why musicians so often make the shift into acting: They've already been forced to consider how they look in front of an audience, and then adjust their behavior accordingly. But few musicians have thought quite so much about this as Tillman, and that's why he has so much potential.