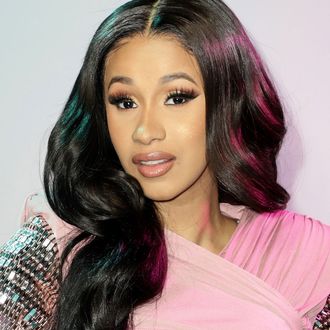 Cardi 2020.
Photo: Telemundo/NBCU Photo Bank via Getty Images
Cardi B, noted political history junkie and national treasure, is on the new cover of Rolling Stone with her man, Offset. Inside, she talks about what's been on her mind lately, like planning her baby shower ("Shit, I might even drink some red wine. Red wine's healthy, right?"), entering motherhood at the most stressful time ("A lot of successful women have kids, and a lot of successful artists have kids, but not at the peak of their career"), and, of course, Donald Trump. On the latter subject, Cardi is aghast that the president has yet to be canceled for his many crimes — both moral and potentially criminal — saying his behavior almost makes Bill Clinton look like a gentleman:
"Every artist has explained how harmful he is. He has made divisions in this country – he almost made a crazy civil war between the blacks and the whites. He has proven himself to be a madman so many times, and proven himself to be disrespectful to women, and that still hasn't gotten him impeached. Clinton got impeached for cheating on his wife, and it's so clear that this nigga has sex with so many porn stars, and he's just been shown to be a dickhead, and it's like, 'Nope.'"
Cardi previously called Trump "soo disgusting" for his "shithole countries" comment earlier this year, and blasted his theory to arm teachers as a solution to gun violence. She now tells Rolling Stone that she still strongly believes in stricter gun laws, but is wary of the government taking away guns entirely because we'll ultimately need them to fight the government. "God forbid, the government tries to take us over, and we can't defend ourselves because we don't have no weapons," she says. "How do you think American colonizers went to Africa and it was so easy for them to get those people? Because they had guns. No matter what weapon you have, you can't beat a gun. They have weapons like nuclear bombs that we don't have. So imagine us not having any weapons at all." This Vulture officially endorses Cardi for president. 2020, watch out!