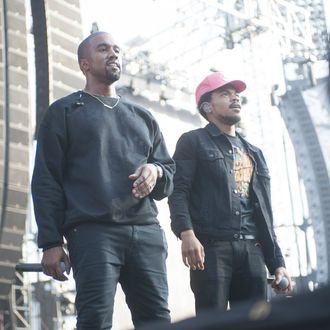 Photo: Paul Natkin/Getty Images
While most plebs might look at Kanye West's recent prodigious output and wonder how Ye is surviving on absolutely no sleep, Chance the Rapper is making West's nonstop creative effort his personal goal. "What's cool is Ye's kind of got me in a mode of understanding, just, your ability to multitask and work on different things," the Chicago rapper says in a new episode of Complex's Open Late with Peter Rosenberg on Friday. (His interview starts at 11:28 in the video below.) Chance goes on to confirm rumors that he is working with Kanye on an upcoming album, which he says will have seven tracks, while also "actively working" on a project with Childish Gambino.
Said Chance, "Kanye is my favorite rapper that I followed without knowing for a long time, and Donald Glover was the first rapper who was like, 'Come on tour' with me." He says he's "at least 30 percent" done with both, and he suspects his project with Child Gambino, which is currently six songs long, will also end up being a full album, "probably more than 14 songs." All of which is to say, only 50 more albums and he'll be all caught up with Kanye.