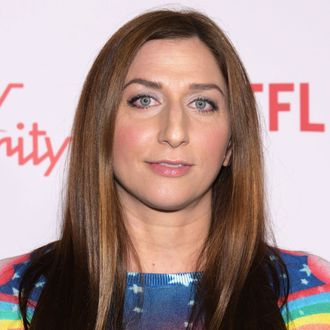 Chelsea Peretti attends Seth Rogen's
Hilarity For Charity.
Photo: Tara Ziemba /AFP/Getty Images
Chelsea Peretti is heading to the big screen. Deadline reports that the comedian and Brooklyn Nine-Nine star has signed on to star in an upcoming comedy called Spinster, in which she'll play Gaby, "a woman who after being unceremoniously dumped on her 39th birthday, faces her fear of becoming a pathetic, lonely spinster." The film, which was written by Jennifer Deyell and will be directed by Andrea Dorfman, is currently shooting in Nova Scotia. Peretti has shown up in movies like Game Night and Popstar: Never Stop Never Stopping as well as the upcoming Friendsgiving, but Spinster will mark her first leading role for the big screen. And it's well-deserved, considering she's One of the Greats and everything.