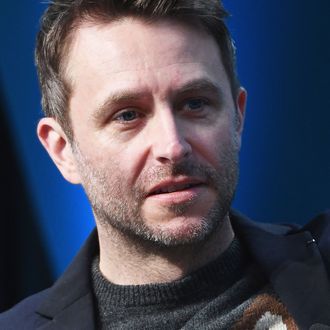 Photo: Roy Rochlin/Getty Images
On Thursday evening, actress and model Chloe Dykstra posted a personal essay that detailed a history of emotional and sexual abuse by one of her ex-boyfriends, who she only described as evolving from "a mildly successful podcaster to a powerhouse CEO of his own company." Readers of the essay put two-and-two together and realized she was writing about Chris Hardwick — of Nerdist and @midnight fame — who Dykstra had a three-year relationship with that ended in 2014. Among other claims, Dykstra said her ex's abuse lead her to become anorexic and suicidal. "I generally stopped speaking unless spoken to while with him, drifting through life like a ghost," she wrote. "I would try to sleep in as late as possible so my days were shorter. I stopped listening to music entirely. I ceased to be. I was an ex-person." Now, after a day of silence, Hardwick has released a statement to strongly refute the claims, confirming he's the man Dykstra wrote about.
"These are very serious allegations and not to be taken lightly which is why I've taken the day to consider how to respond," Hardwick, in a statement obtained by Deadline, said. "I was heartbroken to read Chloe's post. Our three year relationship was not perfect — we were ultimately not a good match and argued — even shouted at each other — but I loved her, and did my best to uplift and support her as a partner and companion in any way and at no time did I sexually assault her." He also described the dissolution of their relationship:
When we were living together, I found out that Chloe had cheated on me, and I ended the relationship. For several weeks after we broke up, she asked to get back together with me and even told me she wanted to have kids with me, 'build a life' with me and told me that I was 'the one,' but I did not want to be with someone who was unfaithful. I'm devastated to read that she is now accusing me of conduct that did not occur. l was blindsided by her post and always wanted the best for her. As a husband, a son, and future father, I do not condone any kind of mistreatment of women.
Dykstra has not offered an additional statement. She tweeted yesterday how she plans on taking a social media hiatus for the foreseeable future.
Meanwhile, Nerdist has removed Hardwick's name from its website.