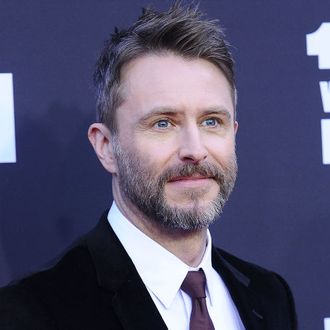 Chris Hardwick.
Photo: Jason LaVeris/FilmMagic
While Chris Hardwick has unequivocally denied sexual and emotional abuse claims from his ex-girlfriend Chloe Dykstra, one of his upcoming gigs is taking Dykstra's side. Per TMZ, Kaaboo Festival, an annual California festival celebrating music and comedy, has canceled his appearance in September. The festival's organizers announced their decision this afternoon, saying that his scheduled comedy routine will be replaced with a to-be-determined act. Earlier this week, Dykstra published a personal essay claiming an ex-boyfriend who rose from "a mildly successful podcaster to a powerhouse CEO of his own company" constantly abused her throughout their three-year relationship, which left her anorexic and suicidal. Hardwick responded by confirming the man Dykstra wrote about was him, and he was "heartbroken to read" about her allegations. He described the end of their relationship as such:
When we were living together, I found out that Chloe had cheated on me, and I ended the relationship. For several weeks after we broke up, she asked to get back together with me and even told me she wanted to have kids with me, 'build a life' with me and told me that I was 'the one,' but I did not want to be with someone who was unfaithful. I'm devastated to read that she is now accusing me of conduct that did not occur. I was blindsided by her post and always wanted the best for her. As a husband, a son, and future father, I do not condone any kind of mistreatment of women.
Nerdist, the digital entertainment company that Harwick founded, has since removed his name from its website. "Chris Hardwick had no operational involvement with Nerdist for the two years preceding the expiration of his contract in December 2017," a spokesperson for Legendary Entertainment, which purchased Nerdist in 2012, explained. "He no longer has any affiliation with Legendary Digital Networks. The company has removed all reference to Mr. Hardwick even as the original Founder of Nerdist pending further investigation." As for Dykstra, she has yet to respond to Hardwick's denials.