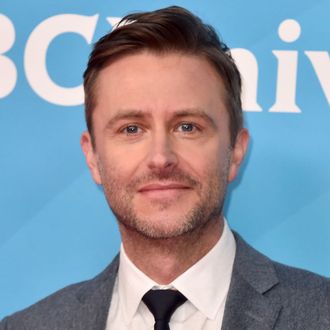 Chris Hardwick.
Photo: Alberto E. Rodriguez/Getty Images
One of Chris Hardwick's most prominent stomping grounds won't be graced by his presence this year. THR reports that Hardwick has pulled out of moderating two panels at next month's San Diego Comic-Con, following claims from his ex-girlfriend, Chloe Dykstra, that he was sexually and emotionally abusive throughout their three-year relationship. Hardwick was set to moderate two panels for the BBC and AMC networks, and he will now be replaced by someone yet to be announced. Additionally, AMC is temporarily pulling his late-night talk show while an investigation is underway. "We have had a positive working relationship with Chris Hardwick for many years. We take the troubling allegations that surfaced yesterday very seriously," the network said in a statement. "While we assess the situation, Talking With Chris Hardwick will not air on AMC, and Chris has decided to step aside from moderating planned AMC and BBC America panels at Comic-Con International in San Diego next month."
Earlier today, the comedy and music festival Kaaboo announced it would be canceling Hardwick's scheduled performance in September because of Dykstra's allegations. Among her claims, Dykstra said someone who rose from "a mildly successful podcaster to a powerhouse CEO of his own company" led her to become suicidal and anorexic. "I generally stopped speaking unless spoken to while with him, drifting through life like a ghost," she wrote. "I would try to sleep in as late as possible so my days were shorter. I stopped listening to music entirely. I ceased to be. I was an ex-person." Hardwick acknowledged Dykstra was referring to him, and he strongly denied all of her claims.