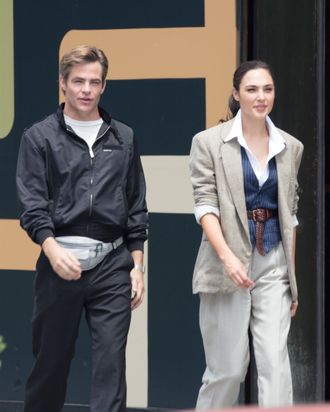 Photo: RYMI, LYNX/Patriot Pics / BACKGRID
The Wonder Woman sequel — titled Wonder Woman 1984 because it will apparently find Diana Prince in the 1980s — is still many months away (November 1, 2019, to be exact). It will, however, include Steve Trevor (Chris Pine), who seemingly met his demise in Wonder Woman's third act. (If Jesus can rise again, why can't Chris Pine!) Hours after Patty Jenkins confirmed Pine's return this morning, God herself has shared candid images from the set from on high, and Steve Trevor's costumes once again do not disappoint. Behold! Hollywood's leading Chris wearing a tracksuit and fanny pack!
Reader, I stand before you a changed woman: Chris Pine's fanny pack is my new sexuality. Is that a slice of pizza and a Mike's Hard Lemonade in your fanny pack, or are you just happy to see me? But really — a few thoughts on what he could be stashing in there:
Me.
Chris Evans's Lobby Hero mustache.
Charlie Puth's album Voicenotes on his Walkman, because if Chris Pine lived through a plane crash, there's no reason why he can't pander very specifically to my taste in pop music and make everyone listen to the Charlie Puth song "Empty Cups."
Cash. (To be fair, at least one of these had to be practical, and the new Wonder Woman is set in the '80s, and people carried cash back then.)
Sandra Cisneros's House on Mango Street, because it was published in 1984 and Steve Trevor is the kind of smart, discerning guy who reads women.
Jared Leto's Joker contract, because Chris Pine didn't come here to make friends, he came here to save the day!