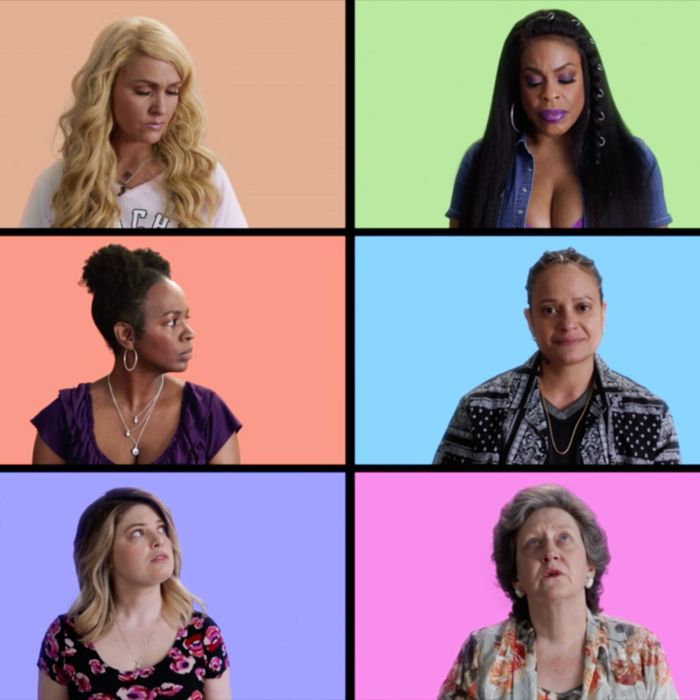 While abortion story lines on television run the gamut from guilt-ridden melodramas to NBD shrugs, the one thing they all have in common is that they are finite: A decision is made, and the character's world is altered one way or another. Of course, television is not real life and what these shows don't always tackle is how others — friends, family, strangers, employers — might react to the news.
That's what's so interesting about Sunday's episode of TNT's female-fronted Floridian crime dramedy, Claws. In "Cracker Casserole," audiences witness Karrueche Tran's sassy manicurist Virginia terminate her pregnancy and get engaged after briefly pondering what the gals back at Nail Artists of Manatee County might be saying about the former. The scene is remarkable in that it succinctly shows multiple opinions on this complicated topic without taking sides. It also benefits from a Brady Bunch–style design that brackets each woman into her own bright, colorful window while giving her equal screen time to her peers, further validating everyone's views.
"I think part of telling a female empowerment story is telling all the voices," Claws showrunner Janine Sherman Barrois, who wrote the episode, tells Vulture. "To me, it's important to get everyone's opinion regardless of where I stand on it. It's important to me to listen and be an observer of human behavior."
Below, she elaborates how exactly the scene came together.
The scene was originally set in the nail salon
"Then I thought it'd be cool to have all these people sort of talking," Sherman Barrois says. "Women and men — women especially — are very opinionated on the subject and so I wanted to hear what they had to say."
This is also why the characters were centered and shot straight-on. She wanted it to feel as if they were having a private, almost conspiratorial, conversation with their nail technicians. "It's intentional for it to be conversational because that's what happens at the nail salon. They become your therapist and you say what you want to say," she says.
You're not supposed to recognize every character
Yes, Virginia's salon co-workers weigh in. And it makes sense to start with the opinion of Jenn Lyon's Jennifer, who candidly mentioned her own abortions last season. But what about the women whose names you might not know? Consider them the Greek chorus that spouts views that don't always make it to air on progressive programming.
Sherman Barrois knows the scene could have gone on for much longer with even more voices, but her goal was to quickly get in and get out with a simple message: "We live in a world where there's a myriad of opinions on this subject matter."
There's definitely a reason why men aren't included
"Because we deal with female empowerment and this is a female's story, I wanted women to be the voices of it," Sherman Barrois says. "I wasn't as interested in a man discussing what he thought. As a writer, I can make a decision on what light I wanted to have shine on and I wanted to have women's opinions."
The Quiet Ann twist: She once had a daughter – and the girl was taken away from her
"You'll see in upcoming episodes that Ann is dealing with her desire to now, later in life, have a kid and what that implication is," Sherman Barrois says of the character played by Judy Reyes. "All of this kind of informs what happens to her now that she is old enough to decide if she really wants to have a kid or not."