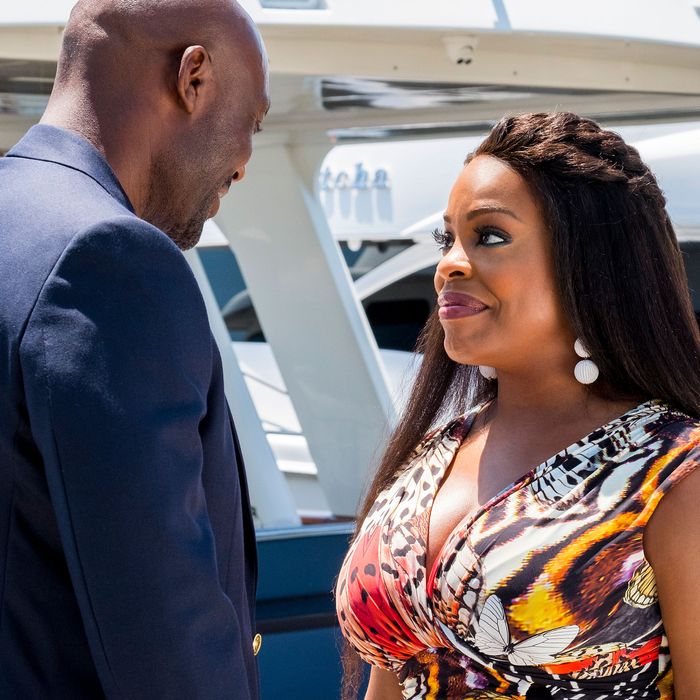 Desna (Niecy Nash) with her seemingly perfect boyfriend Gregory (Jimmy Jean-Louis) and her animal print ensemble in
Claws.
Photo: Curtis Bonds Baker/TNT
Few aspects of the TNT series Claws can be described as understated. Its setting in and around Palmetto, Florida, is trashy. The form-fitting, dizzying array of animal prints and pleather that the characters wear is blindingly gaudy. One of the show's key figures, played by Dean Norris with a very liberal attitude toward scenery chewing, is actually named Uncle Daddy. The only subtleties in the first season of the series came from the mostly grounded performances from its female leads, particularly Niecy Nash as Desna Simms, a nail salon owner and reluctant participant in organized crime.
Based on the first two episodes of season two made available in advance to critics, Claws hasn't dialed things down at all. If anything, season two, which kicked off Sunday night with the episode "Shook," is amping up the absurdity, wild plot developments, and overall tacky crime vibe. It's like numerous "only in Florida" stereotypes have been distilled and molded into TV series form. Or maybe it's an attempt at a Carl Hiaasen novel that wasn't actually written by Carl Hiaasen. (Eliot Laurence, credited with writing several episodes, including "Shook," is the actual creator of Claws.)
Sunday's season premiere opens with Desna back at her old salon, newly emboldened by her partnership with Russian mafia overlordess Riva (Andrea Sooch) and dishing out orders to the men of the Husser family: her ex-boyfriend Roller (Jack Kesy), Roller's brother Bryce (Kevin Rankin), and Uncle Daddy, a.k.a. Clay (Norris), who is accustomed to being the one calling the shots. The implication of this initial scene, in which Desna demands that the men start doing a more efficient job of laundering money via the drug clinic a few doors down so they can appease their Russian boss, is that the ladies are now in charge. "Welcome to the new normal," Desna announces.
What she doesn't know is that a whole other new normal is just ahead, ushered in when Riva's sister, Zlata (Franka Potente), blows into town to make sure her teenage daughter, Olga (Katherine Reis), who recently gave birth to Roller's baby, is taken care of — and also that she, rather than Riva, can start pulling the strings in the Palmetto operation. Also unbeknownst to Desna is the fact that her seemingly perfect boyfriend Gregory Ruval (Jimmy Jean-Louis) — perfect because he cooks, knows all the words to Cameo's "Word Up," and is good at sex — has connections to the Haitian mafia and is working with the Hussers without her knowledge. We know instantly that Desna's world is going to explode at some point in the episodes ahead. We just don't know when, and that uncertainty is supposed to generate enough curiosity to keep viewers watching.
Based on the ratings success of the first season, that strategy may very well work on a lot of people. Personally, as much as I appreciate the women in this show — Carrie Preston as polished, preppy con artist Polly Marks is just as on-point as Nash — I still find it difficult to fully lose myself in its world, partly because its tonal shifts still feel more jarring than organic. Claws aims for Sunshine State noir, which means that grisly crimes are committed directly adjacent to blatantly absurdist attempts at humor. (After a point-blank fatal shooting in the first episode, Polly freaks because she has to spend hours washing bits of brain out of her hair.) That swing between sensibilities comes on even faster and more furiously this season. When Zlata suggests that Clay's strip club, She She's, should be turned into a Magic Mike–style all-male nudie venue, only a couple of scenes later Polly is already acting the part of a prima ballerina, training a bunch of amateur hotties to become professional Channing Tatums. In the second episode, when Jenn (Jenn Lyon) prepares for a dance competition, she dons a costume specially designed by her mother and replete with images of the Confederate flag. Claws very much wants us to find these things hilarious, and that's part of its problem, too. Even when it is funny, you can sense how much the series wants us to laugh at its simultaneous embrace and mockery of Florida trashiness.
Potente's arrival is the most interesting part of the new season, and that's appropriate since her character speaks so directly to the show's strengths and weaknesses. With her long, silky ponytail extension, polished fingernail talons, and gold chains around her neck that look sturdy enough to keep a Rottweiler tied up in her front yard, Zlata — a woman from the "other Georgia"— fits right into the Palmetto crew. She's also such an over-the-top creation, and Potente lays on her accent so thick that she seems more cartoonish than real. At any moment during the season premiere, I fully expected her to tell Desna to go out and capture Moose and Squirrel.
But in the second episode, Zlata, the author of a book called Kremlin Konnection that she describes as "the Russian Lean In," tells Desna how much she admires her leadership abilities in a way that suggests she may be the worst kind of female manipulator: the sort who uses feminist rhetoric to get other women to do her bidding. I don't necessarily buy Zlata as an actual human being that exists in the world. But I do find myself beginning to admire her unapologetic boldness.
That's pretty much how I feel about Claws. I appreciate its audacity, but I don't always believe it or feel fully invested in it, and that makes it hard to want to keep going back to this seedy section of Florida week after week.