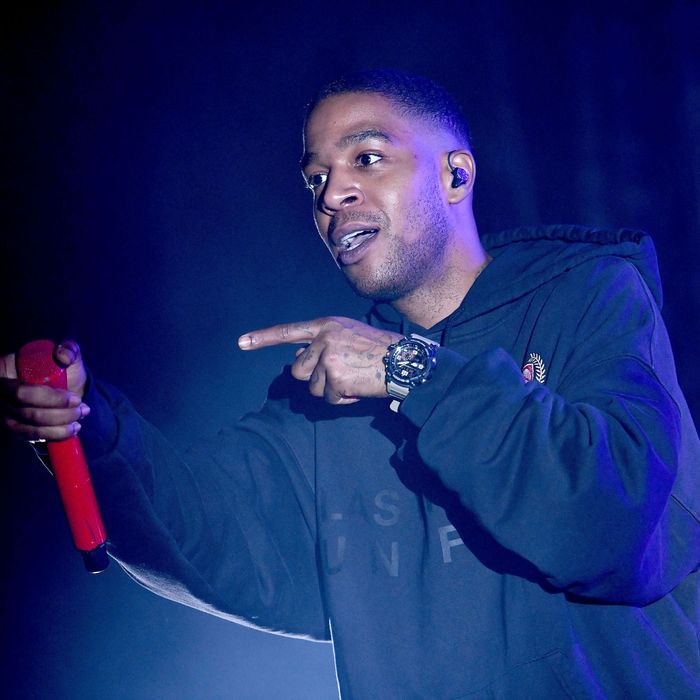 Photo: Scott Dudelson/Getty Images
It's an image unlikely to fade from the public imagination: A beaming Kid Cudi, huddled arm in arm with an equally ecstatic Kanye West during the unveiling of Kanye's 2016 album The Life of Pablo. For longtime fans of Cudi, whose career has been defined by a kind of tragic unpredictability, it was a moment of relief. The singer/rapper/actor's addition to the record, most notably his bellowing hook on "Father Stretch My Hands Pt. 1" was proof that he still had the preternatural emotional sensibility that made his early releases benchmarks of an era.
Today, that moment smacks of nostalgia, despite being only two years old. The days of TLOP Kanye have been replaced with MAGA Kanye, and his creative output seems mired by his own unwillingness to be anything short of an egomaniac. Slavery, in Kanye's eyes, was "a choice." Donald Trump is a source of admiration. His latest album, Ye, did little to assuage concerns that the iconoclastic rapper had lost steam, arriving as a rushed and forgettable half hour of music. But what does it all mean for Cudi? His joint album with Kanye, Kids See Ghosts, arrives tomorrow, the third in a spree of Kanye-produced June releases on G.O.O.D Music. Like the records from Pusha-T and Kanye, Kids See Ghosts has the potential to define, or at least recalibrate, a career. In 2016, just a few months before releasing his album Passion, Pain & Demon Slayin, Cudi posted a letter he wrote to Facebook, where he outlined his struggle with depression and anxiety. It was an emotionally raw letter that was striking in how much it centered on shame. Cudi wrote that he "feel[s] like shit" and was "so ashamed," before apologizing to his fans for "letting them down."
But what's always drawn fans to Kid Cudi is his perceptive form of vulnerability. Cudi's music has always been earnest, born from a place of honesty. This is the rapper who, in 2009, gave us the hook "I've got some issues that nobody can see / and all of these emotions are pouring out of me." Yet instead of holding his rightful place as the originator of today's brand of moody rock-star rapper, Cudi has mostly faded into a kind of public obscurity. Covers of his music abound, and his influence is generally recognized, if only after some reminding. But a handful of missteps over the years have made his legacy an open question. Will Cudi, like so many artists ahead of their time, be forgotten to the industry's changing winds, or will a joint album with Kanye offer something of a career reset?
Cudi is credited as a co-writer or vocalist on four tracks from Kanye's 2008 album, 808s & Heartbreaks, but his influence extends further: there's a candid vulnerability to tracks like "Coldest Winter," which was new territory for Kanye but innate to Cudi. And while it took years for audiences to catch up to what Kanye was attempting on that record, Kid Cudi's magnetism was immediately apparent. By the time he released his breakout hit, "Day 'n' Nite," he had honed in on a way of communicating often dark emotional landscapes with clear-eyed charm. The song's lyrics delve into Cudi's struggles with depression following the death of his uncle, but also provide one of the era's most infectious hooks. Kid Cudi's level of vulnerability wasn't necessarily new in the realm of popular music, but he brought a new, introspective, energy to hip-hop that was novel for its time. Ethereal production that sounded like Pink Floyd's headier tunes thrown into a blender with Three Six Mafia, made Kid Cudi tracks distinct, and helped mark his place as a touchstone in pop culture.
Kid Cudi came up in Cleveland where he developed his unique musical sensibility, before moving to New York in 2005 to try to make it as a musician. After A&R and producer Plain Pat caught wind of a few of his songs, he passed them on to Kanye, who, coincidentally had already met Cudi via a chance encounter at the Soho Bape store where Cudi worked at the time. It was 2008's version of having Drake find your SoundCloud link. By the time Cudi released his debut album, Man on the Moon: The End of Day, in 2009, his brand of genre-bending emotionality was in high demand. It was as if the smooth-voiced musician from Ohio had effortlessly tapped into the nascent Obama-era Zeitgeist. For the 2010 follow-up, Cudi did what few breakout stars ever manage to do — he improved. Man on the Moon II: The Legend of Mr. Rager was a matured progression, a distillation of the pieces of Man on the Moon that captivated audiences. The former was heralded for its inventive structure, succeeding at executing its high-minded concept, as well as for the strength of its hooks. Both albums in the Man on the Moon series feature undeniably sticky refrains made only more potent by the wrenching lyrics they bookend. "Yes, I really drink, I really do rage / My demons out the cage 'bout most of the day / Before I became the age to even rage I was drowning my sorrows with some O.E., nigga" he raps on 2010's "Mojo So Dope."
At the same time, Cudi dabbled in acting, offering up serviceable performances in the HBO series How to Make It in America, as well as the 2013 adaptation of Need for Speed. But he also found himself mired in what seemed like a combination of indecision and music industry malfeasance. After releasing the first two parts of the Man on the Moon series just one year apart, Cudi took time to experiment with making rock music. In 2012 he released an album for the project WZRD with his longtime creative collaborator Dot da Genius. But whereas today's young rappers are almost expected to be inspired by heavy metal and punk rock (Playboi Carti says his favorite punk is … Bam Margera?), WZRD was met with skepticism. Cudi himself bemoaned the lack of label support the record received, and the whole thing seemed to mark something of a veer off-course for the rapper. Cudi's next project, Indicud, arrived a year later, in 2013, and cashed in on much of the goodwill he'd accumulated before WZRD. Kendrick Lamar, Father John Misty, and Haim all appear. It was his delivery of a blockbuster, label-pleasing proof of concept, and it was a commercial success.
Then, 2014's Satellite Flight: The Journey to Mother Moon, found Cudi back in WZRD territory, and further than ever from the trends of the mainstream. The unabashedly alt-rock album has a spiritual and cosmic resonance that would feel at home in 2018's musical landscape, but seemed misguided at the time. Fans of the rapper's early work were confused as to why the man they came to love on "Day 'n' Nite" and "Pursuit of Happiness," had abandoned a sound with a lot of life left in it, but Satellite Flight is almost all feeling, a score to the inner turmoil that Cudi describes with such detail in his lyrics.
Similarly, 2015's Speedin' Bullet 2 Heaven, which Cudi called "100 percent the purest form of my artistic self," found him straying even farther from the mainstream, and diving deeper into himself. He dedicated the album to anyone else struggling with their mental health, and the record sounds like anguish feels. Muffled guitar riffs drown out decidedly depressed lyrics. Words like "end" and "alone" jut out like mantras.
2016's Passion, Pain & Demon Slayin' arrived as a ray of hope. The record marked something of a return to the type of music Cudi fans were accustomed to. Except there was something undeniably different about Cudi in 2016. Passion, Pain & Demon Slayin' lacked the ebullient bangers of albums past, and at 20 tracks felt meandering and unfocused. While the Man on the Moon series was confident in its ambitious concept, Passion felt confused, as if Cudi was merely going through the motions.
That same year, Cudi launched into a Twitter tirade about new generation of rappers clearly influenced by him. "Gotta watch these lil rappin ass niggas. Thats why i dont fuck with nobody. Niggas wanna wear your skin," he said. "Needed to address this madness. Cause I explore other musical realms everyone wanna act like I aint show these niggas the path." It is true that it's hard to imagine acts like Lil Uzi Vert or Lil Skies without Cudi. Even his contemporaries, like Drake and Kanye, owe their crossover appeal to his earlier musical exploration. And in his candidness about his struggles with mental health, he opened the door for a different kind of dialogue around the issue.
But what is the value of being first? Kid Cudi has spent the years since the success of Indicud searching for his own creative vision, as well as for inner peace. He's taken shots at Kanye and Drake — whose response was unnecessarily cruel — for what he sees as hypocrisy in the industry, and he's right. Kid Cudi's biggest hurdle has remained the expectations that come with fame, the contrast between the art one makes and the way it's consumed. Now, in the midst of a chaotic string of releases all orbiting around the ego of Kanye West, fans are faced with a jagged sort of hope. Will Kid Cudi make a triumphant return, or will the antics of his collaborator overshadow his vision? Is Kids See Ghosts an album for Cudi, or for Kanye?