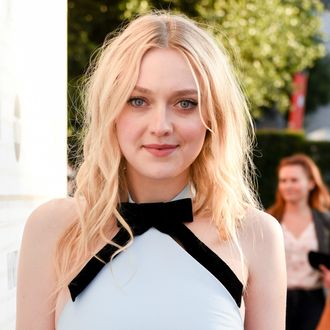 Dakota Fanning.
Photo: Presley Ann/Getty Images
Quentin Tarantino's Once Upon a Time in Hollywood is turning into a real Who's Who? of "Who Was in Some Way Connected to the Horrific 1969 Murder of Sharon Tate and Four Other People?" According to Deadline, Dakota Fanning, Damian Lewis, and Luke Perry are among the latest actors to join the cast. Fanning will reportedly play Squeaky Fromme, the Manson Family member who attempted to assassinate President Gerald Ford in 1975. Lewis will portray actor Steve McQueen, and Perry will portray Scott Lancer.
Meanwhile, Emile Hirsch has been cast as Jay Sebring, the celebrity hairstylist who numbered among the Tate murders, along with Nicholas Hammond as director Samuel Wanamaker, Clifton Collins as Ernesto The Mexican Vaquero, and Keith Jefferson as Land Pirate Keith. The Sony Pictures film stars Leonardo DiCaprio and Brad Pitt as over-the-hill Western actor Rick Dalton and his stunt double Cliff Booth, respectively. Unfortunately for Dalton, he lives — you guessed it — right next to poor Sharon Tate, who is set to be played by Margot Robbie.