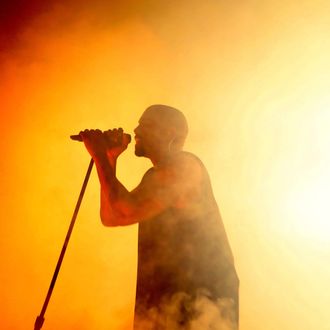 Kanye West.
Photo: Jonathan Leibson/Getty Images for go90
In an interview with French publication L'Obs, Gorillaz founder Damon Albarn got heated over what he says was an "abusive" collaboration between Kanye West and Paul McCartney, one that birthed Yeezy's "All Day," "Only One," and "FourFiveSeconds," released in late 2014 and early 2015. According to Stereogum, who translated the already once-translated interview, the Blur frontman accused Kanye of milking the former Beatle for his work. "Do not get me started on Kanye West. Kanye West trapped Paul McCartney," claimed Albarn. "I have a problem with this abusive collaboration: we're talking about Paul McCartney, but he's so precious! Kanye West thinks only of Kanye West, using a name to make headlines, saying 'McCartney is in my song.' In addition, he puts McCartney in the video of the song, but not in the song itself."
In the interview, Albarn accuses the Ye creator of using other musicians unfairly, essentially mining them for their work. "Kanye West is one of those people who feed on other people," he said. Albarn reportedly even went so far as to try and warn McCartney about Kanye's alleged tendency to milk his collaborators. "Before he decided to work with Kanye West, I sent a text message to McCartney saying, 'beware,' but he ignored it. He does what he wants, it's Paul McCartney," Albarn said.
In a recent DIY interview, Paul McCartney recalled working with Kanye on "All Day," seemingly without realizing they had begun working. "I was tootling around on guitar, and Kanye spent a lot of time just looking at pictures of Kim on his computer. I'm thinking, are we ever gonna get around to writing?! But it turns out he was writing." Back in 2016, McCartney discussed the collaboration with Rolling Stone, saying he had heard Kanye put other artists to work for his songs. "I'd heard things like, 'He's got a room full of guys working on riffs, and he walks around going, I like that one,'" McCartney explained. "It reminded me of Andy Warhol, these artists who use students to paint their backgrounds and things. It's a well-used technique." For example, he said, Kanye used a melody McCartney had created back in 1969 as part of "All Day." McCartney said in the same interview that he felt Kanye is "a great artist."