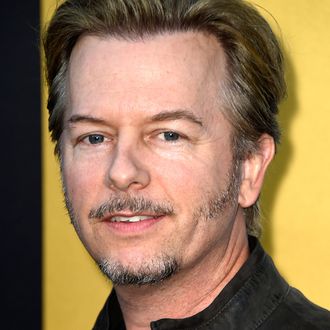 David Spade.
Photo: Frazer Harrison/Getty Images
Today the world was shocked by the sudden passing of fashion designer Kate Spade. The beloved style icon apparently died of suicide in her Manhattan apartment, and she was found by her housekeeper on Tuesday morning. The family released their own statement earlier today, but this evening, Spade's brother-in-law David paid tribute to her on Twitter along with a photo of the late designer attending one of his book signings. The SNL alum wrote on Twitter, "Katy at my book signing. I love this pic of her. So pretty. I dont think everyone knew how fucking funny she was … Its a rough world out there people. Try to hang on."
The star was also photographed by TMZ earlier today in L.A. being consoled by a friend.