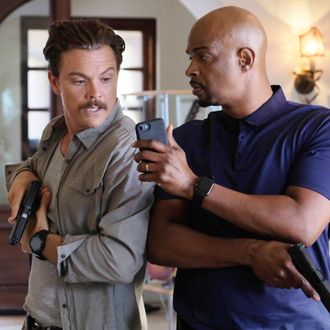 Clayne Crawford and Damon Wayans.
Photo: Darren Michaels/FOX/Fox Broadcasting Co.
At the start of May, Lethal Weapon star Clayne Crawford was dismissed from the Fox show following reports he was volatile on the set and had an extremely contentious working relationship with Damon Wayans, who played the Roger Murtaugh to his Martin Riggs. Now, Variety has a story out with input from 31 people who worked on the set of the show, and many of them are (anonymously) corroborating accounts of Crawford's outbursts.
The situation apparently deteriorated to the point where outside security services were kept on the set at all times to ensure conflicts didn't turn violent. Variety has audio recordings of Crawford and Wayans, one in which Crawford is calling his co-star a "pussy" and saying he's only famous because of his family connections, and another that has Crawford mic'd up in the middle of a scene and screaming profanities at crew members to keep the set quiet. (There were apparently children in a swimming pool making too much noise off camera.) That incident resulted in an assistant director walking off set and quitting on the spot.
The event that got the most media attention, a stunt gone awry that resulted in Wayans sustaining a head injury during an episode Crawford was directed, is also detailed. After Wayans was hurt, he refused to do more stunt work under Crawford's direction. That's what lead to Crawford calling his co-star a "pussy" and things escalated to a group argument involving Wayans and his assistant, Crawford, and executive producer Matthew Miller. Studio security broke up the scrum before punches were thrown, but production was shut down for the day.
Crawford took responsibility for his aggressive behavior in a statement released before his firing, but he was ultimately let go and the network opted to pick up the show for a third season with Seann William Scott joining the cast as a new partner for Murtaugh. (A substantial number of crew members have also reportedly been replaced.) Some Variety sources also pointed out Wayans's difficult behavior on the set, but it was basically limited to him being high maintenance and passive aggressive. Season three is scheduled to start filming this summer.