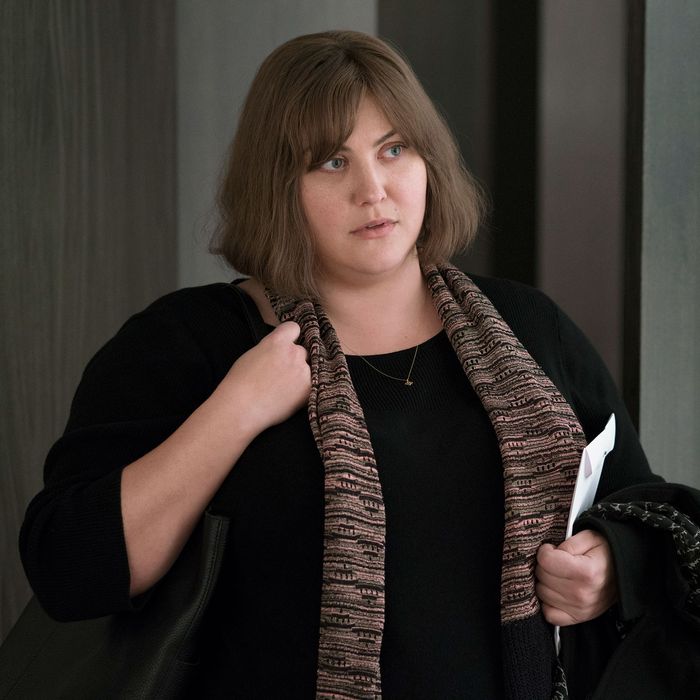 Joy Nash as Plum Kettle in
Dietland
.
Photo: Patrick Harbron/AMC/AMC Film Holdings LLC. All Rights Reserved.
Dietland is an off-kilter drama about society's tendency to limit women, and a show that itself defies categorization.
If you've read Sarai Walker's novel of the same name, then you'll have some sense of the tonal shifts in this AMC series, adapted by Marti Noxon of UnREAL and Girlfriends' Guide to Divorce fame. Debuting Monday night, Dietland is part beauty-industry satire, part vigilante-justice thriller, part murder mystery, and part body-positive manifesto. There are probably some parts I'm forgetting in there, too. The fact that it's able to skate between so many genres and vibes more or less fluidly is impressive, bold, and deliberately odd. It's a show that seems destined to start conversation, but that also seems very aware — arguably too aware — of its capacity to start a conversation, especially in this #MeToo-infused cultural atmosphere.
Dietland centers around Plum Kettle (Joy Nash), a ghostwriter for Kitty Montgomery (Julianna Margulies), the editor of the teen fashion-and-beauty magazine Daisy Chain. Plum writes Kitty's Letters to the Editor column, which means she reads and responds to pleas from young women mired in various states of desperation. Plum, herself, is in a semi-desperate place: A plus-sized woman who has tried every diet that exists, she is planning to get her stomach stapled, but needs cash not only for the procedure but also the seemingly inevitable skin-reduction surgery that will follow. Beauty is not only pain, Dietland reminds us. It's freaking expensive.
Plum's personal struggles and her relationship with Kitty, who could not be more condescending to the woman who makes her sound intelligent in print, provides more than enough fodder for a TV show. But wait, Dietland, has more! Plum is stalked by a mysterious, goth-ish woman (Erin Darke of Good Girls Revolt) who seems to know more about her than she reasonably should. Meanwhile, a shadowy renegade group named Jennifer is reportedly bumping off men who managed to skirt punishment for abusing women. Eventually, Jennifer's actions have a direct effect on the family at Austin Media, the company that owns Daisy Chain.
Like I said, Dietland bites off a whole lot for one TV series. But under Noxon's supervision, all of these separate pieces manage to feel like part of a cogent whole. There's a dark comedic glaze drizzled over everything in Dietland that makes it entertaining and funny — "My stomach's always empty," Plum tells her Waist Watchers counselor. "Yeah, good for you!" her counselor responds brightly — but the show doesn't shy away from the genuine seriousness of its material, which includes fat-shaming, mental illness, and sexual harassment, as well as a fashion, beauty, and media complex that contributes to all of the above. There are moments that are reminiscent of lighter dramedies, like Sex and the City and Ugly Betty, but there's also a streak of Handmaid's Tale–esque feminist rebellion constantly cutting through any sense of pure escapism. Even a trip to the Daisy Chain beauty closet — a flight of delirious glam-fancy on just about any other series — immediately takes on shades of something sinister.
There are times when Dietland's twisted sensibility also reminds me of another summer series that skillfully blended elements of reality with the weird and disturbing: CBS's short-lived BrainDead. Plum sometimes imagines herself as an animated woman with her eyes half-closed, moving like an ambivalent pawn from one part of Manhattan to another. In the third episode, Plum goes off of her antidepressants cold turkey and has an extended hallucinatory encounter with a tiger — hey, I'm just typing what I saw — who looks and sounds a lot like the police detective (Adam Rothenberg) on whom she has a crush. Even the opening titles — which feature that animated version of Plum climbing up a Candy Land–esque mountain of sweets, becoming skinnier and skinnier until she finally reaches the top and becomes an exhausted, collapsing cadaver — are more than a little macabre.
The series stays tethered enough to Earth, though, and its lead performances are a major reason why. Nash plays Plum with a resigned, relatable matter-of-factness, spiked with an appropriate sense of skepticism and panic when she senses that strange things may be afoot. During dream sequences in which Plum walks a runway or gives in to sexual desire, Nash infuses her with such vibrancy that her dialed-down, everyday countenance seems even sadder. On paper, as a character, Plum may be defined a bit too much by her weight, but Nash's portrayal makes her multidimensional.
Margulies opts rightly to play Kitty completely straight. This diva-journalist with a waist as wide as a thimble has no idea what it's like to be anyone other than herself, and no sense of her own obliviousness. "Being a member of the idle rich is a fate worse than poverty," she says at one point, and she truly means it. Margulies earns laughs precisely because she knows her character isn't joking. I'd say she'd get along famously with Miranda Priestly from The Devil Wears Prada, except that the far smarter Miranda would disintegrate her in an instant with a withering glance. Kitty is powerful, but her power is obviously unearned.
In supporting roles, Robin Weigert (as Verena, the anti-fad-diet proponent who counsels Plum), and Tamara Tunie (as Julia, the boss of the Daisy Chain beauty closet) effectively project the air of sensible, supportive women, so much so that you're not sure that you can actually trust them. At this point in Dietland — I have only seen the first three episodes, out of ten total this season — I'm also not quite sure what the show is trying to tell us. It's clearly against anything that makes women feel badly about their bodies and themselves, whether it's misguided wellness plans, publications that push impractical, idealized images of beauty, or toxic individuals themselves. (See also: The show's not-even-slightly-veiled references to the harassment accusations against fashion photographer Terry Richardson.) But it's too early to determine whether Dietland will pick at obvious societal scabs or draw blood in a meaningful way. At the very least, it's addressing these issues with more bite than other recent attempts, most notably the muddled Amy Schumer movie I Feel Pretty.
What I do know for sure is that I'm interested in seeing how the rest of the season plays out. Dietland may not single-handedly dismantle the beauty magazines, cosmetics corporations, impractical diets, and male gazes that place so many barriers in front of women achieving self-confidence, but it's taking aim at those subjects with enough verve and freaky flair to make it impossible to ignore.