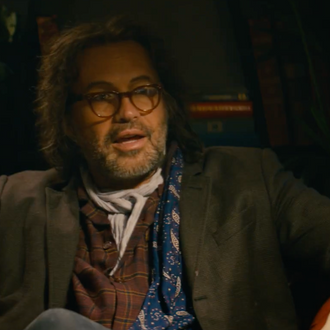 Adam Morse is about to debut his first feature film Lucid at the Edinburgh International Film Festival. He has also just revealed that he is blind. The director began losing his sight nine years ago and was diagnosed with Leber's hereditary optic neuropathy, a rare disorder that left him with only partial peripheral vision. His younger brother was also diagnosed and began losing his sight just a few weeks later. However, Morse continued working toward his dream of becoming a filmmaker, telling The Guardian he wanted "to stop focusing on the limitations and instead concentrate on what I could do." Using a 60-inch monitor, a screen reader, and the aid of cinematographer Michel Dierickx, Morse wrote and directed his film starring Billy Zane.
Zane had no idea the director was visually impaired before filming began, as Morse told Variety, "Billy didn't know, and I only told him two days after we started filming. He didn't believe me," Even one of the principle investors didn't find out about Morse's condition until after an initial test screening of the film. "I didn't want [the investors] to find out and then pull the plug on us. I had that anxiety of being found out every time I went to a meeting with one of them. I would bump into something or they would point to something across the room or on the screen of their phone and I would have to fake it — pretend that I knew what they were looking at … None of them were any the wiser about my condition thankfully."
Morse's film will debut at the festival on June 23, but he remains humble, "I just want to inspire those who lack faith in the universe, spread a positive message and lead by example." No, we're not crying this is just face sweat! Lots of a face sweat!