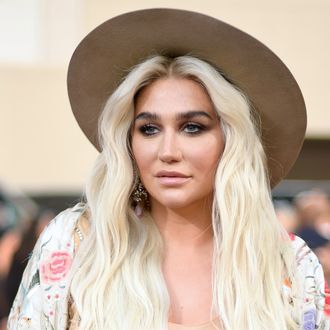 Kesha.
Photo: Matt Winkelmeyer/Getty Images for dcp
Earlier this week, court documents filed as part of Dr. Luke's defamation lawsuit against Kesha revealed that the singer had discussed the producer's alleged rape of Katy Perry in a text sent to Lady Gaga in February 2016. Kesha allegedly conveyed the information to Gaga, while also informing the Joanne singer that she, too, had been sexually assaulted by Dr. Luke. The producer fervently denied the claim, saying that Perry had reportedly confirmed she had not been raped by Dr. Luke. "Kesha's accusation to the contrary — just like her other outrageous lies about Dr. Luke — is baseless and irresponsible, and it is disrespectful to both Katy Perry and Dr. Luke," his legal team said at the time. On Friday, Kesha's lawyers sought to clarify the origin of the Katy Perry sexual assault allegation, which they said did not originate with Kesha, but with an unnamed record label head who told both Kesha and Lady Gaga about the assault.
"With respect to the recent story regarding Katy Perry, the statement that Dr. Luke assaulted her came from the CEO of a major record label, and was told by that executive at the same time to Kesha and Lady Gaga," Kesha's legal team said in part per Variety. "The startling statement was subsequently discussed in a private, one-on-one text message between Kesha and Lady Gaga. It was neither published nor further distributed. It would have remained completely private, except that Dr. Luke and his team took an email obtained only in discovery and decided to publish it to millions of people in his amended complaint against Kesha, and then claim reputational harm from his own widespread publication."
Dr. Luke's legal team quickly issued a response denying that the CEO, which they also declined to name, accused Dr. Luke of rape, and reiterating their claim that Katy Perry denies being assaulted by the producer. Their response, which you can read in full below, ends with a line from Sir Walter Scott's 1808 poem "Marmion," modified to admonish Kesha. Writes Dr. Luke's legal team, "Oh what a tangled web you weave when first you practice to deceive." The bolded phrases are original to the statement.
"Kesha and her legal team are fully aware that Ms. Perry has unequivocally confirmed that she was not raped by Dr. Luke. Kesha and her attorneys should be ashamed of themselves for not publicly acknowledging this and apologizing.

 

Instead, they continue to publicize this and other falsehoods. In fact, Kesha' s false accusation involving Ms. Perry came to public light only because Kesha's attorneys filed the accusation publicly. 

 

Kesha's latest press release saying that a music executive told her that Dr. Luke had raped Katy Perry is fully contradicted by that executive. He denied saying that.

 

Contrary to her latest defamatory press statement, the evidence, including sworn testimony, will show the full extent and scope of the scurrilous falsehoods Kesha spread. 

 

As the old and true adage goes: Oh what a tangled web you weave when first you practice to deceive."