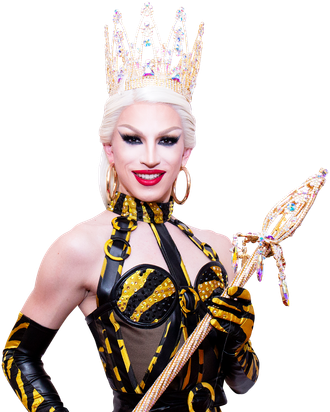 Aquaria.
Photo: Getty Images
If you haven't yet heard, honey, it is the dawning of the Age of Aquaria. After turning looks and stunting pretty all season long, the 22-year-old "bitch from New York City" was named America's Next Drag Superstar by RuPaul in a tight competition that came down to the very last lip sync against finalists Eureka O'Hara and Kameron Michaels. This morning, we caught up with the season-ten champion to talk about the sacrifices that went into being the best of the best at such a young age, how she managed expectations despite being seen as a front-runner, and the evolution of her relationship with the Vixen.
Congratulations! You're a winner! How are you feeling?
She's a winner! It feels great! It feels like my hard work has finally paid off. For someone who puts as much thought into everything they do as I do, and is as anal and detailed as I am, it has just been very nice to have been able to present, from top to bottom, everything that I had. I gave it my all and I got it all.
How did you feel going into last night? You were a pretty obvious frontrunner.
Even earlier in the season when I had no fan response, I knew that I had an advantage as far as statistics goes. And I knew that, in Drag Race terms, sometimes that doesn't mean anything. I knew, at least, I had turned it out in the final lip sync. Part of me was being realistic and trying to accept that I should expect to do well. But also, anything could happen. I don't know what the other girls were doing, but I didn't want to celebrate too early.
What do you hope will be your contribution to the queer community as one of its new leaders and luminaries?
So crazy, right? For now, I have a lot of things coming up. Mostly just a lot of bookings, which is fabulous because I love traveling around. I love meeting fans and I love bringing my drag to all parts of the world. Even the Midwest — I don't even mind it when it's the Midwest. Besides that, I love being in control of as many details of my drag as possible, whether it is me selling my outfits, designing my outfits, painting my nails, my performances, and being able to create personalized numbers and original content to perform. I actually have a song that just came out today called "Burn Rubber." Available on iTunes and Spotify! I've always wanted to be a pop star of sorts because I love the whole touring gig. I love the whole Blonde Ambition fantasy.
The Vixen was very Team Aquaria last night. We didn't get to see that relationship blossom, so how did it grow from that tough moment in Untucked to the way it is now?
On the show, there are many instances where we are specifically not supposed to talk so it all doesn't regress when the cameras aren't rolling. Me and the Vixen, ever since we spoke in Untucked on episode three, I knew to back off. I also knew that I needed to look into myself to see where my issue came from with that, and how I can try not to have that happen again in the future because clearly this was the misunderstanding of misunderstandings. But I think the Vixen knows, and I knew, that I was not truly intending to be rotted, gutted, and evil. So we just kind of steered clear of each other. I took myself out of the group situation and took a second to breathe and be like, "Okay, Aquaria, just do your drag and over time things will mend themselves."
So then, we had a really meaningful moment, which was unfortunately not captured on camera. We were just out passing each other, grabbing supplies from our supply rack, and she mentioned that she thought I should have won the reading challenge that day. Whether my reads were actually that good or not, or whatever, that was like an olive branch to give me the head's up that we were cool. That was the moment I knew things were good. We are very passionate people and we are very similar when it comes to our feelings, so I knew that at some point we'd butt heads. And we sure as hell did. But I know that a really great friendship came from that. I'm very grateful.
You're obviously very young but so, so good at what you do. What goes into being the best of the best at just 22?
A lot of people take my journey and my story for granted because it's not the most "sobbing" or emotional story, but that is not true. I downplayed the sacrifice I had to make to get here. I've never come from a lot of money. Going to college in New York was already a financial struggle for both my family and me, so to drop out and immediately put my faith in my drag career was a huge risk to take. If you've ever lived in New York City or somewhere where the rent is high then you know, bitch, it's hard to pay the rent. And it is due on the first and not a day late.
And then, in New York, it's just such a competitive scene. There were many, many years when I was working in clubs underage, which I'm still probably not supposed to say. There's a lot of stress that comes with that and I know that a lot of people had to stick their neck out for me. And then, coming to Drag Race, you throw every last dime you have — which usually isn't a lot when you're a drag queen — into coming up with great looks. I literally threw all the money away and invested it all in myself and crossed my fingers hoping it would turn out the way that I thought it would. So, to be at this point right now is very, very affirming and very validating. It means that all those struggles and sacrifices were worth it. Whether it's a financial thing, or having to work three gigs in a day back-to-back-to-back and being drained, having to wake up the next morning and do work, it just puts everything into perspective and makes it so worth it.
What's your first proclamation as the reigning queen?
Don't forget to Like, Follow, and Subscribe! No, this is maybe the corniest but follow your fucking dreams. Don't let anyone tell you otherwise. Don't let your upbringing, your surroundings, whatever situation you are living in, don't let those stop you from being the greatest you that you can be.