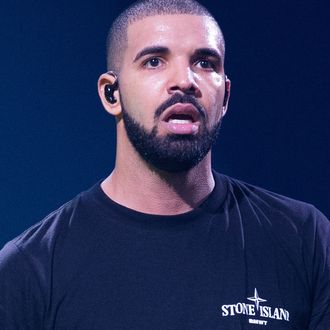 Drake.
Photo: David Wolff - Patrick/Redferns
Drake's new album, Scorpion, features a whopping 25 tracks, which include a big reveal about his "secret" love child, references to his beef with Kanye and Pusha-T, allusions to a rumored romance with Bella Hadid … and a whole lot of complaining about people's vacation Instagrams ('cause how else you going to fill 25 tracks?). In the song "Emotionless," Drake aims his disdain at all those people out there — himself included — "scrollin' through life and fishin' for praise," complaining about their home cities "cause they been starin' at somebody else's version of shit that makes another city seem more excitin' than it is."
It's a fair complaint, but then things begin to get unnecessarily pointed, with Drake referencing a number of specific women whose Instagram habits he finds distasteful. For instance: Drake has absolutely no time for your basic Trevi Fountain selfies, even if you're set to crack a personal best on "likes."
I know a girl whose one goal was to visit Rome. Then she finally got to Rome. And all she did was post pictures for people at home. 'Cause all that mattered was impressin' everybody she's known



Nor does he have time for your emo captions (even if you happen to be quoting Drake in that very caption):
I know another girl that's cryin' out for help. But her latest caption is "Leave me alone"



Performing your happy relationship on Instagram? Ironically, that's also a no-no:
I know a girl happily married 'til she puts down her phone
And Lord have mercy on the woman who spaces out her travel-grams to optimize her social reach:
I know a girl that saves pictures from places she's flown. To post later and make it look like she still on the go



In conclusion: do as Drake says, not as he 'grams.