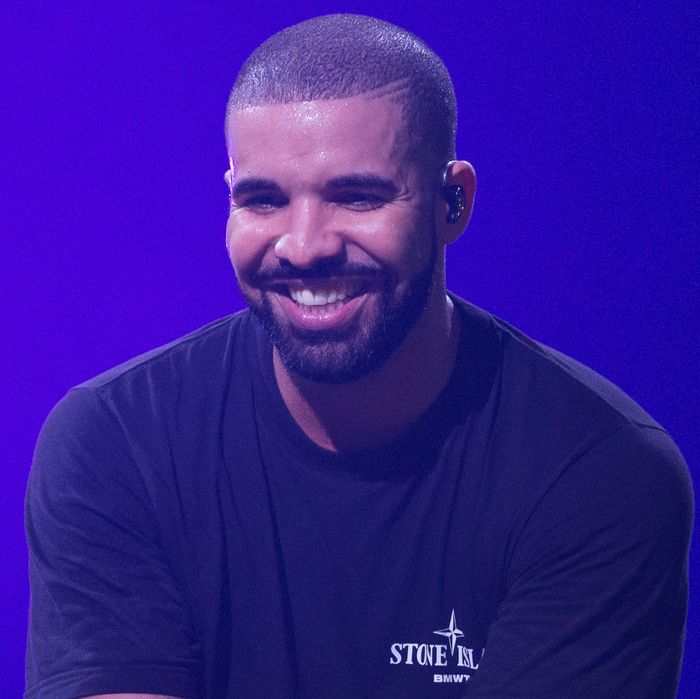 Photo: David Wolff - Patrick/Redferns
A Drake album release is never dull. Last night, he birthed his fifth studio album, Scorpion, months after the birth of his own child, which he confirms on the album. And that's just the first of many bombshells dropped throughout the album. But beyond the breaking news, there's a number of telling details to parse through hidden deep within the album credits. Rumors of ghostwriting have plagued Drake for years — so, who really wrote this thing? Also what's this about a posthumous Michael Jackson feature? And, hold up, he samples Aaliyah, Mariah Carey, N.W.A., Marvin Gaye, Lauryn Hill, Nas, and Boyz II Men all on one album? Wait, wait wait, and it's a double album? We'll get you caught up on all the song specifics in just a bit. First, let's start with some FAQ.
Why is it called Scorpion?
Drake is a Scorpio, born in October — a fact he'll never let you forget. Just guessing here, but it's also probably his patronus. (Bet he gets along with snakes.)
Is this some annoying streaming exclusive?
Nope! Although it was initially released only on Apple Music, Scorpion quickly dropped on Tidal, Pandora, Amazon, and more, with an inexplicably delayed arrival on Spotify. But it's there now, too. And unlike Beyoncé and Jay-Z's joint album, it's free to listen. Live your best frugal life! But if you do choose to listen on Apple Music, you get the added bonus of an editor's note. Those are usually written by the staff to describe the album, but this one seems to come from Drake himself. Think of it as a sort of self-own, if you will:
How long is it?
Looooong. This is a double album, after all. One side is more rap-focused and the other more sensitive. It's a grand total of 25 songs that'll take you one hour and 29 minutes to get through — so, basically, the length of The Lion King, or March of the Penguins and change. Block out your time accordingly.
Yeah I'm not doing all that. Is Drake a dad or nah?
[Maury Povich voice] You are the father!
Wow, so Pusha-T was right. Speaking of, does Drake respond?
Only in so many words. There isn't a full, official response to Push's "The Story of Adidon" diss, but Drake does say he wasn't hiding his child from the world, as Push claimed, but rather "hiding the world from my kid." There are other subliminals thrown at Push throughout the album, but nothing as venomous as an actual scorpion's sting.
I heard Michael Jackson is on it. Why?
You heard correct. And it's not via a sample, interpolation, or any other reason artists nowadays give a full feature credit to avoid litigation. "Don't Matter to Me" features previously unreleased posthumous vocals from MJ on the song's hook, authorized by MJ's estate.
Wait, but did MJ even like Drake?
We can never truly know that — unless Quincy Jones would like to spill some more tea — because MJ passed around the same time that Drake's career as a rapper was just taking off. ("Best I Ever Had" was released in February 2009 and So Far Gone that September; MJ died in June that year.) But we do know how Drake feels about MJ. He has said on multiple occasions that MJ is a major influence and that he'd like to emulate MJ's career for his own. So far it's working: Drake recently beat MJ for second-most weeks at No. 1 for a solo male artist on Billboard's Hot 100. (He's now second only to Usher.)
Cool. So who else is on this album and who made the thing?
I'm glad you asked. While the entire album was executive-produced by Noah "40" Shebib and Drake's manager, Oliver El-Khatib, there's a whole cast of other characters involved. For that, we present you with the essential track-by-track breakdown. Pour some coffee, maybe plan on a few naps, and get to reading.
"Survival"
Drake claimed his album opener would go "hard," which really means it's a look at how hard it is being Drake. He talks, in so many words, about coming under fire from the likes of Pusha-T, Meek Mill, and Diddy but how he's come from under the rubble not only unscathed, but reinforced in his power. "The crown is broken in pieces, but there's more in my possession," he says. The song was produced by 40 and No. I.D. (who produced all of Jay-Z's last album), and written by Drake, 40, and No. I.D., as well as Klaus Netzle and Manuel Landy because the song "Telex" by Claude Larson (Netzle's pseudonym) is sampled. (Lil B has sampled it, too.)
"Nonstop"
This is the song in which Drake raps "Yeah I'm light skinned, but I'm still a dark nigga," which you can interpret to be about that blackface photo of him that Push used as the artwork for his diss track, or however else you please. No. I.D., Memphis' Tay Keith (who also did J Blockboy JB's "Look Alive," on which Drake is featured), and Drake's engineer Noel Cadastre all produced it; Drake and the rest of them also wrote it.
"Elevate"
As you can probably guess from the title, this song speaks to Drake's success reaching new heights: "I wanna thank God for workin' way harder than Satan / He's playin' favorites, it feels amazin'." 808 Mafia's Nonstop Da Hitman (Migos) and PartyNextDoor produced it; PND, Drake, and composer Gary Fountaine wrote it; and French Montana reportedly provides some additional vocals.
"Emotionless"
One of the most talked about songs of the album, this is Drake's first mention of his alleged secret son, in which he confirms part of the rumors. "I wasn't hiding my kid from the world, I was hiding the world from my kid. From empty souls who just wake up and looked to debate. Until you starin' at your seed, you can never relate," he raps. "Breakin' news in my life, I don't run to the blogs / The only ones I wanna tell are the ones I can call / They always ask, 'Why let the story run if it's false?' / You know a wise man once said nothin' at all / I'm exhausted and drained I can't even pretend." 40, No I.D., and Canada's The 25th Hour produced it; they all wrote it with Drake, plus Mariah Carey and C+C Music Factory's Robert Clivillés and David Cole are credited as songwriters because the song samples Carey's "Emotions," which all three wrote.
"God's Plan"
The album's first single, and half the reason Drake has spent most of the year at No. 1 on the Billboard Hot 100. Boi-1da, Cardo, and Young Exclusive produced it; they all wrote it with Drake and 40.
"I'm Upset"
The album's third single, which reunited the cast of Degrassi for its music video. Oogie Mane produced it; Drake and Oogie wrote it.
"8 Out of 10"
Here's why Drake throws the majority of his shots at Kanye West. He's responding to a line on Kanye's "No Mistakes," in which Ye said, "Too close to snipe you, truth told, I like you / Too bold to type you, too rich to fight you / Calm down, you light skin!" Drake here responds: ""Too rich for who? Y'all just got rich again / Who grips the mic and likes to kill they friends?" referring to Kanye's murderous thoughts on his Ye album opener. Drake also pokes fun at Kanye's Wyoming sessions, saying he only contributed (he wrote on "Yikes") to get a check. He also references Pusha-T's diss again: "The only deadbeats is whatever beats I been rappin' to." Boi-1da, Jahaan Sweet, and OVO's OB O'Brien produced it; they all wrote it with Drake. Arthur Ross and Leon Ware are also credited songwriters because it samples Marvin Gaye's "All the Way Around." The Detroit Emeralds' Abrim Tilmon is also a credited songwriter because the song samples the group's "You're Getting a Little Too Smart." The song also briefly samples Lil Kim's "Crush on You" remix featuring Lil Cease and Biggie and ends with a sample of a Plies meme.
"Mob Ties"
This is a song in which Drake tries to prove he's a gangster, or at least has affiliations with a few. Whether or not you choose to believe such a claim, well, live your truth. Boi-1da and Allen Ritter produced it. Aside from Drake and his producers, several people are credited as songwriters, including Nas, Foxy Brown, Cormega, AZ, the Trackmasters, and Dave Atkison because the song samples Nas's "Affirmative Action" featuring Foxy, Cormega, and AZ. Singer Asheley Turner and reportedly Travis Scott (who hinted at being on the song) are featured. The song also samples Ultra Naté's "Free."
"Can't Take a Joke"
If you've ever wanted a song about Drake's life living in Hidden Hills, right near Calabasas, this is for you. ModMaxx and Noel Cadastre produced it; Drake wrote it with Maxx.
"Sandra's Rose"
This is a song dedicated to Drake being his mother's rose (awww). It also contains the unfortunate line "I make them hoes walk together like I'm Amber Rose," which, yes, is a reference to Amber's famous SlutWalk. DJ Premier and Maneesh produced; they wrote it with Drake.
"Talk Up"
Aside from MJ, Jay-Z is the album's biggest feature and it's a surprising one given his and Drake's rocky history. Jay-Z's verse was recorded no earlier than last week, as it references the murder of XXXTentacion (which means it was recorded after Everything Is Love as well). Three 6 Mafia's DJ Paul produced the song, and told Vibe that even he didn't find out Jay would be on the song until the day of its release. Drake, Jay-Z, and Paul are all credited writers, as are Dr. Dre, and Ice Cube because the song samples N.W.A.'s "Dope Man." That song samples the Ohio Players' "Funk Worm," which means the group's Leroy Bonner, Marshall Jones, Ralph Middlebrooks, Walter Morisson, Andrew Noland, and Gregory Webster are all credited, too.
"Is There More"
This song is mostly just Drake taking about how the rap lifestyle has made his moral compass "janky." Wallis Lane produced it. Most notably, Timbaland and the late Static Major are credited songwriters (Static even as a feature credit) because the song contains a vocal interpolation of Aaliyah's "More Than a Woman" in its outro, which they wrote; Hiatus Kaiyote's Nai Palm performs it. So if you were expecting Drake's Aaliyah obsession to chill, just assume it never will.
"Peak"
Congratulations, you've made it to the R&B section! This is a song in which Drake gushes about how British women are the cream of the crop. Fittingly, it ends with a chat between female U.K. artists Stefflon Don, Rhea Kpaka, and Vinessa Douglas about the poor dating etiquette of millennial men. 40 produced it and also wrote it with Drake.
"Summer Games"
In which Drake gets emo about losing a woman he wasn't ready to commit to anyway ("Yeah, you said 'I love you' too fast / So much for that, girl, summer just started"). It's maybe about his Rihanna breakup, but we're choosing to believe Rih would never drop the L word first. Never! 40 and No I.D. produced it; DVSN's Nineteen85 co-wrote it.
"Jaded"
In a continuation of "Summer Games," now Drake has turned cynical about love. He gets more specific about who apparently hurt him, describing a younger woman chasing fame. (There's speculation this song is about his alleged relationship with British singer and More Life collaborator Jorja Smith, though she denied anything romantic happened with Drake in a recent Cut profile.) "Youu wanna hit me up when you make it / You'll try and come back when you famous," he tells her. Ty Dolla $ign is featured on vocals, as he is on seemingly every major release this summer. Noel Cadastre produced it, and he and Drake wrote it.
"Nice for What"
The album's second single, which came with a video featuring every famous woman you love. The song prominently samples Lauryn Hill's "Ex-Factor," making her also a credited lyricist. But stay with us now: Her song also samples Wu-Tang's "Can It All Be So Simple," which itself samples Gladys Knight and the Pips' version of Barbra Streisand's "The Way We Were." So if you're counting, all songwriting parties involved in that mass sampling vortex are credited on "Nice for What," making this one very expensive song!
"Finesse"
It's not a Bruno Mars cover, but rather a moody potential ode to Bella Hadid. ("You and your sister are too hot to handle," he sings.) Noel Cadastre produced it, and wrote it with Drake and James Fauntelroy, who is also a featured vocalist.
"Ratchet Happy Birthday"
Are you having a downer of a birthday? Is your party and you'll cry if you want to? Drake's got you covered with this one. Boi-1da, Jahaan Sweet, and D10 produced it; PartyNextDoor co-wrote it and has background vocals. Eddie Kendricks's "If You Let Me / Just Memories" is sampled, and its songwriters — Leonard Caston and Anita Poree — are credited.
"That's How You Feel"
Yet another song about a woman Drake isn't on the same page with. It samples a 2014 live performance of "Boss Ass Bitch" from Nicki Minaj, who is credited as a songwriter. Noel Cadastre produced it and also wrote it with Drake.
"Blue Tint"
Here we have a reunion with Future, who is mentioned throughout the album, but actually appears on vocals this time. (You'll recall that Drake and Future made a whole collaborative album together.) Super Mario and Illmind produced it; they wrote it with Drake and Future.
"In My Feelings"
This is a song in which Drake wonders aloud if the women he loves will love him back. It features Miami rap duo City Girls (JT and Yung Mami), whom Drake references by name. It samples murdered New Orleans bounce artist Magnolia Shorty's "Smoking Gun," Lil Wayne's "Lollipop," and even one of Zazie Beetz's lines from the Drake-themed Atlanta episode "Champagne Papi": "I don't even care, I need a photo with Drake / Because my Instagram is weak as fuck / I'm just being real, my shit look …" 40, TrapMoneyBenny, and Blaqnmild produced it.
"Don't Matter to Me"
This is the song featuring previously unreleased Michael Jackson vocals on its hook. MJ sings, "All of a sudden you say you don't want me no more / All of a sudden you say that I closed the door / It don't matter to me what you say." He also sings the very Weeknd-esque outro, "Girl, your love, you think you broke it / I'm leavin' you today, you broke my heart." 40 and Nineteen85 produced it; Jackson receives a songwriting credit, as does Paul Anka, whom the Jackson estate reportedly says wrote the song with Jackson.
"After Dark"
And now time for some risqué bedroom music, featuring Ty Dolla $ign and the late Static Major. 40 and Static are credited as producers, meanwhile Maxwell is credited as a songwriter because it samples his song "The Suite Theme." It also samples a recording from Buffalo radio station 93.7 WBLK's Al Wood; Drake has since noted on Instagram that he grew up listening to the station.
"Final Fantasy"
If "After Dark" is the soundtrack to making love, "Final Fantasy" is its naughtier cousin, referencing porn studios, dick, and arched backs. It's NSFW! It also samples an episode of Maury, which is just all too meta given what this album reveals about paternity. 40, Boi-1da, and Jahaan Sweet produced it. The song samples Dorothy Ashby's cover of Noel Harrison's "The Windmills of Your Mind," whose songwriters are all credited.
"March 14"
Some album closers are write-offs, but Drake's is not to be missed. Though he speaks of his son earlier on the album, here is where he lays his heart bare about the circumstances of parenting with a woman he barely knows. He also shares the details of how it all transpired: According to Drake, he met the mother of his child only twice, his son was born on October 11, and he has only met him once — Drake's dad hasn't met his kid yet. By the song's end, he says he's optimistic about seeing the child again in two weeks, and he and the mother are working things out. It's the most candid Drake has been about his son to date: "I had to come to terms with the fact that it's not a maybe / That shit is in stone, sealed and signed / She not my lover like Billie Jean but the kid is mine," he raps. "This the first positive DNA we ever celebrated." T-Minus and Josh Valle produced it; James Fauntelroy is a featured vocalist. The song interpolates Boyz II Men's "Khalil Interlude," and so Nathan Morris and Shawn Stockman are credited lyricists. Raphael Saadiq is also a credited songwriter.