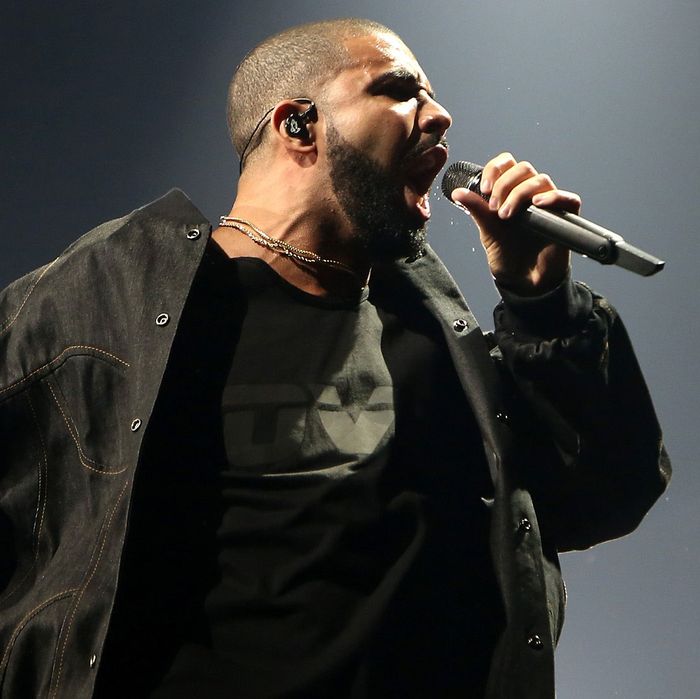 Drake.
Photo: Gabe Ginsberg/Getty Images
By night's end, a new Drake album will be upon us and, perhaps, so will the truth. We're all thinking it: Drake, are you the father??? His fifth studio album, Scorpion, has a lot of ground to cover, from secret love children to possible Pusha-T retaliation to what actually went down with Rihanna to the things we can't even predict he'll address because who knows what else that man's been hiding. In preparation for tonight's events, here's everything we know about the album so far — plus, all the things we're nosy enough to also want to know.
It's got three singles.
It was never fully clear what separated Drake's More Life from his previous albums proper until after the fact. Anything less than an album, in Drake's mind, doesn't warrant promotion, and so there was virtually none for More Life (not even a single music video). But for Views, he preceded it with several singles (including "Hotline Bling" and "One Dance"). It's the same story now for Scorpion (named after his Zodiac sign), which has been led by his No. 1 singles "God's Plan" and "Nice for What," as well as "I'm Upset."
There has also been ongoing social-media promo, including custom jackets made for the album and sent to all involved, as well as to celeb friends like Millie Bobby Brown and DJ Khaled (maybe hinting at a another collaboration).
Will it address the baby in the room?
Look, the cat's out of the bag: Drake almost definitely is a baby daddy. Pusha-T(ea) spilled the beans on his diss track to end all diss tracks, airing all of Drake's dirty laundry. Per Push, Drake had his own plan to reveal the news of his secret child, with a former adult-film star, likely with the announcement of an Adidas line named after his son. That branding aside, will Drake confirm the rumors on the album, pull a "the kid is not my son," or just avoid the subject entirely? If you read between the lines on "I'm Upset" — in which he alludes to a child-support dispute — we're thinking it'll come up.
It's a double album …
Drake knows nothing of brevity — his last album was 20 songs and nearly an hour-and-a-half long — and that's not about to change on Scorpion. Billboards promoting the album in Toronto (which he puts up for every album) suggest it will be two-sided, and an affiliate of his label, OVO, said that Scorpion will be a double album, one side dedicated to rap and the other to R&B. (OutKast would like a word!) Now Drake has confirmed the two sides by providing the full 25-song (!) track list. "God's Plan" and "I'm Upset" are on side A, while "Nice for What" is on side B (the "for the ladies" side, we guess). It's worth noting that "Diplomatic Immunity" from his Scary Hours two-song EP (which included "God's Plan") didn't make the cut, likely since it didn't produce the same streaming numbers. Drake has hinted that Scorpion will have another "hard" album intro, per tradition — this time survival-themed, apparently. And, as always, it'll all be executive-produced by Noah "40" Shebib and Drake's manager, Oliver El-Khatib.
… and Michael Jackson is on it?
Drake has now shared the updated tracklist with features, including Jay-Z, Ty Dolla $ign, the late Static Major, and Michael Jackson. The Michael Jackson. It's unclear if this is a sample or previously unreleased vocals. But it's sure to be … something.
Is he going to finally come for Pusha-T and Kanye?
Rappers aren't typically as willing to lose as Drake has been in his fight with Pusha-T, but Drake isn't your typical rapper. He's been elevated past rap's upper echelon into and above the pop stratosphere so much so that, despite seemingly having his character assassinated, his album rollout spoiled, and credibility shot to hell, he's still the No. 1 rapper alive. For the majority of the year, and throughout this beef, he had the No. 1 song on the Billboard chart — two of them, in fact. But while the losses he took in the battle with Pusha-T are small for now, it's going to be hard for him to shake the deadbeat-dad persona no matter what happens next. Meanwhile, Kanye West — who Drake had a falling out with — and Drake's mentor, J Prince, called a ceasefire, and Drake has so far listened to his elders. But are we truly to believe there will not be a single stray bullet on that album with Push and Kanye's names on it? Doubtful.
We can assume Karena Evans will be further involved.
Director X was Drake's muse for the Views era; now X's 22-year-old (!) protégé Karena Evans is Drake's new "It" girl. She's directed all three videos for his singles so far, each filmed (mostly) in secret — including that Degrassi high-school reunion. Drake has not done a visual album yet, but he has released short films for a couple of his projects. Could a Karena Evans fuller-length feature be on the way? Probably, if not at least a few more videos in the can.
What the hell is he going to say about Rihanna?
Unlike previous albums, it's probably safe to assume Rihanna won't actually appear on this album, given their falling out. (And if you think Drake's not above being petty, recall that he removed Jennifer Lopez from a song they previously made together because she kicked him to the curb.) But that doesn't mean a song about her won't appear on the album, or at least a lyric. We know they're no longer friends, let alone lovers, thanks to what Rihanna told Vogue. And while it's probably best for Drake to keep Rih's name out of his mouth, it's likely he still has some words to spill about the situation.
Brace yourself for Reggaetón Papi.
Drake has yet to meet a culture he doesn't want to crib. Up next: reggaetón. According to reports, he recorded a song many months ago with Latin trap star Bad Bunny (currently featured on Cardi B's "I Like It") in which Drake apparently sings — wait for it — in Spanish. Look what Justin Bieber hath wrought! Although, we should note that Bad Bunny isn't named as a feature on the tracklist that Drake has so far shared.
What sales records will he break this time?
Drake is the reigning king of streaming, breaking his own records with seemingly every release. Views surpassed 1 million album-equivalent units in its first week to debut at No. 1 — and that was as an Apple Music exclusive — while More Life did half that number but broke the single-week streaming record previously set by Views (remember, More Life wasn't an Apple Music exclusive). The last album to earn over a million was Taylor Swift's Reputation (which did slightly bigger than Views), but no album has reached such heights this year so far. Expect Drake to do it, and probably the best he's done yet.
Uh, Annihilation was an inspiration?
What does it say about Drake's album that its melodramatic trailer uses music from the film Annihilation? The trailer, shared earlier this week, uses Moderat's "The Mark – Interlude," which appears in a scene in the film and on its soundtrack. Okay, but, like, can we get Drake's thoughts on the ending though?
Will it be a streaming exclusive?
As mentioned above, Views was an Apple Music exclusive but More Life was not, as Apple has moved away from that practice. Drake still seemingly has his deal with Apple Music, but no longer appears as married to it or the idea of exclusivity. Will Scorpion land on all streaming services at midnight, just one (maybe Tidal, if he's done beefing with Jay-Z?), or will it stream on a glitchy app one time at 3 a.m. and show up wherever Drake pleases days later? (On Twitch, perhaps? Ugh.) For the sake of our sleep schedules and sanity, the first one, we beg you!