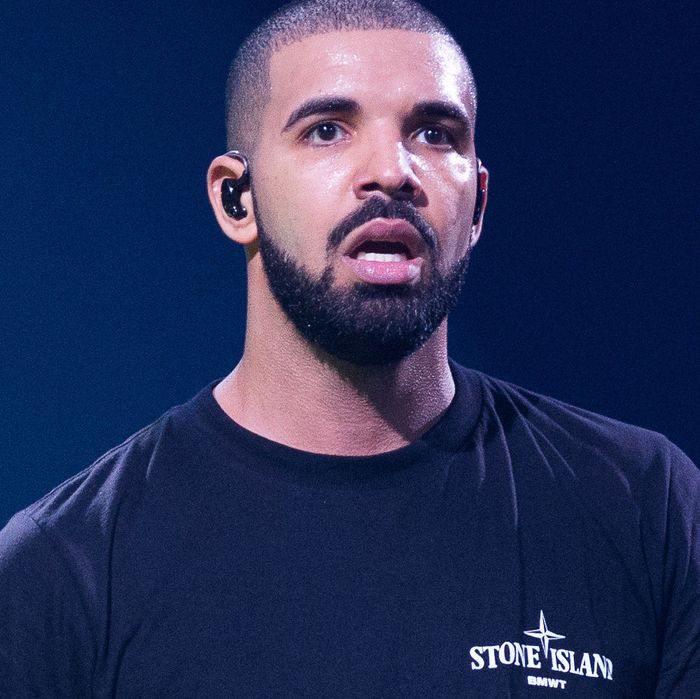 Whoa.
Photo: David Wolff - Patrick/Redferns
Drake's new album Scorpion is out and so are all of his secrets. Everything you've wanted to know about Drake's personal life — including that (no longer) alleged secret baby — is an open book on his latest album. From becoming a dad to not addressing Pusha-T to a potential fling with Bella Hadid, here's everything Drake reveals on Scorpion.
Yes, Drake has a secret child.
Pusha-T tells no lies! On his searing Drake exposé, "The Story of Adidon," Push declared that Drake had been hiding a child. On Scorpion, Drake confirms the claim, with a correction: "I wasn't hiding my kid from the world, I was hiding the world from my kid," he raps on "Emotionless." He continues, "From empty souls who just wake up and looked to debate. Until you starin' at your seed, you can never relate." He also refutes Push's claim that he's a deadbeat dad, saying elsewhere on "8 Out of 10": "The only deadbeats is whatever beats I been rappin' to / Never a matter of could I or should I / Kiss my son on his forehead and kiss your ass good-bye / As luck would have it I'm settled into my role as the good guy."
So why all the secrecy? Well, to hear Drake tell it, he just wanted some privacy. "Breakin' news in my life, I don't run to the blogs / The only ones I wanna tell are the ones I can call," he raps. "They always ask, 'Why let the story run if it's false?' / You know a wise man once said nothin' at all / I'm exhausted and drained I can't even pretend."
But as we later learn on album closer "March 14," in what is essentially a song spoken to his son, he mostly kept things hushed because the relationship with the mother of his child, allegedly former adult-film star Sophie Brussaux (whom Drake does not mention by name anywhere on this album, nor the name of his child), is strained. Throughout the song, he alludes to a custody battle (as he did on previous single "I'm Upset"), revealing that he only met the woman twice, his son was born on October 11, but he has only seen the child once since his birth. He claims he and the woman are "co-parenting" the child together. He also admits that some close friends knew of the child's existence, but that even his father hasn't met him yet.
These are the most telling admissions from "March 14":
Yesterday morning was crazy / I had to come to terms with the fact that it's not a maybe / That shit is in stone, sealed and signed / She not my lover like Billie Jean but the kid is mine / Sandi [his mother] used to tell me all it takes is one time, and all it took was one time / Shit, we only met two times, two times / And both times were nothing like the new times / Now it's rough times / I'm out here on front lines just trying to make sure that I see him sometimes / It's breaking my spirit.
Single father, I hate when I hear it / I used to challenge my parents on every album / Now I'm embarrassed to tell them I ended up as a co-parent / Always promised the family unit / I wanted it to be different because I've been through it / But this is the harsh truth now.
This the first positive DNA we ever celebrated / I can't forget the looks on they faces / Got the news in Miami that we all now got ones that we raisin' / Tell Jello bring some, uh, Rosé and Baccarat out for our cheers to the next generation / But this champagne toast is short-lived / I got an empty crib in my empty crib / I only met you one time, introduced you to Saint Nick / I think he must've brought you like twenty gifts.
October baby for irony sake, of course / I got this 11 tatted for somebody, now it's yours / And believe me, I can't wait to get a hunnid more / Sorry I'm vintage, tryna cover ground / They said that in two weeks you're supposed to come in town / Hopefully by the time you hear this me and your mother will have come around instead of always cutting each other down.
Why he hasn't responded to Pusha-T:
The story goes that Drake never retaliated against Pusha-T again because both Kanye West and Drake's mentor, J. Prince, told both rappers to stand down. Prince, especially, has said that Drake's response, apparently already recorded, would've been too "overwhelming" and damaging to Kanye's family. On album opener "Survival," Drake doubles down on why he's kept mum, saying he didn't want this rap beef to turn deadly: "I've seen this movie a hundred times, I know where it's headed / Realize someone gotta die when no one will dead it / Niggas gambling with their life for some content / That's the type of lottery that could get your top picked."
But, of course, he's not above throwing subliminals at all his enemies. On "Is There More," he brags, "I mean you know I love a challenge, but challenged by who?" He also diminishes the blow inflicted by Push, rapping on "Peak": "What you thought of me never had me missing a beat / That's just a view from a cheap seat / They don't want problems with me / Talk used to be cheap, nowadays it's free / People are only as tough as they phones allow them to be."
He might be an independent artist now.
It's never quite been clear when Drake's record deal with Cash Money, and its Young Money affiliate, is up. But according to Drake, that time is now. He implies on "Is There More" that Scorpion has fulfilled his contract: "Soon as this album drops, I'm outta the deal." And adds on "Survival, "I'm pretty sure we got a label, I'm still independent," referring to his own OVO imprint. Interestingly, Lil Wayne also just became free from Cash Money.
Uh, so maybe he really did have a thing with Bella Hadid.
There were rumors at the end of 2017 that Drake may have broken bro code with the Weeknd and had a thing with Bella Hadid that ended with him ghosting her. None of this was ever confirmed, of course, but Drake is his own personal TMZ. On "Sandra's Rose," he raps "My house is full of supermodels just like Mohammed Hadid," referring to her father. Then on, "Finesse," the hints get even less subtle. First, he says "I want my baby to have your eyes, I'm going against my own advice / Should I do New York? I can't decide / Fashion week is more your thing than mine." Bella Hadid is a model who has walked NYFW several times and, well, yeah, her eyes are very pretty. But just in case wasn't clear whom he's talking about here, there's this: "You stay on my mind / You and your sister too hot to handle." That sister being Gigi Hadid. Well played, Drake.
Diddy definitely punched Drake.
In 2014, Diddy punched Drake at Art Basel. This actually happened and we've always known it to be true — the reports say it was over the "0 to 100" beat — and Drake's not afraid to admit it either. On "Survival" he references his beefs with both Meek Mill and Diddy: "I've had real Philly niggas try to write my ending / I've had scuffles with Bad Boys that wasn't pretending."
He still has words for Kanye.
Drake and Pusha-T's feud may be over, but whatever ill will Drake still harbors for Kanye, it isn't settled. Sure, Drake recently attended the Wyoming sessions and contributed writing to Kanye's song "Yikes," but that doesn't mean everything's peachy. In fact, he mocks Kanye for the whole stunt on "8 Out of 10," saying "All sevens, no sixes" — a reference to most of the Wyoming albums' seven-song track lists — "Rest easy get some shut eye / Hold on, hold on / But I miss making 'em pay." In other words, he'll entertain your little mountain excursion if only for a check. Drake also responds to Kanye's shot at him on "No Mistakes," in which he said, "Too close to snipe you, truth told, I like you / Too bold to type you, too rich to fight you / Calm down, you light skin!" Drake says on "8 Out of 10": "Too rich for who? Y'all just got rich again / Who grips the mic and likes to kill they friends?" (That second is also a reference to Kanye's murderous thoughts expressed on his Ye opener.) And on "Nonstop," "Yeah I'm light skinned but I'm still a dark nigga."
He considers himself on par with Adele.
We already knew Drake thinks being No. 1 is all that matters, but Drake really drives the point home. On "Blue Tint," he brags that he's essentially untouchable, diss tracks be damned, because he's so successful on the charts. "Every title doing numbers like I'm Miss Adele," he raps on "Sandra's Rose," then "Double my price again / Top the charts, back in they hearts / Nigga he strikes again, woah" on "Blue Tint." (Fact check: Drake hasn't actually ever done Adele album numbers — remember, she broke the all-time first-week record with 25 — but that's not to say he still couldn't.)
Jay-Z and Drake are cool again.
Jay-Z is featured on "Talk Up," meaning he's let Drake back in his good graces. (They've had their tiffs through the years, and Drake famously left Jay and Kanye's verses off a song on Views.) In his verse, Jay-Z makes it clear that his was recorded as recently as last week, as he references XXXTentacion's murder and once again skewers Trump as he did on Everything Is Love: "I got your president tweeting / I won't even meet with him / Y'all killed X and let Zimmerman live / Streets is done."