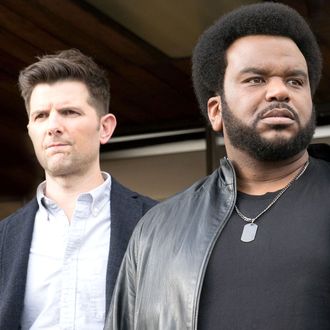 Adam Scott and Craig Robinson on
Ghosted.
Photo: Jesse Giddings/FOX
Freshman paranormal comedy Ghosted will not return for another season. Variety reports that Fox has canceled the single-cam series starring Adam Scott and Craig Robinson. Ghosted's schedule on Fox was a little all over the place — it debuted in October 2017, received an additional six-episode order a month later, was pulled after nine episodes in April, then returned earlier this month. Ghosted's cancellation means that Fox won't start the fall season with any returning live-action comedies following cancellations of The Mick, The Last Man on Earth, and Brooklyn Nine-Nine — the last of which was given a new home by NBC. The Orville, meanwhile, was renewed for a second season and will debut sometime later in the year.