Freddie Highmore, slight, pale, well-mannered, and low-key English, is, at 26, so earnest that he seems to be from another, more genteel, and certainly less desperately self-branded time. I meet him at the Essex House hotel on May 15, the morning of the ABC "upfronts" cavalcade at Lincoln Center, where the network showcases its programming to advertisers and the press. This year's festivities focus, imprudently in retrospect, on Roseanne Barr and the network's "heartland strategy." That strategy also includes Highmore's feel-good show, The Good Doctor, which premiered last fall to ratings nearly as good as Roseanne's. We sit in the window, and he orders a decaf and apologizes, first, for being in sweatpants and, later in our conversation, for being the British star of a hit American TV show — "You thought you'd gotten rid of us and then, like, here we come again. Sorry."
Two weeks later, on May 29, Barr would upend ABC's agenda by calling Valerie Jarrett an ape on Twitter, prompting the network to cancel her show and, with it, an estimated $60 million in ad revenue for next season and making its former No. 2 show its new No. 1.
In other words, it's up to this exquisitely hardworking, nice young man Highmore, and The Good Doctor, on which he plays an exquisitely hardworking, nice young man, to come to the rescue — stat.
Fortunately for ABC, Highmore couldn't be less like Roseanne Barr. For starters, he tells me that he's not anywhere on social media and "I never take any selfies myself." Meeting him, you think, your mother — any mother — would love him. In fact, in the role that made him boutique famous, as young Norman Bates in the A&E Psycho prequel series Bates Motel, he was rather problematically doted on by his mother, Norma, played by Vera Farmiga. (And we all know how that turned out.)
Bates Motel was a darkly funny, lurid psychodrama that stopped (just) short of being camp in large part because of Highmore's Norman, who looked like he needed a hug even in his murderous delirium (Highmore remains empathetic, and he thinks things "could have turned out differently" for Norman "had he gotten a little more help earlier on.")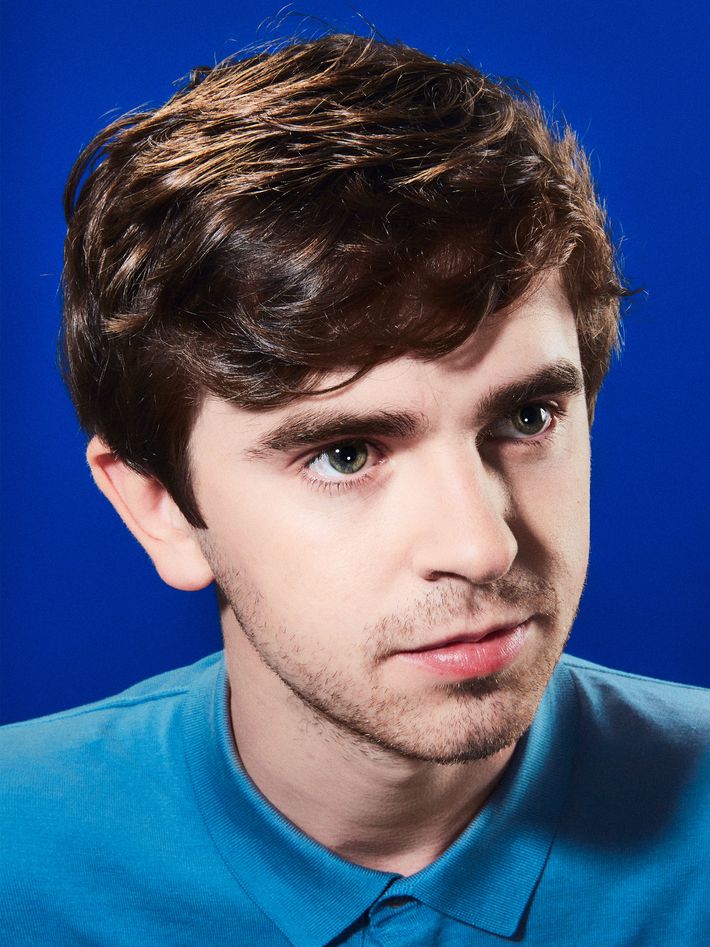 On The Good Doctor, Highmore plays Dr. Shaun Murphy, an autistic-savant surgical resident. After being provisionally hired to work at San Jose St. Bonaventure Hospital at the urging of his father-figure mentor, who runs the place, he spends the season battling to prove he belongs there. There's much skepticism on the part of administrators, patients, and, especially, his competitive set of hottie young doctors. But while everyone else around him is conniving and ever so slightly self-serving and dishonest, it never occurs to Shaun to lie. To its credit, the show, which finished its first season at the end of March, doesn't confuse "savant" with "superhuman" and allows him to make mistakes.
It's deft schmaltz, sentimental and doggedly humane. And maybe, given the level of mendacity in our politics and culture these days, just what the doctor ordered. According to Nielsen, middle-aged people (moms!) and teenage girls especially love the show. "Shaun has probably made us a little less cynical, or brings out a more optimistic side and view of life, and I think he's made me a better person," says Highmore (though you do wonder how bad a person he could possibly have ever been). Last December, Highmore was nominated for a Golden Globe (he lost to Sterling K. Brown for his also quite earnest role on This Is Us).
Highmore was born on Valentine's Day in 1992 to a family in the business; he's — yes — quite close to his mother, Sue Latimer, who is also his agent (and Daniel Radcliffe's). His father, Edward Highmore, is also an actor. The family lived in Highgate, the tidy and posh North London neighborhood, and he got his start on small TV roles at the age of 7. His big break was Finding Neverland, followed by Charlie in the remake of Charlie and the Chocolate Factory. In 2010, he enrolled in Cambridge University, an attempt, he says, after being a child actor, to confirm that "this is what I want to do, as opposed to 'I just happened to end up doing it.' " He majored in Arabic and Spanish.
He's a bit of an in-his-head nerd: He wormed his way into the writers' room at Bates Motel (even directing one episode), and when we meet, he tells me he's just returned from working in the writers' room for The Good Doctor, which reminds him of what he loved about college: being "holed away at night, working. I get that joy now from writing a little bit." When he says he is thinking about taking up tennis, since "I just need to convince one person to come play with me," I wonder if he's a little lonely and, like Norman, might need a hug.
Both Roseanne and The Good Doctor were part of a calculated effort by ABC to appeal to viewers who don't live on the coasts, or at the very least weren't all that interested in "anti-heroes" and other cherished premium-cable narrative notions. Channing Dungey, the president of ABC Entertainment, has said, "What people are looking for in broadcast is brighter, lighter, more hopeful." And The Good Doctor, at least, delivers that. As does its thoughtful, anodyne star, who — unusually for any 26-year-old these days, much less an actor — doesn't talk about his romantic life. And cute as he is, nobody seems all that curious, maybe because both Norman and Shaun exhibit "different versions of masculinity than maybe the traditional leading man," he acknowledges. Which makes his stardom something of a relief amid his thirsty social-media-addled peers. It's also a solid strategy against the potential show-destroying public fall.
*Grooming by Min Min Ma
*A version of this article appears in the June 11 2018, issue of New York Magazine. Subscribe Now!