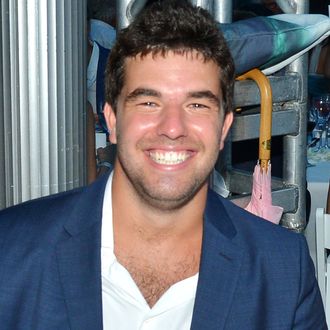 Billy McFarland.
Photo: Patrick McMullan/Patrick McMullan via Getty Image
Fyre Festival founder Billy McFarland has already been found guilty of defrauding investors, and as he awaits sentencing he is being charged with more fraud-related crimes, according to The Hollywood Reporter. The New York office of the FBI is charging McFarland with continuing to break the law even after he pleaded guilty to the earlier charges, and the infamous promoter was arrested today for allegedly selling almost $100,000 worth of fake tickets to events for fashion, music, and sports.
In March, McFarland pleaded guilty in federal court to two counts of wire fraud, having been accused of scamming investors out of $1 million to fund the festival. To secure the money, McFarland overstated his company Fyre Media's financial stability, and gave false statements about revenue, insurance policies, and bank loans. As he awaits sentencing, McFarland is staring down up to 40 years in prison, with each charge carrying a maximum of 20 years. Along with Ja Rule, who co-created the festival, the two are also facing a class-action suit from the festival-goers for running an alleged Ponzi scheme.