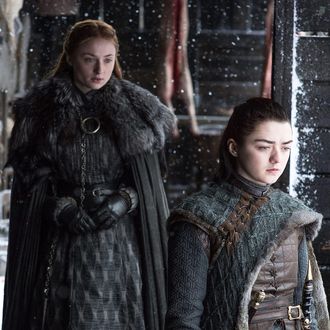 Sophie Turner and Maisie Williams not looking at their fans in Hall H.
Photo: Helen Sloan/courtesy of HBO
Game of Thrones has reliably become one of the biggest events every year at San Diego Comic-Con, but HBO announced today that they will not be presenting that show or Westworld at this year's upcoming event. "Due to production schedules and air dates for Game of Thrones and Westworld, these series will not be presented at San Diego Comic-Con this summer," read a statement from the company. "HBO has a longstanding relationship with SDCC, and we are very grateful for the fans' enthusiastic response over the years. We look forward to returning in the future." Thrones has become a Con staple, routinely filling the event's massive Hall H venue, with HBO touting its phenomenon in San Diego every year since it premiered. It will be a blow to all of the dedicated Daenerys and Brienne of Tarth cosplayers — and those bold few who would have gone full ice dragon, too.