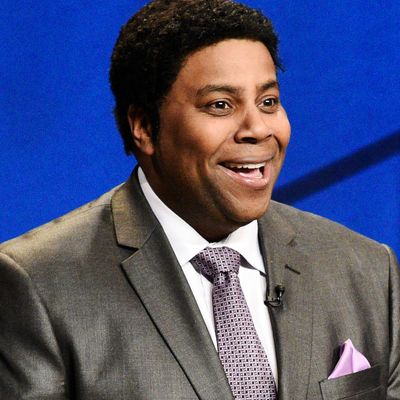 Photo: NBC/Will Heath/NBC

The 2018 Emmy race has begun, and Vulture will take a close look at the contenders until voting closes on June 25.
At 11:25 p.m., before viewers at home see Kate McKinnon in Jeff Sessions makeup or Kate McKinnon in Robert Mueller makeup or Kate McKinnon in Rudy Giuliani makeup in the week's cold open, an audience of very lucky people at 30 Rockefeller Plaza get to watch Kenan Thompson put on a show. See, before each week's Saturday Night Live starts, Thompson warms up the crowd with a joyous rendition of "Gimme Some Lovin'." He's been doing it for years. Because beyond being a tremendous, versatile sketch performer with a somehow still-expanding skill set, Thompson puts in work every week to make SNL a true variety show, to make it fun. He's not just the backbone of the show; he's the front face and the heart. He is the definition of an Outstanding Supporting Actor in a Comedy Series. Nominate him.
SNL is a hard show to make. "Boo hoo, it's hard to make a lot of shows," you might say like a hack grump. But SNL is also a weird show to make. Whatever they write that week, that's the show. They don't have a bunch of taped segments lying around that they can plug in if the thing is running short or running bad. Fundamentally, for SNL to work as a viewing experience, since it's impossible to write a full 90 minutes of perfect sketch comedy in a week, it must capture the excitement and ridiculousness of putting it on. It has to seem fun. That challenge has been especially difficult these past few seasons, as Donald Trump has put a suffocating pressure on the show. But that's where Thompson comes in. The easiest way to capture the fun essence I'm talking about is by making people break — and this has been the breaking-est season in memory — but Thompson doesn't need it. I keep on thinking about my favorite Thompson moment from this season: the sketch where he played a director giving Jessica Chastain and Leslie Jones very, umm, peculiar suggestions. It's not super clever or insightful, but when you watch it, you feel like there's no person in the world who enjoys their job more than Kenan Thompson.
And it's not even like this is his first time playing the director character. He is bringing it this hard for his third time doing it (the first couple were in 2015, oddly enough). "Joy is apparent in everything he does. I think that's why he's fun to watch," Kate McKinnon once told Bryan Tucker, SNL co-head writer and Thompson's most frequent collaborator, in a tribute he wrote to Thompson for Slate. That joy is why, as Tucker writes, "he's the guy who sits next to the host when we read all of that week's sketches out loud for the first time." It reminds me of what Tina Fey wrote about Will Ferrell in Bossypants: that he committed just as hard in sketches that were completely his voice as he would in some rushed bit during the opening monologue. Thompson commits.
On that note, now I will post the video of him playing lobster Jean Valjean.
That's not to say Thompson can only do big. If the sketch calls for it, he can create smaller, but still incredibly specific characters. For example, though he isn't the "funny" part of the "Barbie Instagram" sketch, I found his performance sublime.
Or, here's him doing big and small in "Friendos."
Over the past few seasons, Thompson has taken over a lot of SNL's "glue" roles, a moniker inspired by Phil Hartman's nickname ("The Glue") that was given to him for playing the parts that hold a whole sketch together. (Bill Hader was the most recent example of a glue guy.) This means playing straight men in sketches, be it as a some-nonsense judge, exasperated boss, or game-show host with an agenda. It's a role Thompson was always destined for, considering what Tucker calls the show's "secret": "If you're a Saturday Night Live writer, and you want to get an extra laugh in your script, just add this line: 'KENAN REACTS.' Sure, it's sort of cheating. But we still do it sometimes. Because it works." It really does.
Thompson can also quickly turn around topical impressions, which is arguably the lifeblood of the show. The most impressive example of this is when he put together a hilarious take on Michael Curry after the Episcopal bishop's lively royal wedding sermon went viral that same morning.
"The longer you stay at SNL, the less vital things feel," Tucker wrote in his tribute. "Moments lose their intensity and begin to blend together." This also applies to the audience's feelings toward performers. Famously, Lorne Michaels likes to start people out slowly, so the audience is like, "Why isn't that person in more stuff? She's great!" And generally, Michaels is also aware of people not outstaying their welcome. (Cough cough Taran Killam cough cough.) The fact that Kenan Thompson, in his record-breaking 15th season, can be this excited by each sketch and so exciting to watch is a rare, special thing. In his long tenure as a performer, his only nomination is for writing (which he shared with Chance the Rapper and writer Will Stephen for "Jingle Barack.") What up with that? It's time that changed.