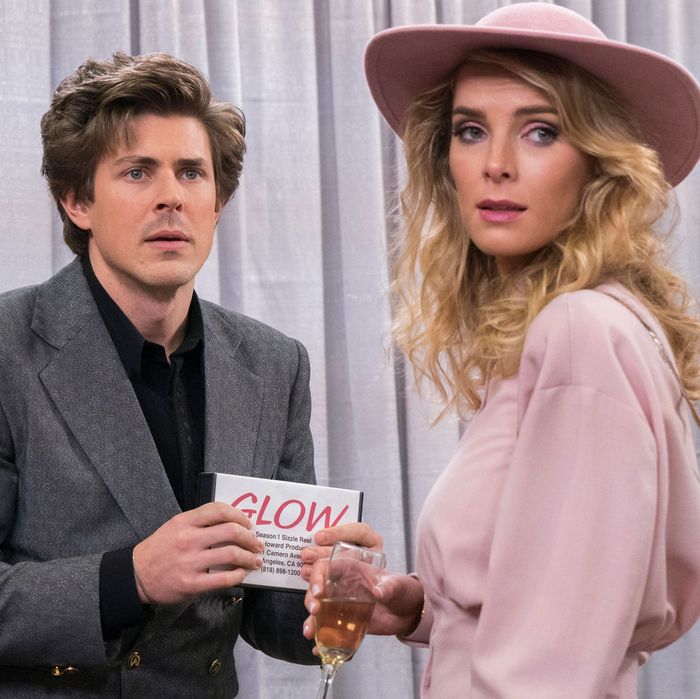 Photo: Erica Parise/Netflix
There's a lot going on in "Rosalie," which could be seen as a corrective for the previous, plot-wary episode, or simply a natural counterbalance to keep binge-streamers on their toes. First, there's the eponymous woman in question, Justine's mom (Annabella Sciorra, ideally cast). She comes storming down to Sam's place full of rage, demanding to know how her daughter wound up in the guest room of her estranged father's apartment rather than the performing-arts school in which she was supposedly enrolled. Ruth has the misfortune of hobbling over to the door on her crutches and dealing with the first wave of Rosalie's rampage, but soon enough she and Justine are shouting profanities at one another on the patio and Sam's realizing his budding relationship with Justine is being jettisoned before his eyes.
But that's one of several major plot developments. Over in Anaheim, Debbie — in her Kentucky Derby finest — and Bash are whisper-campaigning their way into hopeful syndication deals at a convention, a technique owed to Bash and Florian's many theatrical viewings of Muppets Take Manhattan (the foreshadowing here should perhaps have been obvious). While the producers of Dynasty and Hollywood Squares are feting distributors with swag and booze, Debbie and Bash take to staging gossip sessions in restrooms that somehow successfully entice buyers eager for the next afternoon or Saturday morning anchor. The only buzzkill comes when their celebration at a nearby bar is interrupted by when a hospital calls Bash and informs him that Florian died from an AIDS-related illness and probably won't be received by most traditional funeral homes.
Wait, what? The matter of whether Bash and Florian were more than friends was still due for overt clarification, and Bash's feelings about his butler/BFF, one way or the other, have been pushed to the surface this season to give him depth. This outcome, however, is fairly jarring, and underscores GLOW's occasionally overambitious efforts to cram era-appropriate drama and transcendent comedy into fleet half hours. The onus to deal with this serious matter and its implications on Bash and his business is plenty for the finale to bear while wrestling (pun intended) with G.L.O.W.'s immediate prospects and Sam and Ruth's near-kiss.
Ah, that near-kiss, commenced on the dance floor of Justine's high school formal, a perfect setting for two grownups still battling their inner awkward teen to fumble their chance at true love. Sam is complicated, after all, and Ruth is fresh off her sidebar with Rosalie about guys who run too hot and cold and how her new fiancé Brad's a safe happy medium. It's no surprise that Ruth would stagger off on her crutches and lunge mouth-first into a makeout session with Russell, who's so darn nice and consistent. He's also, objectively, a far more natural match for Ruth. This season's close-up on she and Sam's romantic chemistry has been pretty clumsy and contrived, and at no point have they (as characters or actors) seemed like a sensible fit.
But both Ruth and Sam, like Justine and Bash and the entire show's cast, are desperate for a sense of family and belongings. It's the narrative glue of this otherwise volatile episode. Ruth can't help but smile as Sam bickers with Justine about turning her music down; Sam enjoys their quasi-family dinner despite himself; Rhonda's despondent that her citizenship is in jeopardy cause she far prefers her new castmates to her alcoholic parents back in Britain; a bunch of the women are psyched to potentially all work at the mall once G.L.O.W. wraps and share lunch breaks at the food court; and even Billy genuinely thinks he and Justine would do well to swap their suburban blues for a run at some kind of Sid and Nancy runaway life.
When all's said and done, Rhonda's troubles at least lead a very stoned Carmen straight to an epiphany about how G.L.O.W.'s finale and Rhonda's legal status can be remedied by forging a new a family bond: having Rhonda, as Britannica, marry her stalker Cupcake (fuck yeah, Ham from Sandlot) for real in the ring. And with that, the stakes are set as season two rounds its final bend. Oh, and now Sam will probably retreat into being more of a bully toward Ruth and everyone may be screwed when Bash is too inconsolable from Florian's passing to care about pouring more money into the show. Though if Yolanda and Arthie cement their suddenly simmering status as girlfriend and girlfriend, GLOW will have made all the heartache worthwhile.
Apart From All That:
• FWIW, FX's Pose is doing terrific work at tackling the stuff touched on out of left field with Florian's death.
• Hard to say which of Sam's décor touches is more delectable: the awesome earth-toned dishware or light switch within the fake houseplant.
• Gregory!
• Sciorra is so good, especially with her "Thanks for the math, Tiny Tim" diss.
• Solid Horatio Sanz cameo.
• Jenny is right. The Limited is serious.