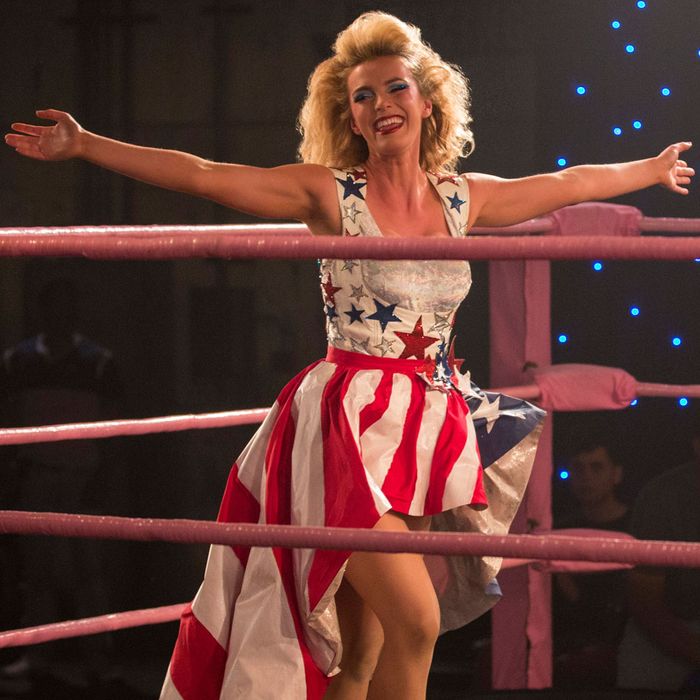 Photo: Beth Dubber/Netflix/Beth Dubber/Netflix
As GLOW returns for its second season on Netflix today, the Gorgeous Ladies of Wrestling are getting makeovers. Quite a few characters have new additions to their in-ring costumes, though others are still sporting the same hole-ridden sweaters in their day-to-day life (cough, Ruth). Still, fans can expect season two's looks to be a fashion version of Now That's What I Call the '80s — big shoulders, big hair, and big accessories.
"In season one, we definitely wanted to keep the grit of the real world in it," GLOW costume designer Beth Morgan tells Vulture. "But in season two, the story lends itself to being more fashion forward and flashy and over the top."
Morgan, who says she watched Valley Girl and Weird Science "over and over again" for inspiration, walked us through each of the most striking — or in Ruth's case, forgettable — outfits of season two.
Debbie Eagan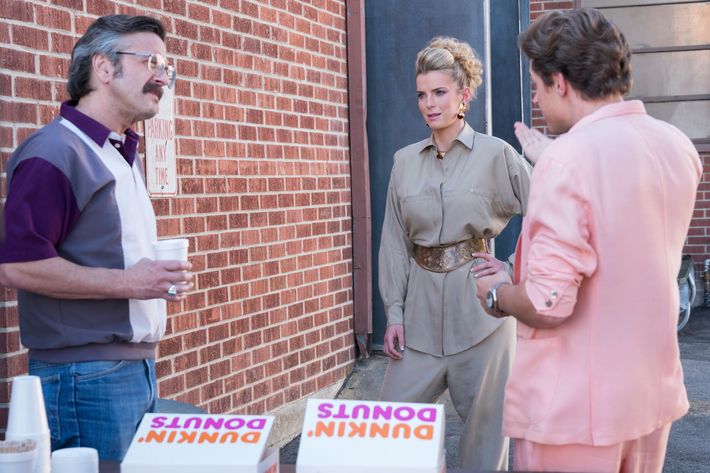 When Debbie (Betty Gilpin) finds her personal life in shambles as she divorces Mark (Rich Sommer), she decides to seize some control in her professional life by demanding to be a producer, and that journey is reflected in the power suits she wears throughout the season.
"What would Debbie initially feel like is her power?" Morgan says. "She's been an actress all these years, not a businesswoman. So to her, it's her looks, her body, her performance that is a big part of what has gotten her the success that she's had."
That's why Debbie starts off with more fashion-forward suits, but as the season goes on, she evolves a more "astute" look, like in episode nine, "Rosalie," when she attends a trade show with Bash (Chris Lowell) and wears a coordinating pink suit that Morgan and her team made from an old '80s pattern.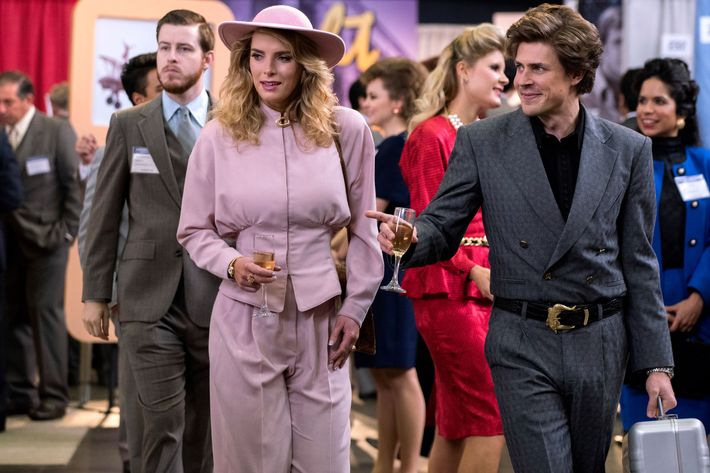 "She wants to be taken seriously. She's buttoned down, she doesn't want a ton of her body showing, but she is very feminine and very glamorous," Morgan says.
As for the pin at the neck of the suit, Morgan admits, "I ordered, like, 40 pins to find the perfect pin on Etsy. I have a real Etsy problem on the show."
The hat was originally meant to be used in an earlier episode, but it didn't end up fitting into the scene. Morgan was so passionate about the hat, though, she says co-creators Liz Flahive and Carly Mensch decided to write it into the episode.
Liberty Belle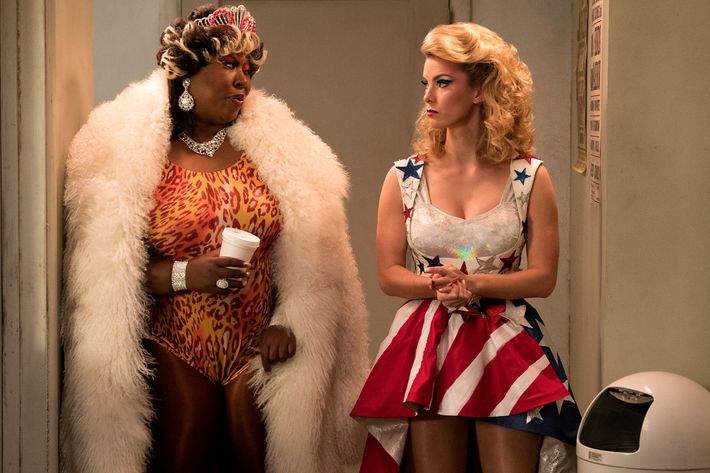 Debbie's wrestling costume also gets an upgrade this season, thanks to a very dramatic American flag skirt. Morgan had originally designed a "very similar" skirt for the season-one finale, but it didn't work with the way Liberty Belle presented herself in the ring.
"So in the first episode of season two, my beautiful writers Liz and Carly wrote in that she buys a skirt at the mall that she wears to dinner," Morgan says.
The skirt becomes the foundation for Liberty Belle's new accessory made by the cast's seamstress, Jenny (Ellen Wong). Morgan adds that Jenny, who also wrestles in G.L.O.W. as Fortune Cookie, played an important role in the design process.
"We have to believe that Jenny made everything on this show. She wouldn't have time to make the whole thing, so she just cut this up," she says. "But it was really fun to have them make full circle back to the original design."
Ruth Wilder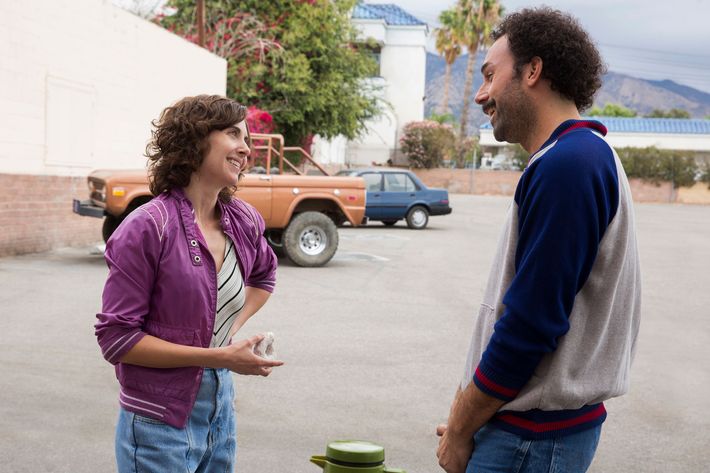 Unlike her former BFF, Ruth (Alison Brie) doesn't think about glamour. She often looks like she rolled out of bed and threw on whatever smelled clean … or not.
"Ali Brie is a costume designer's dream. She's rooted in character all the way, so she has no ego about if things are flattering or not," Morgan laughs.
"Her fashion is very utilitarian and it's things that she's had for a long time. Fashion is not important to her," she says. "I look at the Karate Kid and Daniel in that. It's a similar silhouette in a way, when she wears her sweatshirts. It feels like she's a person who doesn't have a lot of means, but has passion and functionality to their clothes."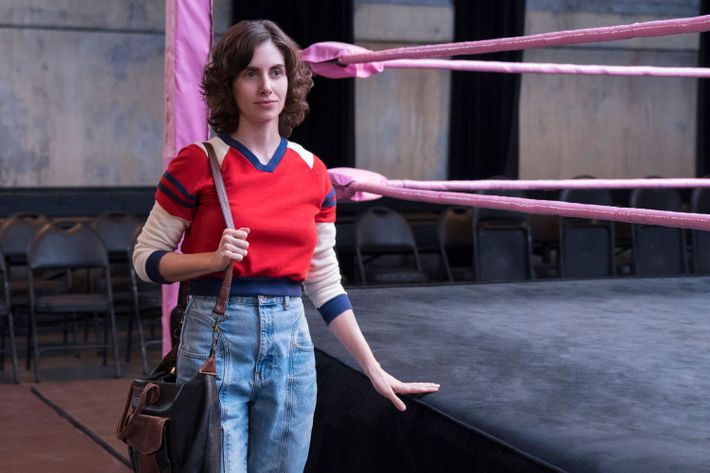 And in case you haven't noticed, Ruth doesn't wear a bra, making it "a little more unflattering in those sweaters. Like, she doesn't care. Ruth is that woman."
Sebastian "Bash" Howard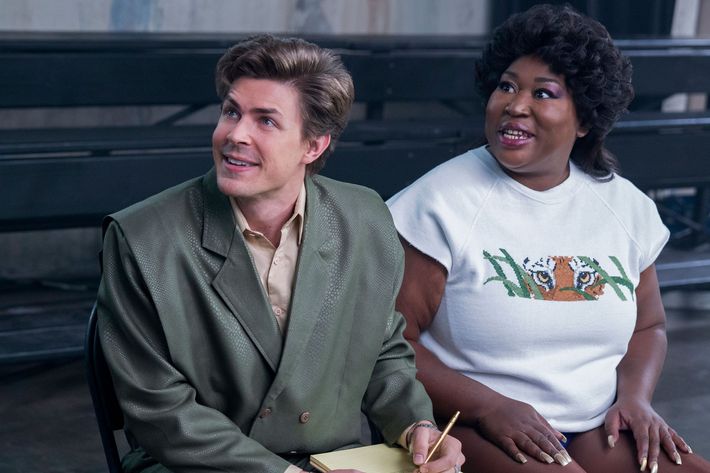 Does Bash have an endless closet of crazy '80s leisure suits? Clearly, because GLOW shows off even more of them in season two, including this green leather number and a Bowie-inspired gray set that he wears to the trade show with Debbie.
"We had found [the green suit] on a weird Etsy site and the material — it almost felt like plastic," Morgan says. "There's nothing natural about this fiber. God only knows where it was made."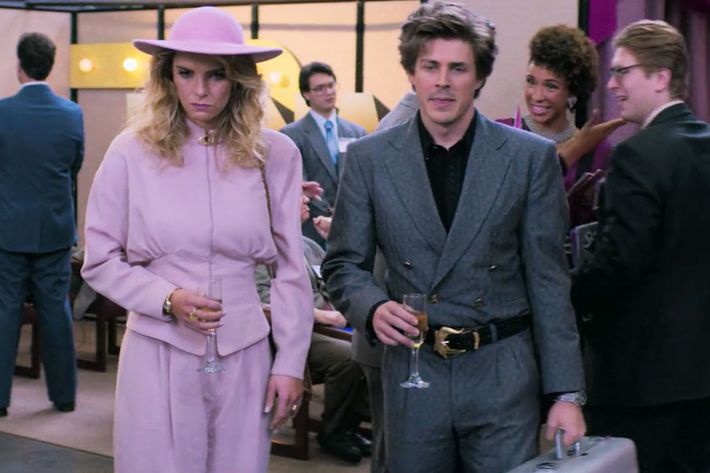 As for that Bowie-inspired suit, the designer was obsessed with re-creating a specific look worn by the late pop icon, but couldn't figure out how to make it.
"For a long time, staring at [the photo], I thought it was a jumpsuit suit," she explains. "And then I was like 'Oh, he just has his suit coat tucked in!'"
And that amazing belt buckle? Morgan found it yet again on Etsy, though her team used different leather to finish it off.
Justine Biagi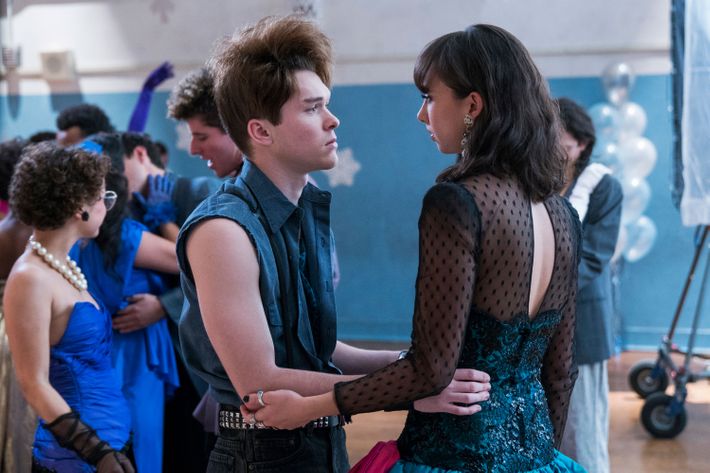 In a later episode, Justine (Britt Baron) has occasion to wear — gasp! — a prom dress. Shocking, we know. Naturally, it's borrowed because an aspiring punk teenager like her would be caught dead before she owned a dress.
"It needed to feel like something, first of all, that somebody would send over with Justine in mind," Morgan says. "I wanted it to feel like this could have been a version of Justine, had different choices been made by her and the way that she grew up," she adds. "We kept on her punk necklaces and her rings, like she's going with a little bit of protest."
He-Wolf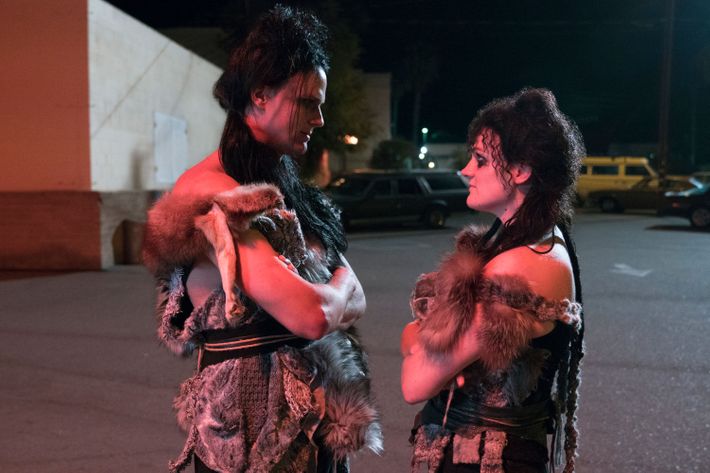 Once G.L.O.W. hits the local TV airwaves, the gorgeous ladies get fans — like this rabid guy whose favorite wrestler is Sheila (Gayle Rankin), a.k.a. She Wolf. For his look, Morgan basically had to copycat her design for Sheila, with a twist inspired by real-life fan tributes.
"The costumes people came up with last Halloween for GLOW were really so amazing to watch," she says. "As a designer and creative person and for everybody on the show, the cosplay behind GLOW is really interesting, so we kind of based it on that. Who would people love and who would somebody maybe really identify with?"
And while the way we dress doesn't make us who we are — not when it comes to outlandish '80s wrestling outfits, at least — Sheila's look is an act of self-expression that inspires her biggest fans.
"This is one of the important values of GLOW — showing how you can be an individual and be comfortable in that uniqueness, and that usually will identify with other people," Morgan says. "You build this tribe of people that see the world through the same kind of view as you do."