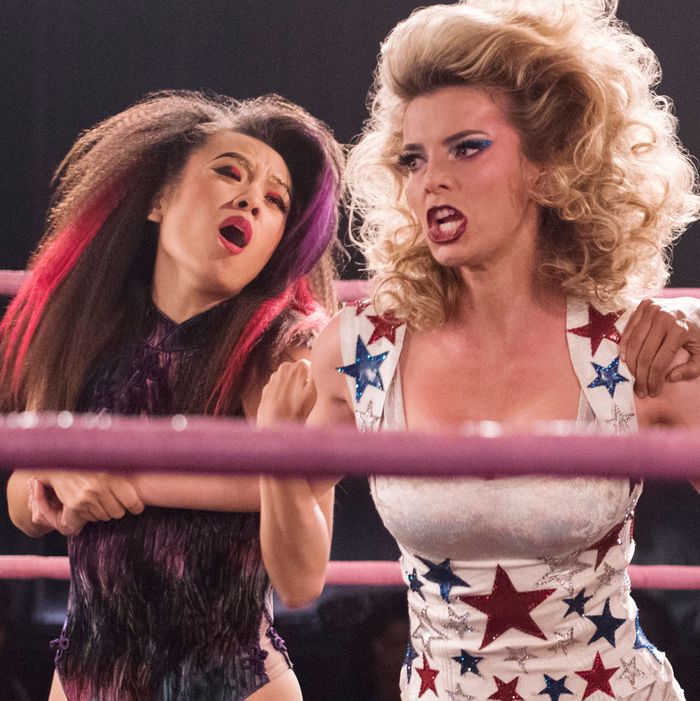 Photo: Erica Parise/Netflix
In a way, the first season of GLOW was an origin story that explained how a group of superheroes — the '80s ladies who joined the cast of an all-female wrestling show — developed their costumed alter egos and discovered their hidden powers. Which makes GLOW's follow-up season the equivalent of The Dark Knight or Spider-Man 2: a sequel that exceeds its predecessor in terms of depth of storytelling and sheer entertainment value.
In season two, which debuts Friday on Netflix, GLOW picks up shortly after where things left off at the end of season one. The Gorgeous Ladies of Wrestling, based loosely on the actual Gorgeous Ladies of Wrestling, have officially clinched a spot on TV, albeit in the wee hours of the morning, in syndication. Now they just have to figure out how to fill their time slot, a process that inevitably leads to internal strife and creative differences.
In the first episode, directed by Lynn Shelton, an itchy and ambitious Ruth (Alison Brie) takes some implied permission to conceive an opening title sequence then runs through a shopping mall with it, crafting a fun, winkingly silly intro that defines the sensibility of the show. When Sam (Marc Maron), the actual director, sees what Ruth has done and realizes it may be more inspired than anything he might have conceived, he instantly gets defensive and angry. "You're all replaceable," he informs the women who work for him. "Even you, Ruth." The women may be the stars of this show, the superheroes of the ring. But they still have men, even the ones who are allies, standing in their way.
That's a major theme in this season, which takes place in 1985 but still seems highly synchronized with the Time's Up movement. The feud between Ruth and Debbie (Betty Gilpin), established in the first season after Ruth slept with Debbie's husband and put their marriage in a tailspin, manifests itself in the workplace, where Ruth feels powerless and Debbie asserts herself by getting a producer credit. As you might imagine, Debbie doesn't always feel like her voice is being heard as the sole female producer on a series that paradoxically celebrates feminism alongside tired tropes about catfighting women. In episode five, there's even a Harvey Weinstein-esque incident that involves a network producer inviting one of the GLOW women to his bungalow, ostensibly to discuss her career, then making an unwanted sexual advance on her.
Collectively, this all serves as yet another reminder that misogyny has been a problem since Crockett and Tubbs wore linen suits while chasing drug dealers. (Well before that, actually.) It also gives GLOW more dramatic heft than it had in season one and provides the cast with more opportunity to flex their acting muscles. Both Brie and Gilpin are excellent, once again infusing their characters with a palpable sense of yearning and frustration that boils over in a gangbusters confrontation scene that reveals how women actually fight, as opposed to the way they fake fight while wearing leotards.
Maron, perfectly cast as a warmhearted, lightly sleazy filmmaker still stuck in the '70s, vacillates between being a washed-up asshole and a good guy trying to course correct for his errors. That shift is believable in a way it might not have been in the hands of another actor. Kia Stevens, an actual professional wrestler and actress who plays the role of Welfare Queen in her GLOW matches, is the focus of a terrific episode, in which her character reckons with the embarrassment and pain of dressing up in horrible racist stereotypes for the sake of laughs. Again and again, season two makes an even more concerted effort to highlight the insensitivity of an endeavor that runs on an engine of female, racial, and ethnic exploitation.
And yet, under the supervision of co-showrunners Liz Flahive and Carly Mensch, GLOW also continues to be really funny, strutting right along the line between cheeky and serious with even greater confidence. In perhaps the boldest move of the season, the hilarious eighth episode shows us a half-hour of GLOW as it would have aired in 1985, complete with cheesy promos for other local cable programming and all of the original GLOW's goofball comedy bits. It helps explain why a woman like Ruth, who genuinely wants to act, was drawn to working on this thing in the first place. The original GLOW was more of a sketch-comedy show than a televised sporting event.
Season two also weaves in clever references to the era: a training montage set to Frank Stallone's "Far From Over," an acknowledgment of the famous leg break that ended Washington Redskins quarterback Joe Theismann's career, and possibly the most inspired plot description of Cheers that I've ever heard in my entire life – all without ever turning into a parade of winking '80s references.
That said, there are some missteps here and there. With an ensemble this large, certain characters inevitably get short shrift, but I would have especially liked to see more attention paid to Britney Young's Machu Picchu and Gayle Rankin's wonderfully odd Sheila the She Wolf. The majority of the season has great energy and sense of purpose, but it runs out of gas as it wraps up its story lines — the last couple of episodes also introduce a few romantic entanglements that feel a bit too sudden — and leaves an obvious opening for a season three. Overall, though, GLOW is the sort of Netflix offering that's tailor-made for summer. It's light enough to not feel like work, but substantive enough to satisfy one's craving for challenging, quality TV.
"It's just a picture," Ruth tells her fellow women wrestlers in the beginning of episode one, as they take a photograph for posterity.
"No, it's not," Sheila corrects. "It's history."
Really, GLOW's second season is both: a snapshot of women having a good time in a blatantly ridiculous setting, and also a portrait of them doing something that will seem quite important in retrospect.