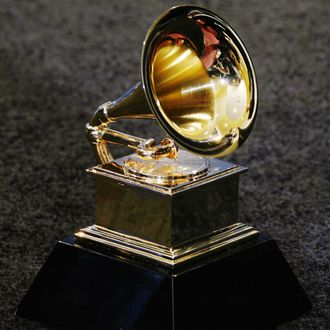 Grammys.
Photo: Gabriel Bouys/AFP/Getty Images
The Grammys know it has a representation problem and have come up with an attempted fix modeled after the Oscars. Billboard reports that, starting next year, the Grammys are expanding all four of its major categories to now include up to eight nominees. Since the awards' inception in 1959, only five nominees were permitted in the Album of the Year, Song of the Year, Record of the Year, and Best New Artist categories. But according to Grammy president Neil Portnow (who is vacating his title next summer), there's more music being produced than ever and voters need room for more choice. "This creates more opportunities for a wider-range of recognition in these important categories and gives more flexibility to our voters when having to make the often challenging decisions about representing excellence and the best in music for the year," he said in a statement.
In 2009, the Oscars also expanded its Best Picture category from five nominees to ten to allow for inclusion of more blockbusters versus prestige indies. It's unclear if the thinking is the same for the Grammys, or if this also means that the number of performers at the 2019 Grammys will balloon. All other categories will remain capped at five nominees. Wishing all the best to next year's additional losers!