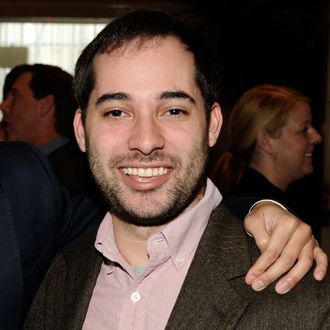 Harris Wittels at the 12th Annual AFI Awards in 2012.
Photo: Frazer Harrison/Getty Images for AFI
In addition to being a beloved comedian, podcast guest, and television writer-producer, the late Harris Wittels was also the mastermind behind a term that's become all too familiar today thanks to the constant push for social-media self-promotion. "Humblebrag" began as a popular Twitter account Wittels started anonymously in 2010. He spoke to The Wall Street Journal about it in 2011, which led to a column for Grantland, then his 2012 book Humblebrag: The Art of False Modesty, and Merriam-Webster officially adding the word to the dictionary last year. Despite being inactive since Wittels's death in 2015, @humblebrag was the perfect collection of smug, falsely humble boasting from all corners of the Twitterverse: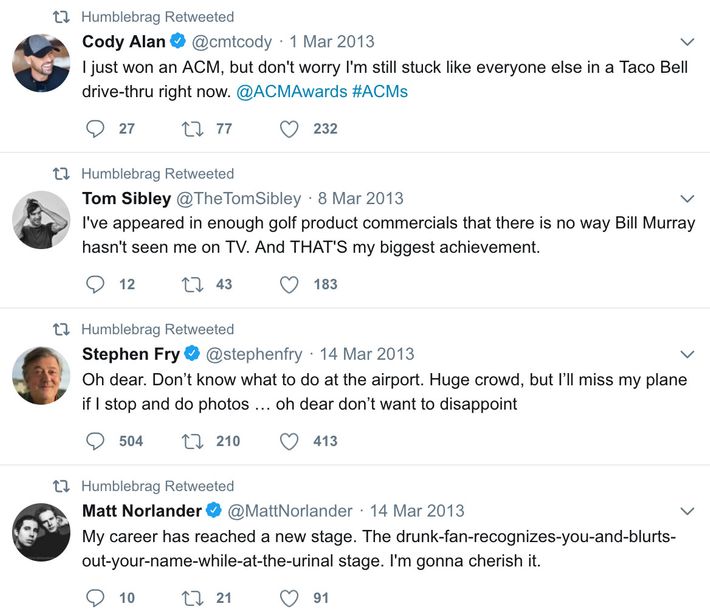 Earlier this month, the @humblebrag Twitter account still had nearly 300,000 followers, which made it all the more upsetting last week to see the account hacked, the past activity deleted, and the hacker attempting multiple times to turn @humblebrag into their own personal joke/inspirational message account. According to several Wittels fans who watched it all unfold, the hacker changed the @humblebrag username multiple times, and the account temporarily existed as @unwrittenmsg, @fortnitefunnys, @GirIsbibIe, and most recently @timetosuitup before it was either deactivated or taken down by Twitter in the past 24 hours.
The hacking resulted in at least one surprising Wittels fan to unfollow:
According to Wittels's sister Stephanie Wittels Wachs, no one else had control of the @humblebrag account prior to the hacker's takeover, but after the username was changed, a Wittels fan went and registered @humblebrag once it was available then gave Stephanie the log-in information. For the time being, Stephanie is using the new @humblebrag account as a placeholder, but her hope is that Twitter will eventually restore the old account and activity. "Seeing all of that content disappear was another huge punch to the gut," she told Vulture. "Such a major bummer. Makes me so sad to think it's gone."
When Vulture asked Twitter for comment, a representative said they would "look into" the problem. For now, the old @humblebrag account remains lost. Whether or not Twitter ultimately restores the old account and activity, at least we still have this, the greatest humblebrag of all time: