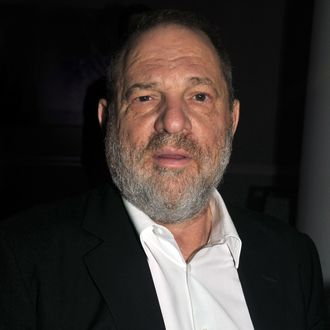 Weinstein.
Photo: TIM/BOXER/Getty Images
Harvey Weinstein has been named as a defendant in another class action lawsuit. In a suit filed Friday morning at the U.S. District Court for the Southern District of New York, three plaintiffs accused the former Hollywood producer — who has just been indicted on rape charges — of sexual assault. Caitlin Dulany, Larissa Gomes, and Melissa Thompson were actresses who met with Weinstein to discuss business, and were allegedly met with his sexual advances. According to the complaint, Weinstein "isolated Plaintiffs and Class members in an attempt to engage in unwanted sexual conduct that took many forms: flashing, groping, fondling, harassing, battering, false imprisonment, sexual assault, attempted rape, and/or completed rape." The women all said that they believed rejecting his advances or complaining about his behavior could result in "being threatened or blacklisted by Weinstein and major film producers such as Miramax and TWC."
Dulany met Weinstein in 1996, and the two developed a mentor-mentee relationship. Later that year, she alleges, he assaulted, threatened, and falsely imprisoned her in her apartment in New York City. Dulany says he did the same thing in a hotel suite during the Cannes Film Festival. Gomes met Weinstein in Los Angeles, and he allegedly assaulted her there. As she pitched the Weinstein Company a new technology for film marketing, Thompson says Weinstein sexually harassed and later assaulted her. In October 2017, Thompson alleges, as news of Weinstein's history of preying on women was published in the New York Times, Weinstein's attorney pressured her into turning over evidence of their client's actions.
Also mentioned in the suit are members of Weinstein's so-called "Sexual Enterprise," the network of employees, attorneys, and private investigators who, according to the suit, allowed his behavior to continue unchecked. Bob Weinstein, Miramax, Disney, and all members of the Weinstein Company's board are named as defendants.