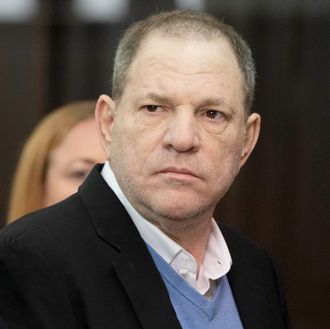 Harvey Weinstein was arraigned Tuesday morning, and pleaded not guilty to three felony counts in New York Supreme Court, according to CNN. Weinstein's arraignment comes exactly one year, to the day, after Bill Cosby's sexual-assault trial began. (In April, Cosby was found guilty of drugging and raping Andrea Constand in 2004.) Since exposés in the New York Times and The New Yorker alleged a decades-long history of assaulting and abusing women, Weinstein has continued to deny all allegations of nonconsensual sex.
Entering his plea, Weinstein said that he "intends to vigorously fight these charges." His attorney, Benjamin Brafman, said there are "prejudicial leaks from law enforcement," according to BuzzFeed News. Brafman also responded to a claim in a class-action suit filed against Weinstein on Friday. In the complaint, Melissa Thompson, a former actress, accused Weinstein of assault and said that as allegations against Weinstein made the news, Brafman and Alex Spiro, another attorney from his firm, pressured her into turning over evidence of her assault after they led her to believe they were working with other accusers. Brafman denied this Tuesday, saying he did not discuss Thompson with Spiro, and would not use any of Spiro's emails in court.
Weinstein is currently free after posting $1 million cash bail. He is scheduled to return to court September 20.