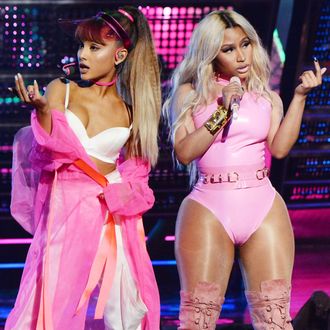 They've got a bed with your name on it.
Photo: Jeff Kravitz/FilmMagic
After all that cycling on dicks, Nicki Minaj and Ariana Grande deserve some rest. For their fourth collaboration — with a fifth soon to come — they're hitting the sheets … but not to sleep. "Bed," off Minaj's next album Queen, sees the pair graciously extend an invitation to climb into their loving bed, presumably queen size, and get it rocking. Minaj and Grande will next link up on June 20 with "The Light Is Coming," off Grande's next album. But seriously, when will these two get some shut-eye? This is a lot of work!