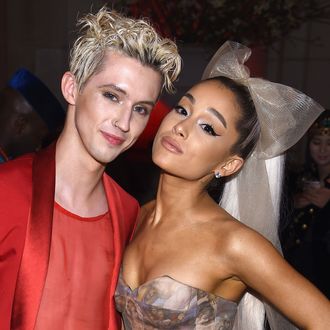 Spoiler: "Dance" doesn't actually mean dance.
Photo: Dimitrios Kambouris/MG18/Getty Images for The Met Museum/Vogue
Now that we know Harry Potter superfans/famous people Ariana Grande and Pete Davidson are betrothed, it's time to start the wedding planning. Will they get married at Hogwarts? Will Daniel Radcliffe officiate? Will the rings be horcruxes or will they just get the Deathly Hallows tattooed on their fingers to remind them that this thing they're doing is, I guess, permanent? We'll patrol their Instagram comments for the answers, but in the meantime, here's at least one detail already handled: Their first dance will have to be to Troye Sivan and Ariana's new song, "Dance to This," from his new album. It's written in the title and so it shall be done. Twenty-four days isn't enough time to get to know them as a couple, but from what we've gathered, Ari and Pete are two frisky kids. They don't need a schmaltzy Ed Sheeran ballad — give them a sultry little number where "dance" is a euphemism for sex, and maybe then everything will make sense.