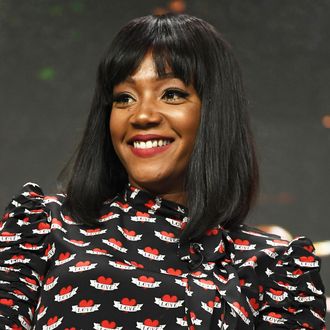 Tiffany Haddish.
Photo: Emma McIntyre/Getty Images for Turner
Tiffany Haddish was kind enough to give THR a very entertaining profile this week, so much so that we were inclined to aggregate all of the best anecdotes she divulged. (The case of who bit Beyoncé will continue for all of eternity.) But, as it goes with most profiles these days, so much personal intel was shared that some of her stories had to be cut — as THR published yet another piece on Haddish filled with additional behind-the-scenes nuggets. One of them in particular piqued our interest, which stems from Haddish's August 2017 appearance on The Late Show With Stephen Colbert. To her, there was some sexual energy in the air that couldn't be denied. Too bad Colbert didn't feel the same.
"I was like, 'Ohhh, he's into me, maybe I'm gonna date him.' That's what I was thinking," she explained. "And near the end of the interview, when I saw that ring [on his finger], I don't know if you could see my whole body language change but it did. 'Cause I really thought he was in there. I thought, 'Oh, we're gonna hang out. I might get to date this dude. I like him. Okay.'" Colbert has, indeed, been married since 1993, and if you watch the above clip, you can likely identify the moment when Haddish changes her demeanor a bit. But hey, can you blame her? Those nice Catholic gents are keepers.