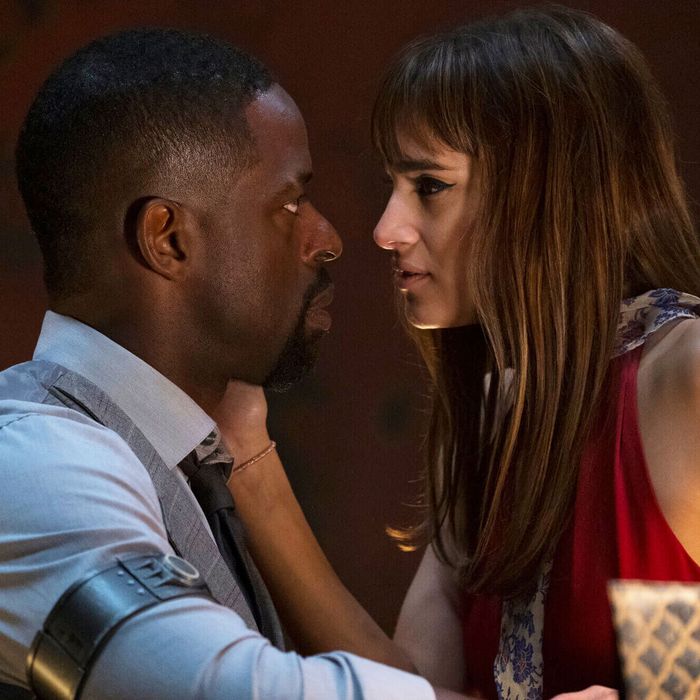 Photo: WME Global/Global Road Entertainment
The word "steampunk" gets thrown around a lot these days to describe things that (pushes up glasses) aren't really steampunk. I haven't looked yet, but I can imagine that Hotel Artemis, a colorful bit of low-stakes humans-first future-fi, is getting the label. In fact, like Blade Runner before it, it is merely taking its cues from the grungy Art Deco bones of the downtown Los Angeles in which it takes place. Nobody is about to compare the two, but Hotel Artemis, despite a kind of shrug of a plot, has character — and characters — to spare, and though much of it is an affectation, it's too fun write it all off as "steampunk."
Hotel Artemis, written and directed by longtime franchise writer Drew Pearce, takes place ten years in the future, where riots over water privatization have ravaged Los Angeles. The Nurse (Jodie Foster) runs a high-security secret hospital for criminals that hovers precariously on the brink of chaos, bound by a heaping helping of anonymity and trust. Two bank robber brothers (Sterling K. Brown and Atlanta's Brian Tyree Henry) check in after a job goes bad, and they happen to be there for a busy couple days at the hotel. The guests, including the brothers, all go by their suite names: Brown is Waikiki, Henry is Honolulu, Charlie Day plays an arms dealer and capitalist nightmare who goes by Acapulco. Waikiki's ex-flame, assassin Nice (Sofia Boutella), is also checked in, but it's clear she's not there for convalescing.
Most of these people and plots feel like they should fit together like clockwork, but Hotel Artemis is a shaggier establishment than that, and lots of time stuff just sort of … happens. In today's hyperoptimized genre landscape, I can respect that. Artemis is more of an idea for a TV show than a movie, but I am infinitely glad that it exists in this form and not a one-and-done season on the CW, if only because there's no way the CW show would have this great a cast. (Jeff Goldblum, Zachary Quinto, David Bautista, and Jenny Slate also show up, and the latter two spend multiple scenes together, which feels like some kind of Film Twitter fever dream come true.) Foster's nurse is the main arc that matters, however, and over the course of the film we come to understand how a cranky recovered alcoholic came to run the roost of a kind of neutral zone for L.A.'s criminal underbelly. Foster, dowdied up and forever shuffling around from room to room, toting a portable record player and headphones, is a pretty pleasing anchor amid all the more flashy bullet exchanges and flying kicks that inevitably break out.
On that note: This is a great moment to hop on the Sofia Boutella train, which I predict is going places. She's becoming one of the most entertaining physical actresses working today, and she's been picking some pretty great projects to lend her talents to (she's spectacular in Gaspar Noe's Cannes riot Climax, due out later this year, and we'll forget about every scene in The Mummy that she wasn't in). She does eventually get her big 20-to-1 fight scene that feels like it's bubbling up the moment she appears onscreen, and in her red gown and Doc Martens she's like a combat-trained Ginger Rodgers, flying and spinning all over a pack of goons with grace and muscle.
If this impressive display had been consequential to some larger idea that the film was getting at, that would have been cool, but I didn't mind just enjoying it for its sake. Ultimately, in all its artifice and haphazard but enthusiastic invention, Hotel Artemis makes me a bit nostalgic for French '90s genre fare of Jean-Pierre Jeunet and Marc Caro and, of course, Luc Besson, embracing their daffiness and dreaminess with an somewhat counterintuitive, almost naïve lack of vanity. It's a little shallow, sure, but it's nice when someone has a vision, even if it doesn't go deeper than the art department.