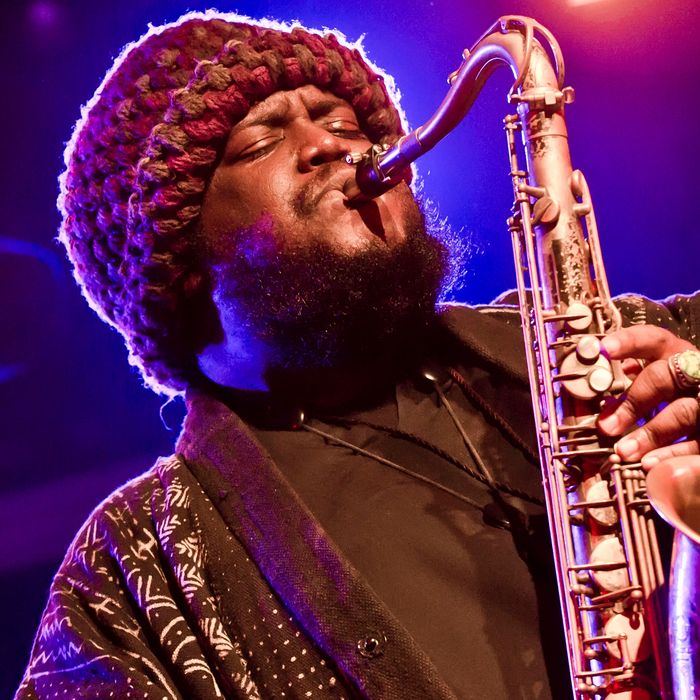 Photo: Frank Hoensch/Redferns
Kamasi Washington both looks and sounds larger than life. And that's before you factor in that the Angeleno tenor saxophonist and composer towers at six-foot-three with an Afro like a nimbus crowning his head, his dashiki garments flowing around him so that he appears to float across a stage. A jazz superstar in an era when there are few left in the genre, when jazz itself trends toward the bottom of music consumption, Washington has already risen beyond the upper echelons of jazz into the fore of pop culture. He can be heard on The Tavis Smiley Show and on Atlanta, he's splashed across glossy magazine spreads, and he remains that rare jazz artist to have their name appear in a big, legible font on Coachella posters.
In jazz's century-plus, there have been audacious album titles that herald the arrival of a seismic talent: Genius of Modern Music, Saxophone Colossus, Jazz Advance, The Shape of Jazz to Come. But no one had ever just dropped a three-hour, three-LP opus right out the gate like Kamasi did with The Epic. It was an official debut, but Washington had been bubbling under for a number of years. He put in time touring with the likes of Snoop Dogg, Lauryn Hill, and Chaka Khan. He guested on albums by George Duke, Quincy Jones, Flying Lotus, even Ryan Adams's Gold. But it was when he appeared on Kendrick Lamar's To Pimp a Butterfly, a dense, virtuoso amalgam of hip-hop, funk, and jazz that Washington found his way onto innumerable home systems and earbuds, paving the way for his own statement a few months later with The Epic. A felicitous mixture of spiritual jazz, gospel and Afro-futurist soul, it harkened back to the great tradition of black creative music, updated for the age of Black Lives Matter. It was a big statement as only someone who only delivers big statements can make.
And ever since, Washington has trended toward grander pronouncements. Even when he released a half-hour EP of music last year with Harmony of Difference, it stemmed from a multimedia work first presented at the Whitney Museum of American Art's 2017 biennial. Most jazz luminaries go through a gauntlet before they get their name in lights, starting as sidemen and then getting their own small band together. Almost from the jump, Kamasi has been at the helm of a band that would have been massive even back when jazz was at its cultural, critical, and popular heights in the late '50s and early '60s, an octet that can swell to encompass an orchestra and 20-person choir. Successful jazz acts like Jason Moran, the Bad Plus, and Robert Glasper might fill dedicated clubs, but Kamasi can command rock venues. Credit it to the Kendrick connection, but with the Black Lives Matter movement rekindling the spirit of the civil-rights era, Washington's evocation of that time's spiritual jazz may have also played a part.
So how to top a three-album debut? With a quadruple album that encompasses the realms of Heaven and Earth, of course. In an era of big statements, Washington remains planetary in sound and scope, his 16 songs clocking in at two-and-a-half hours.
In much the same way that his compatriot Kendrick can make the Pulitzer Prize committee think deeply about modern hip-hop, Kamasi makes rap and pop fans consider jazz in a way it hasn't since the days of sourcing A Tribe Called Quest samples. As he put it to Pitchfork when discussing the influence of To Pimp a Butterfly: "It went beyond jazz; it meant that intellectually stimulating music doesn't have to be underground. It can be mainstream."
Kamasi too wants to go beyond jazz and to present it as part of the mainstream. He stepped up to put forth jazz for a new generation and his influence felt instantaneous: He and his band's success fulfilled the dreams originally cast by their own fathers. He legitimized the legacy of West Coast jazz (a brain drain that made its greatest talents — Charles Mingus, Eric Dolphy, Dexter Gordon — all head east for success). He put his own crew — the West Coast Get Down — on, with band members like trombonist Ryan Porter, pianist Cameron Graves, bassist Miles Mosley, and drummer Ronald Bruner Jr. following in The Epic's wake with their own albums. And if bringing new so many fans into the fold means hungry listeners might also venture to check out L.A.'s World Galaxy label, Chicago's adventurous International Anthem imprint, or London's own bustling jazz scene, all the better.
But Washington also floats just beyond the rules that can restrict most new jazz stars. Flying Lotus's eclectic Brainfeeder label released The Epic, but when it came time for Washington to follow it up, he didn't jump to a jazz flagship like Impulse, Blue Note, or Verve. Instead, he aligned himself with the feted U.K. label Young Turks, home to singular indie acts like the xx, FKATwigs, and Sbtrkt. Rather than innovate for jazz heads, Kamasi works instead to integrate this present moment's disparate listeners. Last week, he played Forest Hills Stadium with British indie rockers Alt-J in advance of Heaven and Earth. There weren't many dashikis or Afrocentric accoutrements to be seen in the Alt-J crowd, but Kamasi was making converts with every soaring solo. He easily veered from old R&B skronk to gospel testifying, making the crowd bop first and then swerving them toward church, appealing to young rock fans and also folks who like to feel the vibes of jam bands or EDM sets. Kamasi and his band can ride the groove but also veer upwards in an instant, Kamasi's horn giving the crowd a jolt, a current of energy not just running through the disparate crowd but also instantly communing with them. By the time they closed with "Fists of Fury," the stadium crowd was wholly in Kamasi's hand, even cheering for a bowed bass solo.
If only that crackling energy revealed itself more often on his latest work. For all of its sprawl and extravagance, Heaven and Earth is unlike most double or quadruple LPs. Most classic multi-disc sets present a portrait of a band trying on many different styles, stretching out, tilling new soil. But for such expanse, these four LPs present Kamasi and band wholly in their lane, barely venturing outside of the lines. (Consider a similarly sized box, the 1973 six-LP survey The Smithsonian Collection of Classic Jazz, which across its first eight vinyl sides moved from Scott Joplin's 1899 early rag "Maple Leaf Rag" to Lennie Tristano's impressionistic 1949 improv "Crosscurrents," taking in the seismic innovations of Jelly Roll Morton, Louis Armstrong, Count Basie, Duke Ellington, Charlie Parker along the way.)
Heaven and Earth bursts out of the gate with Washington's most politically charged number to date, the dramatic "Fists of Fury." Vocalists Dwight Trible and Patrice Quinn incant that "our time as victims is over/ We will no longer ask for justice / Instead, we will take our retribution" as orchestras heave and choirs suggest the celestial. The fury feels spoken rather than sounded. At the album's most sumptuous peaks, Kamasi reveals that his skills as composer and arranger are unparalleled. He can conjure the orchestral groove of a young Quincy Jones, the soundtrack tension of Lalo Schifrin. Tackling Freddie Hubbard's "Hubtones," he adds a dash of salsa to the original to kinetic effect. He even gets his Stevie Wonder on with the talk-box soul of "Vi Lua Vi Sol." On "Journey," he elicits what might be Patrice Quinn's most heartfelt vocal with the group so far, a worthy follow-up to The Epic's beating heart, "The Rhythm Changes."
As befits its title, Heaven and Earth embraces extremes and can feel both breathless and long-winded, to where there's potential for ascension to manifest on every song. Each of Washington's compositions are rhythmically and harmonically dense, almost every piece tidily nearing ten minutes. Washington seems to build his music specifically for this purpose, so that every soloist or vocalist can have a chance to shine no matter the tune called. There's a base level of sound that never peels away to reveal any more space. It's everything all at once for Washington.
As we leave Earth for Heaven, one wishes for some sense of rupture (or for a more tactile difference between the two sets). In Kamasi's sound world, the scale only ramps up but never pares back down. Half of the Heaven and Earth songs deploy both massive orchestration and large heavenly choirs in conjunction with the band. It's an awesome sound to be sure, drawing on chorale-jazz hybrids like Eddie Gale's Ghetto Music, Andrew Hill's Lift Every Voice, Donald Byrd's A New Perspective, and Max Roach's It's Time.
But the sense of surprise, of heightened drama, of import, of scale, of magnificence, over the course of a few hours soon feels redundant. If there was even a moment of the band breaking down so that Kamasi's horn might grapple with two drummers, or if a trio defined one song, the one-two of choir and orchestra might deliver a massive impact again. What would Kamasi bring to bear on a jazz standard? There's little experimentation with structure, no tweaking of the formula set out by The Epic. How can you have two drummers lay it down over the course of two-plus hours and never have them once flip to double time? Or cool down the pace with a slow ballad? In the spiritual jazz tradition of Coltrane and Sanders, there's a sense of flight, their saxophones acting as afterburners to send the ensembles higher. Traveling first through Earth and then Heaven, too often Kamasi and crew sound content to set the cruise control and barely nudge it afterward. After a few hours, the album moves toward the background, closer to being purgatorial.