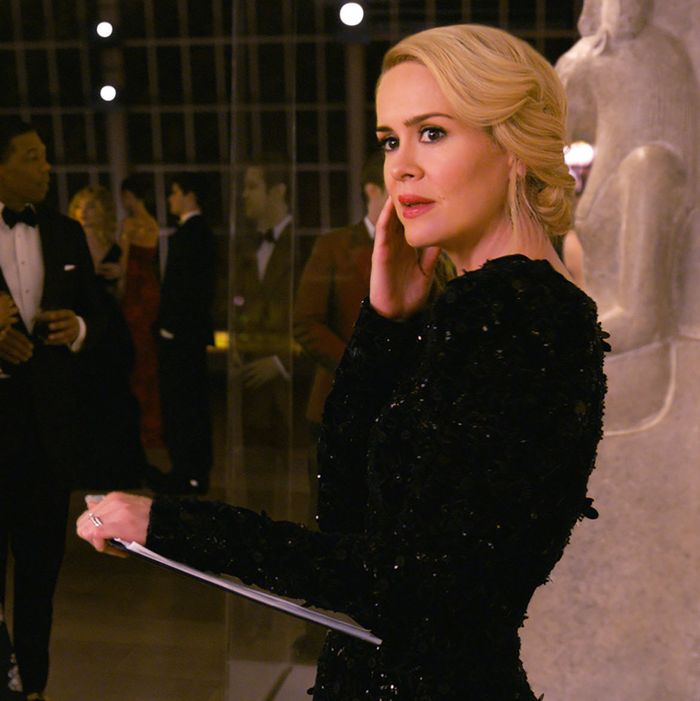 Sarah Paulson inside the Metropolitan Museum of Art in
Ocean's 8
.
Photo: Warner Bros. Pictures
The dramatic jewelry heist at the center of the female-fronted crime caper Ocean's 8 takes place amid the blinged-out high-fashion frippery of America's most glamorous, exclusive, and star-studded party: the Costume Institute Gala at New York's Metropolitan Museum of Art. Also known as the Met Gala, the glittering event has been overseen and personally curated by Vogue editor-in-chief Anna Wintour since 1995. So in order to set the movie's showcase crime in such rarefied environs, the filmmakers had to convince both the museum's institutional overseers and the notoriously private editrix to get onboard. From there, the production corralled a cavalcade of famous faces — Kim Kardashian West, Gigi Hadid, Kendall Jenner, Maria Sharapova, and Common among them — to serve as glorified extras in a jarringly authentic re-creation of the gala.
The film does a remarkable job of getting all the details right and features a much higher degree of realism than most people reasonably expect from a summer popcorn movie: Star Sandra Bullock is shown traipsing the red carpet along the Met's Great Hall beneath the strobe effect of paparazzi flashbulbs, before making her way to the banquet — where she eventually encounters fellow co-stars Anne Hathaway, Mindy Kaling, Sarah Paulson, Rihanna, and Awkwafina — at the museum's imposing Egyptian edifice, the Temple of Dendur (where the actual Met Ball annually takes place). So Vulture asked Ocean's 8 director Gary Ross (The Hunger Games, Seabiscuit), How'd you manage to do it?
Intimately Involving Anna
The Met Ball setting — and by extension, the film's central plot conceit, the grifters' attempt to steal a $150 million diamond necklace from a feckless actress (Hathaway) attending the ball — would never have gotten off the ground were it not for Wintour's explicit blessing. After extensive negotiations, she agreed to collaborate on the production and even appear in several scenes. "The ball, that's Anna Wintour's creation. And this was done from the very beginning with the collaboration, advice and the assistance of Vogue," says Ross. "Anna wanted to make sure the aesthetics were up to her standards. I presented her with the design. She was impressed with and moved by that. And she went, 'OK, this is up to what we do.'"
To provide an added dose of verisimilitude, the editor permitted filming to take place in Vogue's New York offices. And the magazine's real-life director of special events, Edie Kiernan, appears in the movie as herself, depicted hiring Paulson's hyperefficient character to help organize the gala's logistics.
For Wintour's close-up, a 270-degree tracking shot begins at the back of her perfectly coiffed bob and ends on her sunglasses-encased face as she blows off interviewing Paulson ("Please just handle it," she tells Kiernan) — contentedly watching a Roger Federer tennis match on her computer in stark contrast to her Devil Wears Prada reputation as one of publishing's great micromanagers. "That was kind of a little gift to Anna that we didn't tell her we were putting in," the director says. "That was a bit of an afterthought. I know that Anna's a tennis freak and I know she and Roger Federer are friends. So I had the thought when we looked at the footage, This will be a funny thing to put in there!"
Setting It at the Met
As one of New York's most vaunted cultural repositories, the Metropolitan Museum of Art doesn't typically allow TV, commercial, or movie productions to shoot among its collections for more than two days. But the filmmakers managed to win over museum directors with their personal enthusiasm — in Ross's case as a self-described "art-history geek" — and repeated assurances to take good care of the multimillion-dollar artworks around which they would be filming. In the end, the production was allowed to shoot inside the museum for a precedent-setting ten days — but only from 4:30 p.m. to 3 a.m. That meant a high degree of organization as well as meticulous safety measures.
"We're shooting in the American Wing," the director recalls. "We're around John Singer Sargent's and Eakins's paintings. We're having actual safety meetings about how we're going to move through this space with our equipment — because no one's going to want to put a camera through a John Singer Sargent. It's worth more than the budget of our film! So there were a lot of really rigid protocols that were adhered to. And the Met saw that we took that seriously and that we weren't going to screw their place up."
Re-creating the gala in Exquisite Miniature
Both Wintour and Vogue's European editor-at-large Hamish Bowles intimately invested themselves in making the movie's fictive Met Ball as convincing as possible. "We're letting people into the Met Ball, so she wants to make damn sure it's a real Met Ball," Ross says. "At the same time, we really need her assistance and understanding of what goes on behind those gates so we can do it accurately."
In real life, Bowles oversees a key component of the gala every year — the Costume Institute Exhibition — and basically replicated those duties in the service of Ocean's 8, calling in vintage, medieval-inspired haute-fashion pieces from such top-tier designers as Jean Paul Gaultier, Alexander McQueen, Valentino, and Dolce & Gabbana that are seen on bejeweled mannequins in the movie's version of the exhibit. From there, the Temple of Dendur — a massive pharaonic monument comprised of 1,423 stone blocks that was transported from Egypt to the Met in 1967 at the behest of Jacqueline Kennedy — was visually transformed into a replica of the Palace of Versailles for the film (befitting the fictional gala's theme: European royalty) via computer projection mapping. "That's not CG," the director says. "That's completely practical. Everything you see on the walls was what we saw: being surrounded by Versailles."
Getting Famous Faces
But what's a Met Ball without celebrities? The production enlisted a Who's Who of some of the world's famous people, then created an actual cocktail party for them in order to incentivize (and maintain) their participation. In addition to Kardashian and Common, that group included Heidi Klum, Sofia Richie, soul crooner Leon Bridges, Katie Holmes and Zac Posen, Serena Williams, Alexander Wang, Hailey Baldwin, Kylie Jenner, Olivia Munn, Tommy Hilfiger, and Lauren Santo Domingo.
"That's a necessary part of the Met Ball, right? These people have to be famous," says Ross. "That means your background is famous. So we created a kind of party upstairs for them all. We took the executive dining room and converted it into a kind of club where people could hang out. A bunch of interesting people up there. When they were not on camera, they were at a fun party meeting people. And we had a bunch of Cartier jewels that they could wear if they wanted to and accessorize with, like, millions of dollars' worth of jewelry."
"We had to create an environment they wanted to be in," he continues. "We had a bar and food. And when we needed a shot, we would say, 'Can you just come downstairs for half an hour?' 'Yeah sure!' Then they'd go back to the party."
So how did navigating such a critical mass of bold-faced names and dressing to the nines for the faux Met Gala affect the movie's principle cast (which also includes Helena Bonham Carter and Cate Blanchett)? "There are days on a movie when the movie's bigger than any single one of us. You absolutely felt that," the director says. "These women have all spent time getting into costume to play parts. But here, they're getting ready for a ball, putting on a ball gown, and getting ready to go to this party. Then you go to the party and it looks just like the real Met Ball? I think that had an effect on everybody. It puts you in a different headspace."