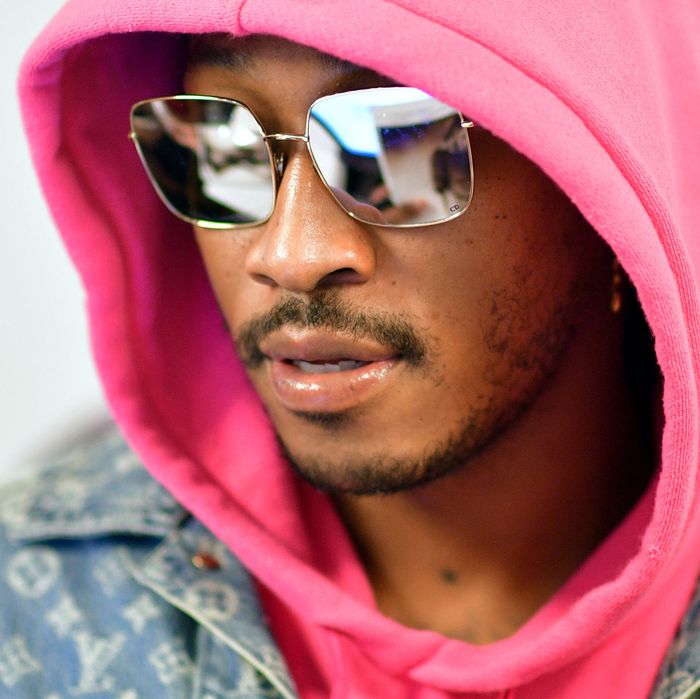 Rapper-producer Future
Photo: Prince Williams/WireImage
Over his six-year run at the top of the hip-hop food chain, rap superstar Future has become one of the most frequently streamed musicians on earth — his discography clocked a staggering 4.2 billion on-demand streams in 2017 alone. And for the better part of a decade he has remained among pop music's most prolific artists, releasing a dozen mixtapes, six studio albums, 33 music videos, and 61 singles.
But until recently, the Atlanta-born Future (given name: Nayvadius Wilburn) steered clear of Hollywood, confining his creativity to a kind of infectiously bleary, almost psychedelic form of hip-hop. That all changed last year. During the filming of a Gap ad with Cher, Future got to chatting with the commercial's director, Director X, who pitched Future on a movie project: a remake of the blaxploitation classic Super Fly. Director X had a proposition: How would Future like to co-produce the movie (now titled Superfly) — its setting transposed from gritty '70s New York to a hyperstylized, modern-day Atlanta — and oversee the soundtrack album? "We needed someone who could represent the city," Director X tells Vulture. "The music also needed something that spoke to the city itself. That's what made Future such a right choice."
Toronto-born music-video visionary Director X (birth name Julien Lutz) is responsible for crafting no small number of rap and R&B's most indelible clips: Drake's "Hotline Bling," Usher's "Yeah!" and Nelly's "Hot in Herre" among them. He wanted to transfer the action of the original 1972 Super Fly — which follows a cocaine dealer named Youngblood Priest (Trevor Jackson in the new film, which arrived in theaters Wednesday) as he attempts to quit the drug business after making one last gigantic score — to a gleaming, color-saturated Atlanta bursting at the seams with highly revved supercars, high-caliber weaponry, and scantily clad women. The director wanted to draw upon Future's deep familiarity with local customs to give the production authenticity.
Future enthusiastically signed on to the project in November. And according to Joel Silver, the rainmaking producer behind The Matrix trilogy and Lethal Weapon franchise who began developing Superfly in 2001, the rapper provided a kind of secret sauce for the production, which took place in Atlanta in January of this year. "He's iconic — the Jesus of Trap, they call him down in fucking Atlanta," Silver says. "X mentioned the movie and he's like, 'I love Superfly! I love it, I love it, I want to get involved.' X brought him in. He was very instrumental to the movie."
Exhibit A: After submitting a woozy banger called "Walk on Minks" for the film's soundtrack, Future gave a specific "note" for a scene in which Priest encounters a group of drug dealing rivals known as Snow Patrol at a local strip club — specifically regarding the wardrobe for extras performing as erotic dancers in the sequence. "We got that song prior to shooting that scene," says Silver. "So he dressed all those girls in mink coats."
Of course, a producer's purview can involve so many things in modern moviemaking: raising money, securing literary rights, masterminding marketing, negotiating worldwide rights. On Superfly, Future's influence was twofold. The movie pulses with hip-hop energy; drug dealers and characters portraying rappers mix and mingle in several sequences, and actual hip-hop artists — including Rick Ross and the producer Zaytoven — also appear in cameo. And in that regard, Future's imprimatur gives the movie the rap equivalent of a Good Housekeeping Seal of Approval.
And in much the same way Curtis Mayfield's chart-topping soundtrack for the original film sonically frames and contextualizes what takes place onscreen within a soul-funk milieu that defined Super Fly's '70s New York City setting, Future crafted an exquisitely trap-inflected film score to embody the new movie's modern iteration of what it means to be "Superfly." He raps on most of its songs (alongside such hip-hop luminaries as Young Thug, Lil Wayne, 21 Savage and Partynextdoor), recruiting stars like Miguel, Khalid, French Montana, and H.E.R. to perform on other tracks, and calibrating all the songs to fit the action, including car chases and love scenes. "It gave him a chance to go all over the place," says X. "We really cover a lot of ground with the music. It's not just trap, trap, trap, trap."
Reached via email, I asked Future about how he managed to put his imprint on the production. His answer was characteristically succinct. "Just specific things like that mink coat," Future said. "Gave them insight into what impressed me when I'm moving around the city. It was a lot of little things that added up to make the movie feel much bigger."