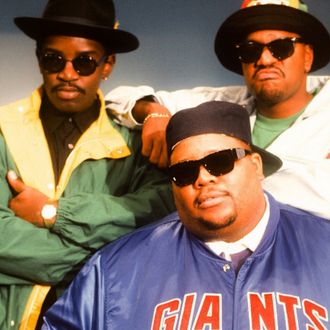 For the generation of kids who got turned on to rap somewhere between Biz Markie's "Just a Friend" and Mobb Deep's "Shook Ones," Andre "Doctor Dré" Brown and Ed Roberts, a.k.a. Ed Lover, were the gateway to authentic hip-hop culture.
Dré and Ed's daily version of Yo! MTV Raps, which aired weekday afternoons from 1989 to 1995 (Fab Five Freddy hosted the original, Saturday-morning edition launched in 1988), was the Desus & Mero of its day, an irreverent, half-hour slice of black barbershop television sandwiched amid fare like Totally Pauly. The show hosted legend-building appearances from Ice Cube, 2Pac, Biggie, Mary J. Blige, and the Wu-Tang Clan, but its loose format also granted space for wacky, occasionally bizarre, cameos from such unlikely figures as Mel Gibson and Carole King. At their peak, in 1993, they even took their Abbott and Costello act to the big screen in Who's the Man, the directorial debut of late Yo! co-creator Ted Demme. That same year, the pair began a five-year run as morning drive-time hosts at Hot 97, anchoring the station's transition into the first 24/7 FM hip-hop channel.
This Friday, Ed and Dré, along with Fab Five Freddy, reunite with a Who's Who of Yo! era greats including Eric B. & Rakim, Big Daddy Kane, Boogie Down Productions, Onyx and EPMD, for the Yo! MTV Raps: 30th-Anniversary Experience at Barclays Center. Vulture spoke with the iconic duo about their role in mainstreaming rap, their close relationship with Tupac, and turning Mark the 45 King's "The 900 Number" into hip-hop's ultimate spaz-out jam.
What were you doing in 1989 when you got the call to be on Yo! MTV Raps?
Doctor Dré: Run-DMC had hosted the pilot of Yo! MTV Raps during the Def Jam Tour featuring Eric B. & Rakim, DJ Jazzy Jeff & the Fresh Prince, and Public Enemy, who I happened to introduce that night. Out of that spawned the show with Fab Five Freddy on Saturdays. He was interviewing guests on location, and the show started gaining steam. [Yo! co-creator] Peter Dougherty, who I'd met while DJing for the Beastie Boys, asked me what I thought. I said Fab was doing great interviews but you need something to lighten it, to keep people captivated. Peter said, "Think you can do something?" And I said "Of course, I know how to make TV!" Having no idea. I didn't think it would go anywhere. I'm a fat black guy from Westbury, Long Island. No way MTV's gonna hire me. I went to Peter's office and he introduced me to Ted Demme and, as I'm walking down the hall to audition, I see this tall, skinny black guy. As Ted's introducing us, Ed goes, "Hey, I know you, you're Doctor Dré." This immediate charisma cooks between us. We're telling jokes, and Ted's filming, laughing. And we see these two dreadlock wigs hanging on Ted's coat rack …
Ed Lover: When we spied those dreadlock wigs, I asked Dré, "Where's your family from?" He said, "I got some Jamaican in me," and I know Jamaicans very well. We threw those on and Ted saw right away the aesthetic was different from what Fab was doing. It was immediate chemistry.
Doctor Dré: [Peter] calls us back in and said, "We want to do a daily format of this show, Fab doesn't want to do it. We wanna offer it to you guys, would you mind working together?" We looked at each other and said, "Why not?" We didn't ask about money, we didn't go get an agent. We just laughed and smiled. From the time it started till it ended, every week we thought it was the last week of our job.
The show was very loose and freewheeling.
Ed Lover: Loose is an understatement, dude.
Doctor Dré: You could tell that by the first week of shows we did. I brought records with me, so we could play music while we were talking. Because it was not being done. From the time we started, we weren't VJs, like they had on the station, but co-hosts of a TV show. We had an exercise day, we had "The Day of 100 Hamburgers."
Ed Lover: We started talking with our mouths full.
Doctor Dré: I remember looking across the set, and this woman was sitting in the bleachers. And I asked Ted, "Who is that?" And he came back and said, "That's Carole King." I said, "The songwriter? You're kidding. Would she mind being on the show?" And, to our surprise, she said yes. Carole King, who has the big Broadway show right now, was the first guest on Yo! MTV Raps Today With Dr. Dre and Ed Lover.
It really fit the time slot. The Fab Five Freddy version was almost like a weekend newsmagazine — a hip-hop 60 Minutes. And on weekday afternoons, right after school lets out, you have this goofy show, basically, for kids. My brother and I would flip between between a cartoon like Duck Tales, and you. And then, as we outgrew that, Yo! was the thing.
Ed Lover: There was no way we could look like we fit.
Doctor Dré: Fab looked like he belonged, but we didn't!
Before Yo! MTV Raps, you were each in groups which existed in the hip-hop world, but were definitely not traditional rap groups …
Ed Lover: Dré was in a group [Original Concept] that was established. He'd done work with Run-DMC, the Beasties, Public Enemy. I was in a group on the fringes, trying to make it. We didn't start as a hip-hop group, we were a band for a long time, called Funktion Freeks. Funktion Freeks disbanded, and I had already done rapping in Queens in the park, doing parodies. And that's where No Face came in. We were an East Coast 2 Live Crew.
Doctor Dré: I was in a black-music history class with Chuck D., [future Def Jam president] Bill Stephney, and [journalist] Harry Allen at Adelphi University. Bill was hosting "The Mr. Bill Show" on [Adelphi student station] 90.3 FM WBAU, and they brought me up there. And that's where I met Flavor Flav, who at the time was "MC DJ Flavor." I started a show called "The Operating Room," where I interviewed people like Run-DMC, and we used to make songs which we played as promos for the show. Jam Master Jay encouraged me to take what we were doing to Russell Simmons. I went to see Rick Rubin, down at NYU, and I played him this promo called "Knowledge Me," where we talked about all the shows [on WBAU] …
"Knowledge Me" is a classic. The bass on that was crazy.
Doctor Dré: Rick thought it was crazy and he said, "We have to sign you to Def Jam," and asked me to DJ for the Beasties. On the road, I would have tape battles with Rick and the Beasties. I'd play them WBAU stuff, and they would play me Zeppelin and AC/DC. What they didn't know is I knew all those records.
Original Concept and No Face were funny. Did you look at yourselves as comedians or musicians first?
Ed Lover: I've always been a parody guy. I've always added humor into whatever I was doing.
Doctor Dré: I considered myself an entertainer. That's the thing we brought to Yo! MTV Raps. Our job that afternoon was to entertain. Ed is the greatest freestyle rapper I've ever had the pleasure to DJ with. You're gonna see that again [adopts carnival-barker voice] at the Yo! MTV Raps 30th Anniversary Experience at the Barclays Center June 1st. I equate this show with the Motown 25th Anniversary. Just wait till we do our version of "Billie Jean." There's something about our chemistry. It's an energy you can't put your finger on. Great groups, like Eric B. & Rakim, Nice & Smooth, EPMD, who are all gonna be there June 1st, have that thing. I'll never forget when we did my birthday party in Detroit with [Luther Campbell] and Ed was Run and Chuck D was DMC. That was incredible. They just went out and did it. Everybody had to go, "Am I watching Run-DMC? No, that's Ed Lover, that's Chuck D."
Where did the Ed Lover Dance come from. Was that from the clubs?
Ed Lover: [Yo! sidekick and Original Concept member.] T-Money showed me the dance, and told me: Do this every week. We picked Wednesdays because most Wednesdays we didn't have nothing else happening. It was hump day. Dre picked "The 900 Number" and it took on a life of its own. To this day if I go somewhere, and there's people my age group and they throw on that song, everybody turns around and looks at me. [Laughs.]
"The 900 Number" really became a classic after Yo! MTV Raps. DJ Kool turned it into "Let Me Clear My Throat"…
Ed Lover: It was a breakbeat that a lot of DJs would use. That's Mark the 45 King's production but Dre made it what it is once he started dropping it every single Wednesday on Yo! MTV Raps.
Doctor Dré: Aaron Fuchs, who released the song on Tuff City Records, came up to me and said, "I put a sticker on the 12-inch and it's called 'The Ed Lover Dance' now." Like, Wow. We were just having fun. In the movie Drumline, the band plays "The 900 Number" and when they're playing it, the drumline are all doing the Ed Lover Dance.
Which episodes of the show stand out to you the most?

Doctor Dré: The amazing thing was the people who weren't rappers who decided to come through. Like Mel Gibson in a kilt. Howard Stern calling and getting at us because we were beating him in the ratings at Hot 97. People like Pam Grier and James Brown coming on. Bobby Brown, at his height, came on for a whole week. MTV [executives] saw him on Yo! MTV Raps and went, "We've been trying to get him, how did they get him?"

Ed Lover: I know people don't like to hear it because of the times, but we had Bill Cosby on for a week. James Brown being there … James was the basis and backbone of hip-hop. That James Brown did a week of shows with us was the epitome of what we did, and could have done. That was the ultimate.
When did you really start to feel the impact that you were having on the broader culture?
Doctor Dré: The first time we went to MTV Spring Break … And when we went down to Daytona again and shot Yo! MTV Raps Live with performances from Biz Markie, A Tribe Called Quest, Leaders of the New School. I was behind the turntables, trying to keep the wind from blowing the needles off the records, and I came up with some contraption that made it work. We looked at the crowd and it was 50,000 kids, all colors, all ages, everybody having a ball. We turned and looked at each other and I said, "Wow, this is a pretty good park jam."
Ed Lover: I think the first time I felt it was before Spring Break. You and I had gotten hired in Detroit for the NWA tour, you remember that?
Doctor Dré: Oh yeah.

Ed Lover: It's the scene with "Fuck the Police" that they portrayed in the movie Straight Outta Compton. I remember standing backstage, and I was sure we're gonna get booed. This is Detroit, the hood. And you kept saying "No, Ed, I'm telling you Yo! MTV Raps is big." And when we stepped onstage, I knew you were right.
Doctor Dré: We were actually shooting an episode of Yo! MTV Raps. They had warned and begged NWA not to do "Fuck the Police." When we walked off the stage, Ed, remember the cops got me cornered talking about, "That's Dr. Dré, there he is"? And I'm going, "No, I'm not that one!" Eazy E and Dre were already running back to the hotel.
One episode that people still talk about is the one with Tupac threatening the Hughes Brothers. It's a part of his legend. But you also get to see the lighthearted, playful side of him, which kind of disappeared in the TV appearances he would make later on.  
Ed Lover: That was who Pac was. What people don't understand about that Yo! MTV Raps moment with Pac was Pac was our guy. He'd be at my house when he was in New York. If I was out at Freaknik, I'd stop by his house he bought his mother in Atlanta. If Pac was passionate about something, he was gonna say it. He'd gotten fired [from Menace II Society] by the Hughes Brothers in what he felt was a punk-ass way, and he saw them at a traffic light and beat they ass. And he was like, "If I see them again, I'm beating their ass again." I was like, Boy, you are incriminating yourself, and I threw my hand over his mouth. That wasn't rehearsed. That's the same relationship we had with Public Enemy. Dré knew PE from WBAU days. When they came on, we'd talk crap about each other. And then Dré and I would get hate mail.
Doctor Dré: Flavor [Flav] and I would start snapping. That was tradition between us. But when Chuck and I started snapping, people were like "What are you doing? You can't do that. That's Chuck D, he's not supposed to be cracking jokes."
Ed Lover: Those were our friends outside of Yo! MTV Raps. These were people that would be at your momma's house. That's different from someone you are cool with, but don't actually hang out with.
What are the origins of this Friday night's show?
Doctor Dré: I was on a conference call with Ed and T-Money, talking about the I Love the '90s Tour and the resurgence of interest in '90s music, and we thought maybe we should do a Yo! MTV Raps concert. Ed was in Atlanta at the time and he came up with some investors who wanted to get permission to use the brand. We called our former manager, Charles Stettler, and asked if he could make that happen for us, and he went off to the races and put this big thing together.
Charles Stettler created some of the first big hip-hop arena shows …
Doctor Dré: He was a part of Fresh Fest, and he'd done the Tin Pan Apple concert at Radio City Music Hall in 1983, where he discovered the Disco Three who became the Fat Boys.
MTV sent out a press release for this event saying it was rebooting Yo! as "a linear and digital series." What exactly does that mean, and are you a part of this?
Doctor Dré: I'm as confused by that as you. I know nothing about it and I said, "Really?" [Laughs.]
I understand you have some health issues, Dré. Can you still DJ?
Doctor Dré: Yeah. I am a type 2 diabetic who's going blind, yes. I have health issues, but they are getting better. DJing is about my ears, not just my eye. I'm handling. And if I mess up, you'll never know.
How is your vision?
Doctor Dré: Partly cloudy [laughs]. It comes and goes. With good health and God on my shoulder I'll be all right. My family and friends are waiting for that miracle to happen, and I just try to help it happen.
If they were to reboot Yo! MTV Raps now, what advice would you offer?
Doctor Dré: Yo! MTV Raps was a snapshot in time. It happened when it was most needed, when the music industry, the nation, and the world needed something that would unite everybody to a 1-2-3-4 beat, to a boom and a bap to a zugga-zugga-zugga, to an MC getting down on a microphone. When people try to say "Let's reboot it" … It's a difficult reboot. Certain things were meant for a certain time. Kids aren't gonna run home to watch Yo! MTV Raps. Kids are streaming, they make their own music, shoot their own videos, and don't have to worry if some channel decides to play it — they just play it themselves. How do you compete against YouTube? I wish them well.