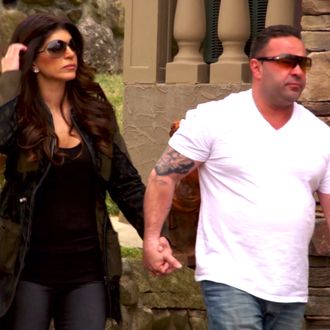 Teresa and Joe Giudice.
Photo: Bravo
ICE isn't just interested in deporting our pizza delivery guys, prom-bound teens, pregnant ladies, taco truck owners, restauranteurs, and just children in general. Noooo, you see, even all that has still not quite made us safe enough. They're also coming for our reality TV stars. The Immigration and Customs Enforcement agency has said it is working to deport Joe Giudice, the husband of Real Housewives of New Jersey star Teresa Giudice, who is currently serving his 41-month prison sentence on bankruptcy fraud charges. On Thursday, a spokesman for the agency told RadarOnline that, "ICE has lodged a detainer, and he is in removal proceedings," the spokesperson clarified that he is "in deportation proceedings while he's in custody."
The agency stated that Giudice could be deported to his native Italy at any point, even before he's finished his sentence. If he does complete his sentence, he will immediately be given over to ICE. Joe Giudice came to the United States as a baby and never went through the process of becoming a citizen, remaining a legal permanent resident instead. RadarOnline pointed out that Teresa said on last year's RHONJ reunion that she "wouldn't mind" living in Italy if Joe was deported, but she also walked off set during an interview with Access Hollywood when asked about the possibility a couple years ago. So maybe she minds a lot.
Giudice's attorneys, however, responded to ICE's statements by telling People magazine that no final decision has been made regarding his deportation. Their family attorney James Leonard Jr. told the magazine, "The same immigration detainer that was lodged against him in March of 2016 remains in place today, but I want to be absolutely clear about this, no judicial authority has made any decision regarding what will happen with that detainer. Mr. Giudice has immigration counsel who are and have been working aggressively on his behalf so that he can return home to his wife and four young daughters and we remain optimistic that that is how this will end."