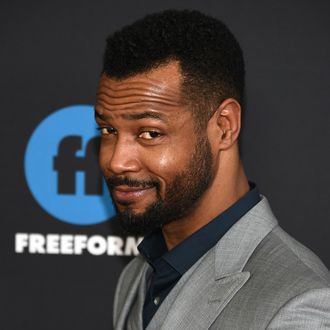 Isaiah Mustafa.
Photo: Dimitrios Kambouris/Getty Images
Okay, yes, Isaiah Mustafa has been in other stuff since he first slid into the American consciousness as Old Spice's The Man Your Man Could Smell Like eight years ago. He's currently on Freeform's Shadowhunters, which is set to conclude after its current third season, and had turns in Horrible Bosses and Selfie. That being said, Isaiah Mustafa will still always be the Old Spice guy in our hearts, and it's nice to see the Old Spice guy get a place in modern horror history. According to Variety, Mustafa will play the adult version of Mike Hanlon in It: Chapter 2, the character portrayed by Chosen Jacobs in 2017's It.
In the Stephen King novel, and the 1990 miniseries adaptation of the book, Mike grows up to be the town librarian and the only member of the Losers Club to remain in Derry. When Pennywise resurfaces 30 years later, it falls to Mike to call the other members home. Mustafa will reportedly be joined by Jessica Chastain as Adult Bev, Bill Hader as Adult Richie and James McAvoy as Adult Bill. Rounding out the cast is Jay Ryan as Adult Ben, Andy Bean as Adult Stan, James Ransone as Adult Eddie and, of course, Bill Skarsgard as a harlequin demon straight out of your grimiest, least Old Spice-scented nightmares.