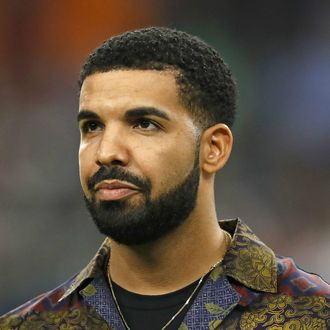 Drake.
Photo: AARON M. SPRECHER/AFP/Getty Images
Like a good friend who holds you back from a fight — even though you both agree you absolutely would have kicked the other person's ass — Houston-based producer and Rap-a-Lot Records CEO J. Prince says he stepped in to stop the ever-escalating Drake and Pusha-T beef. According to Prince, he personally called Drake to ask him not to release what the producer describes as an "overwhelming" musical response to Pusha-T's "The Story of Adidon," one that would have taken aim at Kanye as well.
"After speaking with Kanye, I spoke with the brother, and he didn't want this. I saw this going to a place that I feel would have ended his career if Drake would've put out this song that he had on him," Prince explained while a guest on "Sway in the Morning" this weekend. "And definitely would've hurt families and we're not in it for that. That's not Drake's character to tear a man down to that extent."
Now, some might argue that exposing the existence of a hidden love child and the alleged plan to use that child to sell sportswear, as "Adidon" does, means a feud has already entered "tearing a man down" territory. However, according to J. Prince, you don't even know all the extremely harsh truths Drake was willing to reveal in his new diss track about Pusha-T and Kanye. "The ingredients was overwhelming. I know for a fact that it would have been bad for Kanye and my man," he said of the track. "It just wouldn't be good. It's beyond music at that point. It's going to affect the livelihood. It's going to interfere with his whole lifestyle from that moment."
On one hand, way to create a diss track that exists only in legend. On the other hand, if the track was so harsh that it would have effectively ruined Kanye and Pusha-T's entire lives … yeah, probably better not to release it. When asked if Drake could potentially leak the track later, Prince dismissed the possibility. "I don't think it would leak, because he gave his word," he concluded. "And me knowing Drake like I know him, he has a word." For his part, at least Pusha-T didn't perform "Adidon" at Governors Ball this weekend, despite a cheering anti-Drake crowd, so, sounds like this beef is cooling off.