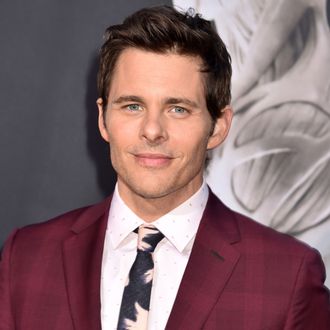 Photo: Jeff Kravitz/FilmMagic for HBO
If you're a Hollywood actor, keep your ringer on, because Quentin Tarantino might be calling to cast you in his Manson Murders drama, Once Upon a Time in Hollywood. The latest additions are, as Variety reports, James Marsden and Julia Butters, and both will be playing undisclosed roles. Tarantino has yet to announce who his Charles Manson will be, and all the other casting announcements so far have come with characters attached (Leonardo DiCaprio will be washed-up actor Rick Dalton, Margot Robbie will play Sharon Tate, Al Pacino will be Dalton's agent, Marvin Schwarz, etc.). And in an interesting twist, the Variety reporter who broke the story said Sony asked that he keep Marsden's character quiet.
Intrigue! Mystery! Set in Los Angeles in 1969, Once Upon a Time centers on DiCaprio's Dalton as he tries to get his flagging career back on track, which happens to coincide with the heinous murders of Sharon Tate and her friends at the hands of the Manson Family. Other cast members include Dakota Fanning as Squeaky Fromme, Emile Hirsch as Jay Sebring, Nicholas Hammond as director Samuel Wanamaker, Clifton Collins as Ernesto the Mexican Vaquero, Keith Jefferson as Land Pirate Keith, and oh yeah, Brad Pitt as Dalton's stunt double, Cliff Booth. The movie will premiere on August 9 of next year, which marks the 50th anniversary of the killings.