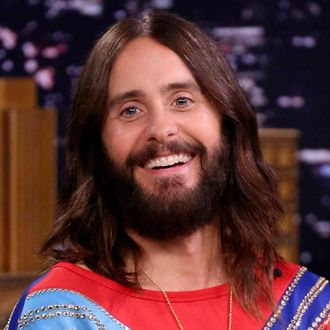 Lock up your blood.
Photo: Andrew Lipovsky/NBC/Getty Images
Every studio that isn't Marvel Studios wants a successful cinematic universe, and every studio that isn't Marvel Studios can't seem to figure out how to coherently unveil one. It's unclear how much Warner Bros.' so-called DC Extended Universe will actually cohere as a universe going forward, and movie developments are leaked out willy-nilly without any sense of a guiding hand at the till. Fox has their X-Men movies, but they're in jeopardy now that Disney seems to be eating Fox up.
And Sony … well, Sony is its own special case. They have the movie rights to Spider-Man and his associated characters, but they struck a deal with Marvel Studios whereby Spidey appears in the Marvel Cinematic Universe, which Disney owns. So that leaves Sony to build out a world only using the wall-crawler's supporting characters, and though the first flick, Venom, is on track for its fall release, it's unclear what else is in the hopper. The Gina Prince-Bythewood–helmed Silver and Black appears to be on hiatus, and now there's word from The Hollywood Reporter and Variety that Jared Leto is set to star in a movie about Spider-foe Morbius the Living Vampire. Safe House and Life alum Daniel Espinosa is slated to direct, and Burk Sharpless and Matt Sazama of the Lost in Space remake have reportedly written the script.
For those not in the know about Morbius — which is to say, a near-totality of the human population — his basic deal is that he's a scientifically altered human with vampire-like traits who has been both villain and antihero over the years. He debuted in 1971, the creation of writer Roy Thomas and artist Gil Kane, both of them legends in the field. In the comics (and the 1990s Spidey cartoon), he's a European scientist who tried to cure himself of a disease and ended up with superstrength, fangs, claws, and an unabated desire to consume blood. Over time, he got some degree of control over himself and fought evil instead of perpetuating it. He's headlined his own comics on a few occasions, but has mostly been relegated to the Marvel Comics D-list, a relic of the publisher's early-'70s fixation on superhero–horror mash-ups (see also: Werewolf by Night and Son of Satan).
There's virtually no brand-name recognition for Morbius, which makes his selection a curious one. Leto is also allegedly part of an effort to bring his rendition of the Joker back to the DC screen — could some future summer see him straddling cinematic universes à la Josh Brolin in 2018? Or will both of these projects fizzle away like a Dracula doused in holy water? Stay tuned, true believers.